A & H Doll Mfg Corp 1948-1960s
ABC Toy Company 1930s-1950s
AG Toys & Doll Co 1980s
A.P.B. Company Boston, MA 1920-1928
- stoneware head dolls, composition body
A.P.D. Manufacturing Co 1911-1918 doll mold 122
- ceramic or stoneware heads on cloth body
A.P.W. Paper Co cloth dolls 1924
Abraham & Straus composition dolls 1903-1930
HC Abramson composition dolls 1918-1919
Acme Toy Company 1910-1930s
Acorn Doll Company composition dolls 1919-1921
Active Doll Corporation hard plastic dolls 1950s
Emma E. Adams cloth Columbian dolls 1891-1910
Stella Adler, Favor & Novelty cloth dolls 1919-1930
J. Adler & Co papier mache dolls 1850-1890
Admiration Toy Co 1950s
Adrena Doll Co 1930+
Elizabeth G. Adrian 1925-1926 Jim-in-ee doll
Advance Doll & Toy Co 1950s
Advertising Dolls 1893-1949 | 1950s-1970s
Aetna Doll & Toy Co 1901-1925
Aetna Novelty Co 1897-1930
Edwin Arthur Ahler multi-face dolls 1920-1921
Alabama Indestructible cloth dolls 1904-1932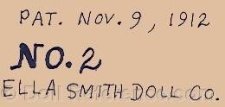 - Ella Smith Doll Co, Nov. 9, 1912
Alexander Doll Company 1923-present
Alisto Manufacturing composition dolls 1919-1920
Alkay Doll & Toy Company 1919-1922
Alkid Doll Company leather dolls 1919-1921
All Bisque Dolls 1860+
C. W. Allen & Co 1921
Jenny L. Allen rag dolls 1918
Allied Doll Company cloth dolls 1919
Allied Grand Doll Company 1915-1980
Allison Corp Bonita doll, Dress Me dolls 1955+
Alphonse & Gaston dolls 1903
Althof, Bergmann Co. doll mark AB & C 1848-1981
B. Altman & Co cloth dolls 1920s-1930s
Aluminum Doll Head Works 1919-1920
Am Torg Trading Corp 1920s
- imported Russian folk art dolls, Matryoshkas
Amana Colonies, paper mâché dolls, Iowa
Louis Amberg & Son 1878-1930
American Art Dolls 1916-1917 Strobel & Wilken
American Beauty, PD Smith Doll Co 1913-1922
American Beauty Doll Co 1923-1925
American Bisque Doll Company 1919 Chicago, IL
- doll mark Toodles, Babbie both figurines by E. Peruggi
American Bisque Doll Co doll mark ABD Co. 1919-1921
also, American Beauty doll on a rose background
American Character Doll Company 1919-1968
doll mark Petit Baby Dolls, Mama, walk, talk
American Doll (The) doll mark Betsy Ross 1939 NYC
American Doll Co 1893-1904 Philadelphia, PA
American Doll Company 1907 Attleboro, MA
American Doll Co 1912-1926 Louisville, KY
American Doll Co composition dolls 1920s CHI
American Doll & Toy Co 1892-1909 see Aetna
American Doll Manufacturers Association 1921-1928
- in 1925 26 members by 1927 47 members
American Doll Manufacturing Co 1912-1925
American Girl dolls 1986+
American Glueless Doll Co composition dolls 1918
American Limb Doll Co 1918-1919
American Made Toy Company doll mark 1929
American Muslin Lined Head Dolls 1870s-1880s
- doll mark American Muslin Lined Head
American Needlecraft Co cloth dolls 1930s
American Ocarina Toy & Dolls 1919-1920
American Produced Stuffed Toy Co 1917-1920
American Rice Foods Co cloth dolls 1899-1900s
American Specialty Doll Co 1920-1930
American Stuffed Novelty cloth dolls 1924-1930
- doll mark Life Like Line
American Style Doll Mfg. 1924-928
American Toy & Mfg 1917-1918 Kansas
American Toy & Novelty Co 1917-1930
American Toy Co mechanical dolls 1867-1874 NYC
- George W. Brown & J. E. Stevens
mechanical toys & mechanical walking dolls
using William Farr Goodwin's 1868 patent
American Toy Co 1880-1894 KY
American Toy Works Co. 1871 see Clay & Clarke
American Toy Works Co. 1894-1946 NYC
- board games, imported dolls, toys
American Unbreakable Doll Corp. 1923-1927
American Wholesale Corporation 1920-1929
A - continued above
A - continued
Ammidon & Co 1930s
Amor Metal Toy Stamping metal dolls 1922
Amsco Toy Co 1950s-1984 - now Hasbro
Amusement Novelty Co 1926+
Anamay Doll Co 1930+ cloth dolls
Anchor Toy Corp. doll mark anchor symbol 1924
- European doll importer
William H. Anderson doll maker 1884-1885
Anita Novelty Co cloth dolls 1929-1930s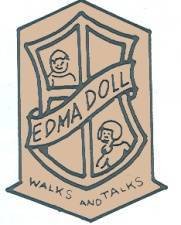 - merged with European Doll Mfg EDMA
Annalee Mobilitee Co 1950s+
Annin & Co Dolls cloth dolls 1925-1926
Antique Mechanical Dolls 1850-1900s
- Automata dolls, Autoperipatetikos a Greek
term - self propelled walking doll
Apple Dried Head doll, dates primitive to modern present
Arcadia Doll Co 1940s
Arcade Toy Mfg. composition dolls 1913+
ARCO Atlantic Richfield dress me dolls 1950s+
Arcy Toy composition dolls 1912-1930 (Bell Toy)
Arkadelphia Milling Dolly Dimple doll 1914-1915
Arnold Print Works 1876-1925+
- cloth Brownie doll © 1893 by Palmer Cox
Arnoldt Doll Company 1879-1930 Cincinnati, OH
- Blue Bird Doll clothes, sold thru Borgfeldt
Arranbee, R & B 1922-1961
Arrow Doll & Wig Co 1924-1926
Arrow Novelty Skookum 1920-1950s
Arrow Plastics Dolls 1940-1950s
Art Doll & Toy Co 1916
Art Fabric Mills cloth dolls 1900-1910 NYC
- 1905+ Foxy Grandpa doll by Carl Schultze
Art Metal Works 1914-1930 Louis Aronson Co.
Artcraft Toy Products 1918-1920
- then Artcraft Playthings 1920-1921
Artisian Novelty Co 1950s
Ashton Drake Co 1985+
Atlantic Playthings Co cloth dolls 1930s+
Atlantic Toy & Mfg Co composition dolls 1917-30s
Atlas Doll Company 1921-1922 Chicago, ILL
- doll mark Toddles
Atlas Doll & Toy Co metal dolls 1917-1930 NYC
Aunt Jemima Mills advertising doll 1908-1910
Auntie Jo's Own Rag Babies Dolls 1920
Georgene Hendren Averill Co 1915-1965
Babs Manufacturing Walking dolls 1917-1921
Baby Barry Toy by Universal Toy Company 1950s
Baby Phyllis Doll composition dolls 1919-1929
Baby Outfitters doll mark Bo-Peep American 1917-1918
Baby Ruth bisque head doll 1912-1919 (maker unknown)
- dist. by T. Eaton & Sears
Bach Brothers cloth doll mark 1908-1909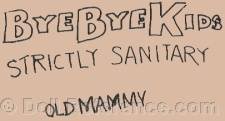 Baer & Strasburger 1922-1925
Dosher Bahner Co. 1921-1925 NYC
Baker & Bennett composition doll mark BB 1902-1916
Bal Dolls Inc. hard plastic dolls 1950s
Margaret Ball cloth dolls 1885-1892 Brooklyn, NY
Baltimore Bargain House 1881-1919
- then American Wholesale Corp. 1920-1929
L. Bamberger & Co cloth dolls 1892-1930s
- doll mark IKWA, doll distributor
Barbie dolls modern 1973+
Battat Company 1970s+
Martha Battle doll mark Evangeline 1937
Bawo & Dotter 1838-1913 Limoges, NYC, Karlsbad
doll mark B & D, B & D LTD, Pat. Dec. 7/ 80,
Barclay Baby Belle Germany
Be and Sales Company 1960s, 70s? Michigan
Beaver Doll & Toy wood dolls 1916-1917 NY/CAN/ENG
- doll mark Beaverbilt, Beaverbeasts, Beaverability
Beck Manufacturing composition dolls 1888-1921
Beecher Baby Missionary Ragbabies 1893-1910
Beehler Arts Doll Co 1950s
Beers, Keeler, Bowman Co doll mark BKB 1922-23
Bell Toy Co 1920 - see Arcy Toy Co.
Bellas Hess composition dolls 1914-1920
Belle Doll & Toy Corp 1952-58, then F & B
Sol Bergfeld & Son dolls 1924-1925
- then National French Fancy Novelty Co.
Charlotte dolls 1923-1925
Berman & Anderson, Inc. 1970s ?
Berry & Ross Co composition dolls 1919
Berwick Doll Co Famlee doll mark 1918-1925
Best & Company composition dolls 1902-1927
Bester Doll composition dolls 1919-1921
Bible Doll Company 1948-1960s
Bijou Doll Co 1915-1917
Bikin Corporation USA 1986-1992 & Hong Kong, China
- Disney fairy tale characters in vinyl
Bimco Doll Co. 1918
W. Bimblick & Co. wood dolls 1926-1930
Bing Brothers Art Doll Co 1900-1928
Bisc Novelty Mfg Co. 1914-1917
- see Ernst Reinhardt
Blechman & Sons composition dolls 1922-1927
Bleier Brothers composition dolls 1920s
Block Doll Corporation 1951-1958
Charles Bloom Doll Co 1919-1925+
Blossom Products doll mark Quints symbol 1930s
Blue Bird Doll Company 1929
Blue Bonnet Sue, Storybook dolls 1950s
Blum-Lustig Toy Co 1924-1929
H. J. Blumberg Co - Department Store in NYC
- sold 1960s Playpal type dolls marked AE
James A. Bolton composition dolls 1926-1927
Bonnytex Products rubber squeak toys 1950s-60s
Bonser Doll Co Products cloth dolls 1925-1930+
- also distributed thru their Wyse-Bailey Co.
B - continued above
B - continued
George Borgfeldt Co 1881-1959 doll distributor
Boston Pottery Company doll mark BPD 1920
Boudoir Dolls 1920s-1930s
DeWitt C. Bouton cloth dolls 1899+
Jack Bouton & Co composition dolls 1902-1929
Bouton-Woolf Co., Inc. composition dolls 1929+
Bradley Import Co dolls 1954-1984 then Hasbro
Charles F. Braitling doll accessories 1868-1896
- doll belts, goggles, hosiery, shoes, skates
Frederick K. Braitling 1897-1946 successor
Brian Swim wind-up dolls 1950s
Emma L. Bristol Doll Co 1860 / 1886-1900
Brookglad Creations, Glad Toy Co 1950s-1960s
Mayotte Browne doll mark Otsy Totsy 1922
Hattie B. Bruckmann Doll Co 1917+
Albert Bruckner Doll Co 1901-1930
Major Edward W. Brueninghausen dolls 1875-1924
Buddy L Corp., Luv Buds dolls 1982
Buddy Lee Dolls 1920-1962
Jack Built Toys 1960s Burbank, CA
Butler Brothers Company 1877-1935
Buzza Company 1927
C & C Doll Company 1960s? New York, NY
CBS Toy Co 1982-1987 then Viewmaster
Cabbage Patch Kids 1977+
California Bisque Co doll mark CBD Co MS 1925+
Cameo Doll Company 1922-1970s
Capital Toy Co composition dolls 1923-1930s
Carlson Doll Company 1946-1997
Carnival character dolls 1912+
AS Cartwright Doll Co 1880-1917
N. D Cass & Company 1918-1927 Athol, MA
- Funny Face Family dolls of white wood, peg jointed
Cast Distributing Corporation 1950s
Cawood Novelty Co 1920 Cutie dolls
Central Doll Mfg Company 1917-1921
Century Doll Company 1909-1928
- see Doll Corp of America & Domec
J. Cey Doll Company, Inc. 1950s-1960s Brooklyn, NY
Characteristics Doll Company 1950s+
Martha Chase cloth dolls 1889-1970
Dominico Checkeni wax doll mark 1866-1885
- first USA patent for wax multi-face doll
Chessler Co Durable Dolls 1920-1930 Baltimore
- cloth dolls, composition head dolls,
Flo a walking talking doll 1921-1922
Chicago Doll Manufacturers 1918
Chicago Novelty Co 1921
Children's Novelty Co (Frank A. Hays) 1909-1910
- wife Margaret Gebbie, sister of Grace Drayton
Bobby Bobbykins, Dolly Dollykins dolls
WA Cissna & Co 1897-1898+
- doll mark Ruth, Hamburger DP doll
Citro Mfg Co hard plastic dolls 1950s
H. B. Claflin & Co 1912-1914
- trade name Cupid-Eye doll 1913
Clausen & Co 1922
Robert J. Clay Mechanical Creeping Baby Doll
- patent 112550, Mar. 14, 1871
George Clarke Mechanical Creeping Baby Doll
- patent 118435, Aug. 29, 1871
Emma C. Clear doll mark HDDH 1908-1925+
- Humpty Dumpty Doll Hospital mark HDDH
Cocheco Doll Co 1827-1893+ see Lawrence
Dewees Cochran Doll Company 1934-1970s

Herman Cohen composition dolls 1920s-1949
- see House of Puzzy
L. Cohen & Sons composition dolls 1923-1929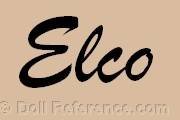 - doll mark Elco
Cohen & Lyon Doll Co 1862-1865
- dist. Autoperipatetikos, walking dolls
Roxanna E. McGee Cole cloth dolls 1868-1930s
Harry H. Coleman walking dolls 1917-1923
College House Company cheerleader dolls 1966 NYC
Collingbourne Mills cloth dolls 1920s
Colonial Toy Mfg Co 1915-1920
Columbia Doll & Toys 1917-1922
Columbian cloth dolls 1891-1910 Emma Adams
Columbus Merchandise Co 1917+
Commonwealth Corporation dolls 1950s
Confetti Doll Company doll mark 1930s
Continental Toy & Novelty 1929
Morton Converse & Son 1925-1926
Cook's Flaked Rice Co cutout cloth doll 1899-1900
- advertising; marked My name is Miss Flaked Rice
Co-Operative Mfg Co 1873-1874 Joel Ellis
Cosmopolitan Doll & Toy Corp 1950s
Creata Doll Mfg. Co.1960s-1980s
Creations, Inc. Company cloth felt dolls 1970s
Crescent Toy Mfg Co 1907-1921
Joseph David Cronan doll mark Mazel Tov 1919-1920
Crown Doll Mfg Co 1927-1929
Crown Toy Mfg Co 1930s-1940s