L.D. Company composition doll mark 1914-1915
Ljn Toys, Ltd. Company 1970-1995
L.Q.D. composition doll mark 1920s, maker unknown
La Madelon dolls, Madeline Frazier 1940s
Jacob Lacmann doll bodies 1860-1883
- doll mark Patent March 24th, 1874
Labrador cloth tea dolls 1960s+
OJ Lafayette & Co 1930s
Lakenmacker Co 1921-1924
Langfelder, Homma & Hayward, see Morimura
Langfelder, Homma & Carroll 1957-1987 NYC
- Langcraft small cloth bendable wired pose dolls
Langrock Brothers doll mark 1916-1923 Brooklyn, NY
Larami Corp 1947-1995 then Hasbro 1995-2002
Larkin Co wood dolls 1875-1930
Howard Larsen doll mark Jiggle Wiggle 1921-1922

Latexture Products sewing mannequin 1940s-50s
C. F. Lauer wax dolls 1842-1888
Laurel Dolls Inc 1950s
Lawrence & Co cloth dolls 1827+
doll mark Cocheco Manufacturing Company 1827 Patented Aug. 15th 1893 Number 503316
Ledco, Ind 1970s+ Made in Hong Kong
Benjamin F. Lee rubber dolls 1821-1870
LeeWards Products, craft dolls 1947-1994
- Dexter Thread Mills, Inc, now Michael's
Charles Wilson Leipold 1867-1868
Lensey Co 1970s
Philip Lerch, Lerch & Co, Lerch & Klag 1866-1875
- papier mache doll mark
Libby Doll & Novelty Co 1930s
Libby Majorette Doll Corp 1953+
Liberty Doll Co. 1918-1922
- doll heads exported to South America
Likness papier mache dolls 1924 NYC
CM Linington 1866-1890s
- Chicago importer, distributor of dolls
Live Long Toys Co oil cloth dolls 1923-1940s
Lomel Enterprises, Inc 1986-1993
Hilda Loose kewpie like dolls 1920-1921 NYC
- Butterfly, Pepita; Queen of the Beach &
Queen of the Ice, slim bodied novelty dolls
Lorrie Doll Co 1968+
Lovee Dolls 1970s
Lloyd Mfg Co 1917-1929
Joseph Love Co doll mark Princess Elizabeth 1935
Louisville Doll & Novelty Mfg Co 1927
Lovely Doll Co 1950s
LuJon Sun Tan Colored Doll Co 1938-1940s
Lynn & Co all bisque silver plated dolls 1903
Lyon Doll Co 1917-1922
M & C Toy Center 1990s
L. H. Mace & Co 1880s-1916
- advertised in 1911 Mace Laura doll
Madame Louise Doll Co 1939-1947
Made in America Manufacturing Co 1915-1918
Maggie & Bessie cloth dolls 1897+
Magic Light Products composition dolls 1930s-40s
Maiden America Toy Co 1915-1919
Majestic Doll Co 1918-1920
Mama dolls 1919+
Manco Doll Co plastic dolls 1950s+
Manhattan Doll Co 1890-1922
Manhattan Doll & Toy Mfg. Co 1919-1920
- Kewpies Model doll, Beauty Kist doll
Samuel Marcus 1917-1924
Pauline Margulies doll mark Empress 1933
Marks Brothers Co. doll mark 1918-1930s Boston
Marks & Knoring Co 1915-1917
Marshall Field dept store 1852-2006
- doll mark Andy Gump Germany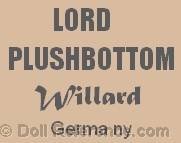 - doll mark Lord Plushbottom Willard Germany
Martin & Rippel wax dolls 1881-1883+
- renamed National Doll & Novelty Co. after 1883
Louis Marx Dolls 1919-1979
Mask Face Dolls 1920s+
Henry Hubbard Mason 1878-1893
- partner at D.M. Smith & Co 1852-1885
John Mason 1765-1785
Mason & Luke Taylor 1881-1885
Mastercraft Doll Co 1921-1924
Matlock Patent Washable papier mache 1899-1914
Mattel Dolls 1959-1970s (still active company)
Maxine Doll Co composition dolls 1926-1930s
- doll mark Baby Gloria, Mitzie
Peggy McCall sewing mannequin doll 1940s
A. C. McClurg & Keen 1909-1916
Mary McEwen wax dolls 1910-1930s
Meakin & Ridgeway 1919-1921
Mechanical Rubber Co rubber dolls 1915-1917+
- then United States Rubber Co. 1917+
doll mark M on a shield 1917+
Mego Corporation 1954-1983
Harry W. Meier 1905-1914
Minnie M. Meldram doll mark Soxie 1920
Mellin's Food Doll 1920s Boston, MA
- advertising doll used a Horsman doll
doll mark Mellin's Food Boston, Mass or E.I.H © Inc.

M - continued above
M - continued
Memorial Wreath Company dolls 1974+
- resold Japan Sekiguchi's Monchichi dolls
Mermaid Doll & Toy Corp 1921-1925 NYC
- Mermaid doll, Mama doll, Muncy Kid doll
Merry Manufacturing Co 1959-1970s Cincinnati, OH
- brands; Merry Toys, My Merry, Merryland
Metal Devices Corp phonograph doll 1926
Metal Doll Co 1902-1903 - All Steel Doll
Methodist cloth dolls 1932+
Metropolitan Doll composition dolls 1924-1929
David Meyer Bros 1921-1925
Meyer & Lorang 1929-1930s
Midwestern Mfg Co dress me dolls 1950s
Wesley Miller rubber dolls 1874-1875
Bradley & Hall Miller 1857+
Miller Rubber Co 1922-1923
Miller Manufacturing Corp 1930s+
Isabel Million dried apple dolls 1911-1919
O. Mills Toy Store papier mache dolls 1851-1856
- 194 Sixth Avenue Bet. 13th & 14th Sts.
Mitred Box composition dolls 1911-1917
Milton Bradley, Girls World 1860-1984
- Emerald Witch 1972, now Hasbro
J. R. Miranda & Co. dolls 1919 Oregon City
- composition Indian characters; Buck, Chief,
Little Buck, Little Princess, Madonna, Papoose,
Squaw
Mizpah Toy & Novelty 1930s
Model Doll Co 1920-1921
Model Patent Washable papier mache 1899-1907
Modern Doll composition dolls 1926-1927
Modern Toy composition dolls 1914-1926
doll mark M. T. Co.
Mollye's doll mark 1929-1970s
Mona Lisa Exclusives plastic dolls 1950s
Monica Studio Dolls 1941-1952
Ansil W. Monroe rubber dolls 1875+
Montgomery Wards dept. store 1872-2001
- Wards trademark 1915
Moore & Gibson Corp 1917-1930s
Moo V Doll Mfg Co composition dolls 1919-1920
Moran Doll Mfg. Co 1919-1924
Moravian Church cloth dolls 1872+
Morden Doll Co 1950s
Morimura Doll Co doll mark MB 1915-1926
Enoch R. Morrison walking dolls 1862-1865
- designed the Autoperipatetikos dolls
Miss Claire Morris boudoir dolls 1926-1927
Leo Morse turned wood dolls 1920-1923
Ozias Morse; see Dominico Checkeni wax dolls
Leo Moss papier mache dolls 1800s-1900s
Mother's Congress Doll Co doll mark 1900-1911
C. Moxie doll trade mark Moxie 1926-1927 Boston
Multi-Face dolls 1866-1925 +
Alfred Munzer 1921-1925
Mutual Doll Co, see Cameo 1919-1921
Mutual Novelty Corp 1925-1929
- boudoir Cubeb smoking Doll
My Toy Co. dolls, plush, toys 1929-1974+
Naber Kids wood dolls 1970-1994
Nagai & Co 1917-1918
Nancy Ann Storybook Doll Co NASB 1936-1971
Nasco Doll Co 1959-1960s
National Doll Co composition dolls 1923-1940s
National French Fancy Novelty Co dolls 1925-1928
National Joint Limb Doll Co 1917-1922
- Miss Najo doll mark NAJO
National Toy Mfg Co 1915+
National Syndications, San Francisco, CA 1950s
Natural Doll Co Inc. doll mark Ritzie 1915-1966
Mabel Drake, Nekarda dolls 1911 NYC
- doll mark Suffragette Kid, Votes-for-Women
Nelke Corp. cloth doll mark 1917-1930
New Doll Company 1913-1915
New England Doll Co doll mark NEDCO 1919-1921
1919 merged with American Tissue Mills & Utley
New Era Novelty Co doll mark NENCO 1914-1916
doll mark Skooter kid, YamaYama Doll
New Era Toy & Novelty Co 1921
New Toy Mfg. Co. composition dolls 1912-1921
- doll mark Nutoi, NewBisc, Middolly,
Lignumfibro a lightweight doll material
New York Doll Co 1921-1930
New York Rubber Co rubber dolls 1851-1917
New York Stuffed Toy Co 1924-1929
Newark India Rubber Co dolls 1849-1853+
Nibur Novelty composition dolls 1914-1929
Margit Nilsen Studios dolls 1930s-1940s
- manikins, Deb-U-Doll, Little Sister, Judy dolls
Thumbs Up Victory dolls
Niresk Industries, Inc 1950s
Noma Electric 1950s, see Effanbee
Non-Breakable Doll mark Jam Kiddo 1912-1916
Non-Breakable Toy Co doll mark Capo 1916-1917
- owner Joseph Capuano, Muskegon, MI
Non-Breakable Toy Co. NYC 1911-1912
Nonpareil Toy & Novelty 1920-1940s
- dolls distributed thru Riemann, Seabrey
Norma Originals 1950s
Novelty Doll Manufacturing 1922
Novelty Mart dolls 1949+ 59 East 8th St. NYC
Nugent Distributor 1900-1901
- 1900-1901 Aunt Dinah black doll 13"
bisque, composition, rag, metal head dolls
Nutshell Variety Sales Co 1921-1953
- Walter B. Abbott sun tan dolls
N - continued above
(The) 100 Doll Company, tiny plastic dolls 1950s+
OK Toy Mfg Co 1920-1921
Oakhurst Studios 1925
Oates Wax Studio wax figurine dolls 1927-1928
Olmec Corp 1985+
Rose O'Neill doll designer 1909+
doll mark Rose © O'Neill
doll mark Rose O'Neill Kewpie dolls
Ontario Plastic Doll Co 1950s
Original Doll Co 1925-1929
Original Toy Co 1915-1924
Oriental dolls 1400+
Jeanne I. Orsini doll mark J.I.O. © 1920, 1916-1930+
Otto Doll Supply Co 1917-1918
Oweenee Novelty Co 1921-1923
Owens Kreiser Co 1912-1926
Oz Toys & Dolls (Frank Baum) doll mark 1924-1926
Ozzeran or Ozzerman Mfg Co 1920
PG Atlantic & Stuffed Toy Co 1922-1924
P & M Doll Co 1918-1930+
Pacific Novelty Co 1916-1920
Pacini & Berni Statuary Co 1918
Paramount Doll Co 1926-1930
- Baby Wobbles doll
Paramount Rubber Consol 1923-1924
Paris Doll Corporation 1940s-1956
Paris & Company, Kiddle like dolls 1960s
Parsons Jackson Co celluloid doll mark 1910-1919
- doll mark a standing stork
Patent Novelty wood dolls 1929
J. N. Patten dolls 1878-1879
- merged with Jointed Doll Co 1879
Patsy type look a like dolls 1928+
Zeboin C. Patten Jr. dolls 1909-1910
Edward S. Peck dolls 1884-1886
Herman Pecker & Co Inc dolls 1960s-1970s
Peerless Doll Company 1917-1918
Peggy Doll Co 1920-1921
Francis Pelobet walking dolls 1884-1886
Penn Stuffed Toy Co composition dolls 1924-1930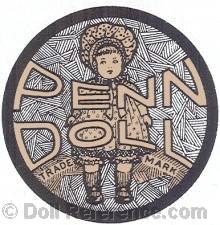 Penn Stuffed Toy doll mark label
Perfect Toy Mfg Co composition dolls 1919-1930s
- doll mark Perfect
Perfection Doll Co 1916-1923
Performo Toy Co 1926
Permolin Products Co 1918
M. Pessner & Co doll mark Sistie doll 1934
Peter Puppet Playthings, Inc. 1947-1962

- doll mark © P.P.P., copyright P.P.P. or P. Puppet
Frank W. Peterson & Co wood dolls 1907-1930
Petri & Blum dolls 1915-1916
- doll mark American Baby on a shield
Petri-Lewis Mfg Co wooden dolls 1923-1929
Genevieve Pfeffer Doll Co 1917-1920
- Splash Me doll, Com-A-Long doll
Pfhol, Maggie & Bessie cloth dolls 1897+
Philadelphia Baby cloth dolls 1900+
- also called J. B. Sheppard & Co
Margaret B. Philips Doll Co 1916-1917
- doll mark Polly Preparedness Patriotic
Mary W. Phillips Doll Co 1919-1920
Phoenix Doll Co 1921-1924
Pilzer Toy & Novelty 1921-1924
Pinky Winky Products Co 1920s, see Averill
Pizzonia & Lessi 1921-1922
Plackie Toys 1950s
Plano Toy Co 1920-1924
PMA Plastic Molded Arts dolls 1949-1961
doll mark PMA
Plated Molded Sales, Inc. plastic dolls 1960s
Playhouse Dolls 1950s
Playskool 1928-1984 now Hasbro
Pleasant Co 1986-1998 now Mattel
Frank Plotnick Co 1926-1930
Morris Politzer Doll Co 1912-1930
Politzer Toy Mfg Co doll mark PTM CO 1914-1915
Pollyanna Doll Co 1920s-1930s
Poppy doll wood Scarey Ann doll 1924-1929+
Porcelain Collector dolls 1980s+
Leo Potter doll mark NockWood 1915
Prager and Rueben Company cloth dolls 1942+
- 510 East 73rd Street, New York, NY
Presbyterian cloth dolls 1880s+
J. Pressman & Co 1929-1930
M. Pressman & Cos 1919-1930s
Pressman Toy Corp 1950s
Albert E. Price Products 1929+ Bellmawr, NJ
- Importer, doll mark Oumlet, Made in Taiwan
Lenora Price 1917-1918
William Price Jr. doll mark Slimber Jim 1921
the Dancing Doll
Primrose Doll Co doll mark label 1927-1930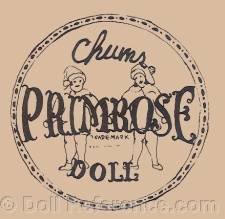 - Chums Primrose twin boy or girl dolls
Princess Anne Doll Company dolls 1950s
Progressive Toy Co. composition dolls 1917-1924
- Sweetie doll, Sweetness doll
made of wood fiber 1919-1921
Pullman Doll Co 1916-1917
Grace Storey Putnam doll designer 1923+
doll mark © 1923 by Grace S. Putnam Made in Germany or 20-10 Copr. by Grace S. Putnam Germany