Henri Bellet dolls 1919-1920 FR
- made Poupard Art cardboard dolls with molded clothing
Josef Bergmann dolls 1883-1891
- bisque or papier mache dolls heads, kid or composition body
Hattie Bartholomay Bruckmann dolls 1917+ USA
- papier mache, plaster pressed face mold, chamois skin, hand painted face dolls or kid over papier mache, glass eyes head dolls
Cuno & Otto Dressel dolls 1789-1942
Hermann Eckstein doll mark ECCO 1899-1920
Charlotte Eldridge dolls 1953
- hand made papier mache Godey Lady Dolls
Fleischmann & Crämer dolls 1844+ papier mache, Täufling, wax
dolls, doll mark AF & C Superior 2015, AF & C Superior 2018
Luigi Furga & Co dolls 1872+ Italy
- papier mache, wax mask face dolls
Alphonse Giroux 1860-1880 FR
- papier mache head on a kid body doll
Martin Grabner papier mache doll factory 1820
Ludwig Greiner dolls 1840-1900 USA
William A. Harwood papier mache dolls 1862-1880s USA
Indestructible Head No. 1879, This Composition is perfectly harmless
- maker unknown
Edward S. Judge & Early papier mache dolls 1867-1878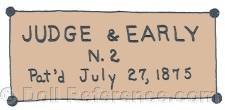 - doll marks; Judge's Patent Indestructible Doll Heads,
No. 3, March 24th, 1868, or
E. S. Judge, No. 6, July 27, 1875,
or
Judge & Early, N.2 Pat'd. July 27, 1875
JDK Kestner dolls 1820-1938
Alexandre Lefebvre papier mache baby dolls 1863-1921 FR
Note: Doll makers are German unless noted.
Philip Lerch, Lerch & Co, Lerch & Klag 1866-1875 USA
- papier mache dolls
Gustav Liedel owner papier mache factory 1850-1855
Lowenthal & Co papier mâché dolls and heads 1838-1897
Georg Lutz doll mark G.L. 2015, 2020 Superior heads 1887-1906
Matlock Patent Washable Doll 1899-1914 USA
O. Mills papier mache doll 1851-1856 US
Model Patent Washable Dolls 1899-1907 USA
Johann Friedrich Müller dolls 1805+
- mold pressed Papier mache dolls
Leo Moss papier Mache dolls 1800s-1900s USA - black papier mache character head dolls, cloth body, molded painted curly hair, glass eyes, some have a molded tear on cheek, closed mouth, dolls are unmarked or marked L.M.
Emile Paufler dolls 1896-1905
- doll house, papier mache, porcelain, Täufling, wax dolls
Christoph Reisenweber dolls 1861-1930s
- made art, bisque and papier mache head dolls
E. Ridley & Sons dolls 1884-1898 US distributor
- bisque, China, composition, rubber, Nonpareil papier mache
doll heads, wax dolls, doll mark W.A.H. nonpareil 3015
Rock & Graner dolls 1813-1911
- baby dolls, papier mache, molded hair dolls, dollhouse dolls
E. F. Safonoff dolls 1840s RU hand made papier mache dolls
Georg Andrea Sauerzapf dolls 1834-1851 AT
- mechanical dolls, papier mache dolls
FM Schilling dolls 1871-1928
- papier mache dolls, rubber dolls, Täufling dolls
composition head dolls and wax over composition dolls
FM Schilling doll mark symbol of a winged doll angel
Schmitt et Fils dolls 1854-1891 FR
Alfred Schroeder papier mache mechanical dolls 1921-1930+
Société Ch. Ramel & Cie papier mache dolls 1916 FR
- doll marks J' Habille Mes Soldats, J' Habille Mes Poupées
Sporlin & Heinrich papier mache doll heads 1835-1841 AT
Heinrich Stier dolls 1830s-1880s
Reinhold Süssenguth & Company 1883-1893
Utley NEDCO dolls, papier mache dolls 1914-1922 USA
Johann Andreas Voit dolls 1806-1882
Carl Wiegand papier mache dolls 1876-1883
- doll mark Wiegand's Patent May 23, 1876
Adolph Wislizenus dolls 1851-1931
Christopher Witthauer dolls 1899-1903
- cardboard or papier mache doll heads covered in cloth
Bernhard Zehner doll 1898-1930
- papier mache dolls & toys, mechanical dolls