Vintage Barbie Doll Clothes Fashions, Non-USA 1966-1968
1960s Barbie Doll 11 1/2" tall, vintage Japanese clothing - Video courtesy of You Tube
1656 Fashion Luncheon 1966-1967 - Many will recognize this favorite outfit, Mattel recently reproduced it for those not so fortunate to get their hands on this one as a child, looking a little closer particularly at the booklet - will let you in on the clue that this Fashion Luncheon outfit is MIB and was sold only in Japan.
Outfit consists of a pink sheath dress with the top portion being satin and the skirt a nice textured woven cotton, matching jacket with a diamond pin jabot, satin hat with decorative attached flowers, long white tricot gloves and light pink closed toe heels shoes and the Japanese booklet with the TNT Barbie's on the cover.
Photo courtesy of Jeannie Bub.
1661 London Tour 1966-1967 - This outfit is another of Jeannie's sold only in Japan finds, Jeannie told us she had an Aunt who resided in Japan in the 1960s and collected some Barbie stuff during this time. Her Aunt then told her she could pick out a few pieces to keep. Jeannie wondered what kind of a value these would have in today's market, so she wandered over here and posted a note on our forum board. Now we all get to see her wonderful gifts.
This London Tour outfit is the same as the one sold in the USA, but again you can see the TNT Barbie's on the booklet cover and the booklet will be in Japanese text. Ecru double breasted vinyl coat, matching hat and bag, turquoise sheer scarf and ecru closed toe heel shoes. Photo courtesy of Jeannie Bub.
The only reference book that we are aware of that features Japanese outfits for both
Barbie and Francie dolls, is by Keiko Kimura Shibano, which is now out of print.
The below four European market fashions were not sold in the United States,
are highly prized by Barbie collectors and are difficult to obtain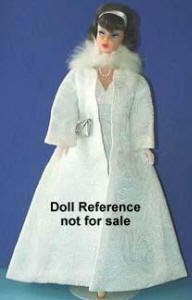 Barbie doll 1677 Gala A Bend (1967)
White brocade gown and matching long coat with blue satin lining and white fur collar, white tricot gloves, silver dimple clutch and clear open toe heel shoes with glitter.
Note: These are not the only four European exclusive Barbie outfits, just the ones we have found
Barbie doll 1679 Sorbonne (1967)

Green velveteen two piece; top with striped knit sleeves, green solid a-line skirt, black eyeglasses, school books with black strap and green closed toe pumps.

Barbie doll Atelierfest Rosarie or Pink Parfait (abt. 1968)

Sheer pink halter top bodysuit with two sheer ruffles on collar and a diamond pin, black a-line skirt (from Solo in Spotlight material), pale pink tricot gloves, pearl snake bracelet, pink clutch purse with diamond bead closure, pink closed toe heel shoes or black spike heels, a pink "Barbie" filigree hanger. (higher value with black spikes).
Barbie Doll - 1969 Pink Masquerade German outfit
modeled on a 1969 Truly Scrumptious Doll, 11 1/2" tall
This Barbie doll pink Masquerade outfit, appears to have been made from some of the same fabrics as the 1969 Truly Scrumptious doll's original long pink gown. Outfit consists of a black body suit with attached black sparkly patterned hose, short pink gathered skirt with hot pink ruffle, pale pink lined train with black flocked overskirt in tulle with a ruffle, matching pink hat, pink tricot short gloves, black plastic eye mask and black pilgrim shoes.
This Barbie masquerade outfit was only available in Germany, not sold in the USA or Japan markets.
There is also a similar 1977 pink masquerade outfit, # 9472 Fashion Originals, made for the Barbie Superstar doll who is 18" tall, also sold only in the European market.
more Barbie Clothes 1959-1963 | 1964-1965 | 1966-1968 | 1969-1970 | 1971-1972 | 1973-1974 | 1975-1976 |
Vintage Barbie Dolls 1959-1962 | 1963-1967 | 1968-1972 | 1973-1976
Buy, Collect, Sell or get pricing values worth for vintage Barbie doll Japanese exclusives, use ebay sold listings
Barbie Vintage Clothes Fashions, non-USA 1966-1968
Dolls 11 1/2" Girls Barbie | Midge | Stacey | Christie | Truly | Julia | PJ | Jamie | Steffie, Babs | Miss America | Kelley, Cara
Clone Dolls Barbie | Bild Lilli | Skipper 12" Men Ken | Allan | Brad, Curtis 11 1/4" Girls Francie | Casey, Twiggy
9 1/4" Dolls Skipper, Ginger | Skooter, Ricky, Fluff, Tiff 6 1/4" Dolls Tutti, Todd, Chris, Buffy, Pretty Pairs, Carla
Clothing Barbie | Ken | Francie | Skipper | Tutti Barbie Gift sets | 1966 Doll Marking | Clothing Tags | Rare | Miscellaneous
Doll Auctions | Barbie Menu | Dolls For Sale | Dolly Darlings | Forum | Kiddle Menu
All trademarks are respective of their owners and have no affiliation to this website
Doll Reference © Copyright 2000-2015 all rights reserved including photos & content