De Fuisseaux or DeFuisseaux Dolls
ca. 1909-1913 Belgium
Not much is known about the Belgium doll maker
De Fuisseaux, it is accepted however, that they began creating their stunning character art dolls around 1909 thru to 1913 when their factory was destroyed during World War I. Most of the dolls are bisque shoulder heads with painted intaglio eyes of various sizes, with cloth, composition and/or wood jointed bodies.
Some markings are DFB, DF, and F. 1 which was made for De Fuisseaux by the French firm of Fleischmann & Bloedel. Dolls are highly prized by collectors for both their rarity, artistic beauty and scarcity.
DeFuisseaux was part of the Belgium and French art doll movement near the end of World War I, which also included the French doll makers Albert Marque, Van Rosen and others.

De Fuisseaux Girl doll, 18" tall, she has a bisque head with a solid dome, blue glass eyes, a closed mouth, early composition and wood jointed Sonneberg body with straight wrists, she is incised F 1 in script and stamped in red on the back of her bisque head.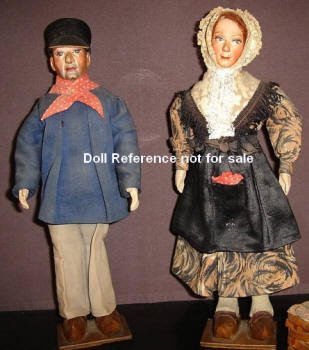 Couple de figurines, de poupées en céramique
DE FUISSEAUX (6cm) Baudour, St. Ghislain, Belgium
Bisque head peasant couple dolls dressed in original regional costume by DeFuisseaux of Baudour, Saint Ghislain, Belgium.
The woman doll is marked: D.F.B. 2 and the man doll is marked; D.F.B 3, height is about 7 1/2" for each doll (35 cm. for both).
The painted faces have austere features, with painted intaglio eyes, wooden shoes, and a wicker basket with cloth cover which is not shown. ebay Belgium auction - ended 12 Sep 2010, final value; $486.52 USA for the pair of dolls.