A
A La Récompense Jouets 1905+ Paris store
- doll shoe mark 34 Rue du 4 September
ADT Societe Nouvelle des Etablissements 1925+
Mlle. Adrienne dolls 1927-1930+
Aladin-Lam boudoir art dolls 1922-1930+
Ernst Alart doll shoes 1929 successor
- doll shoe mark Modelé Deposeé boot symbol
Eugene Alart doll shoes 1913-1929+
- doll shoe mark standing girl in chemise Deposé
Mme. Nina Alexandrowicz cloth or wood 1916-1918
- 27 Rue Delambre or 216 Boulevard Raspail, Paris
doll mark Marque Déposée Nina Alexandrowicz N.A.
Henri Alexandre doll mark H * A 1889-1895
All Bisque Dolls (French) 1890+
Alouettes DeFrance cloth dolls 1916+
- 32 Rue LaFountaine, Paris
Léo Amaury sculptor of doll heads 1911-1930
Anciaux cloth dolls 1916
- 21 Bld. Delessert, Paris
Anel & Fraisse et Fils celluloid dolls 1913-1929+
Anfray cloth dolls 1920s
- 3 Rue Eugéne Varlin Bagnolet Seine
Antique Mechanical Dolls 1850-1900s
- Automata dolls, self propelled dolls
Félix Arena doll makers 1918-1920 Paris, France
- doll mark Germany a geometric symbol Mignon
Jean Louis Hubert Arnaud rubber dolls 1852-1879
- Arnaud doll mark Brevet d' Invention LA,
doll with kid or wood body covered in rubber
Corion Arnould cloth dolls 1927-1930
- Menville & Arnould, 59 Fbg. St. Martin
Arnoult Doll Co, heads by F. Gaultier 1881-1882
Au Bébé Rose Societe dolls 1910
- doll mark Au BB Rose on a face symbol
Au Magasin Des Enfants Passage De L' Opera label
Au Nain Bleu department store 1890-1940s
- early doll mark Au Nain Bleu, E. Chauvière
- Au Nain Bleu 406, 408, 410 rue St. Honoré, Paris
Au Nain Jaune department store 1900s+
- doll mark Au Nain Jaune (The Yellow Dwarf),
Jouets & Jeux, 64 Avenue de Neuilly 64
Au Paradis des Enfants department store 1864-1925
- 156 Rué de Rivoli, Paris, Rue du Louvre, No. 1
large famous Paris, France Department store
Au Perroquet Cie 1924
- doll mark La Negresse Blonde
Aux Amis de L`Enfance 1870-1875
- owned by E. Cousins
Aux Bébés Sages 1863-1879
Aux Enfants de France 1869+
- owner Alice Couterier
Aux Enfants Sages 1870-1890s
- owners Benon et Cie, then Guiton
doll mark Passage Jouffroy, Nos. 13 & 17 Paris
see also Maison Munnier
Aux Rêves de L`Enfance 1870s
- Spécialité de Poupees, 40 Rue de Richelieu Paris
Aux Trois Quartiers department store 1905-1924
- 1906 Bébé Baptême, Bébé Madeleine,
Bebe Chiffon, Bebe Culotte, Bebe Maillot,
Bebe Merveilleux, Bebe Mignon, Bebe Neva,
Bebe Parisette, Bebe Promenette,
Bebe Trois Quartiers
B. J. et Cie kid bodied dolls 1800s+
Baculard 1860-1876, Favier & Baculard 1876+
Badín & Guibert doll mark symbol, dates unknown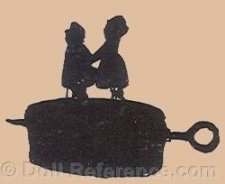 A. Baffert wax & rag dolls 1925-1927
G. Bagnaro cloth dolls 1928-1929
E. Balland & Fils doll mark E.B. 1882 Paris

Jullien Balleroy & Cie ca. 1915+
- doll mark Limoges France JB
(hot air) Balloon (Montgolfiere) symbol doll shoe mark
B - continued above
B - continued
Ernst Ballu doll Bébé Olga 1890-1914
Bapts & Hamet dolls 1898
George Barbier dolls 1923
Eugene Barrois 1844-1875
- purchased by Halopeau in 1875
Pierre Joseph Barth molded dolls 1857
Barthélemy Marquisette art dolls 1929-1930+
Francois Felix Bataille dolls 1800-1881
Madame Bataille dolls 1855-1856
Mme. Baube dolls 1870-1872
Charles Louis Baudry dolls 1917-1921
Bawo & Dotter 1838-1913 Karlsbad, Limoges, NYC
- doll mark B & D, B & D Ltd, Pat. Dec. 7/80,
Barclay Baby Belle Germany
Beaudelot doll shoes or boots 1870s-1880s Paris
- doll shoe mark found on Aux Réves de l`Enfance,
Bru, Jules Steiner, Jumeau dolls
P. Beaufrere dolls 1929-1930+
J. Bayer cloth head dolls 1925
Mme. Paule Bayle cloth art dolls 1918
Mme. Bazet doll maker 1879
Bebe Baptême infant dolls 1885-1913
Bébé Bon Marché 1894-1925
Bébés de Français 1891-1941
- doll mark standing person BF initials
Bebe Tout en Bois wood dolls 1901-1914
Henri Bellet papier mache dolls 1919-1920s
- doll mark POUPARD ART
Belleville & Cie dolls 1920s+
- doll mark Mystére
Belton Type dolls 1870s-1900
- accepted as French, probably German
Jean-Louis Benois dolls 1850-1870
SA Berchet 1995+ also called Superjouet
Jacques Berner doll mark JB Bébé Moujik 1888+
Bernheim & Kahn dolls 1900+
- doll mark Bébé Mondain, Etoile Bébé
Julius Bernhold doll mark Nini Kaspa 1910+
Bertoli Fréres doll mark IDÉAL BÉBÉ 1895
Rene Bertrand doll mark Gaby 1923
Gregoire Biberian cloth doll mark BG 1929-1931
Binder & Cie cloth doll mark BK 1918+
Antique Bisque Doll Menu 1860+
Claude J. Blampoix Ainé Senior 1847-1885
- C. Blampoix doll mark B 1 to 6 S have been found
Claude J. Blampoix Jne Junior 1856-1881
Mme. Blampoix (Senior's widow) 1876-1878
Bon Marché department store 1838+
- 24 Rue De Sevres, Paris, France
sold bebe Bon Marché plus many other bebes
Bonin, Lefort & Cie, Societe Bonin & Lefort 1923-28
- doll mark two children with sword symbol
doll mark Joli Bébé, Mon Baby, Bébé Ninon,
Bébé Select
Claude Valéry Bonnal doll maker 1898-1904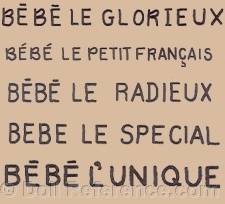 - doll mark Bébé Le Glorieux, Bébé Le Petit
Français, Bébé Le Radieux, Bébé Le Special,
Bébé L' Unique
Etienne Bossuat 1883-1924, doll mold 316
- 1924 doll mark eight pointed star symbol
Adolphe-Henri Bouchet doll mark AD 1889-99+ (SFBJ)
- Bébé Dormeur, Bébé Géant, Bébé Hamac,
Bébé Parlant, Bébé Tête Mobile, Gentil Bébé,
Le Séduisant, L'Indestructible
Boudoir dolls 1915-1930s
J. Bourgoin 1880-1892
- successor of Jules N. Steiner
Brasseur & Videlier doll shoe mark B.V. 1865-1882
Brevete Gege France 1950s
M. & Mme. Et. Bricon cloth art dolls 1916-1918
- L'Atelier des Petites Mains Parisiennes
Briens fashion lady dolls 1860-1862
Amilcare Brogi cloth doll mark Clélia 1927-1929
Simon August Brouillet dolls 1825-1854
Bru Jne et Cie bébés 1866-1899+ (SFBJ till 1958)
B - continued above
B - continued
Anne Bruent doll mark Les Poupees de Mitou 1926
Victor Brunet doll mark L`Hirondelle, dates unknown
Brunet & Pajean dolls 1910-1921
- then Mme. A. Jomin 1921+
Marguerite Brunot doll mark MB 1918 Algiers, N. Africa
- doll mark MB intertwined, registered in France
Brunswick & Cie dolls 1912-1919
- doll mark R.F. Parisienne à la Mode
Mlle. Bucquet founder of L` Adelphie dolls 1916
C.D. 60 Rue Mazarine Paris doll mark - unknown
Calots fashion lady dolls 1855
Calvare cloth art dolls 1920s
Charles Emile Carlégle & Andre Helle 1918+
- wooden toy characters; cowboys, sailors etc.
Carlier, Fournell & Gibon dolls 1925
Jean Carles doll mark Mousmé 1926
Jean Caron doll mark JC SOL 1855-1890
Adrien Carvaillo cloth doll mark Venus 1915-1939
A. Cassanet et Cie 1881-1890s
Madame E. Cayette (Marie Mommessin) dolls 1909
Cayette doll mark four leaf clover, five pointed star
- doll trademarks Bébé Oracle, Bébé Prophete,
La Fée au Gui, La Fée au Trefle,
La Fée aux Trèfles, La Fée Bonheur
Celluloid Doll Menu 1869+
Vve. Chalory doll mark Bébé Leger 1893-1896
Chambon Et Baye multi three face cloth doll 1899
- doll mark a C beetle symbol B in a circle
Chambre Syndicale des Fabricants de Jouets
Français 1886-1928
- group of toy makers, a trade organization
doll mark Marque Déposé Article Française No
Chantilly & Cie doll mark symbol 1924-1928
Charles G. Charpentier dolls 1880s-1895
Chassoux dolls 1900-1902
Chaufour La Poupee Merveilleuse dolls 1871-1875
Jaques Chauvière dolls 1848-1890+
Chéret & Moreau dolls 1879-1885
China Head Doll Menu 1840-1940
F. Chiquet & Le Montréer 1865-1885
Clauderies, waddling doll 1914-30s Limoges, Unis
Vve. Clément leather body lady dolls 1870s
Clelia cloth dolls 1930s
Les Fils de N. Clerc 1908-1927
Clodrey 1952-1974
A. Coiffe doll mark seven point star Limoges 1873+
- Coiffe Jne 1898, H. Coiffe & L. Couty & Cie 1915
then L. Couty, Magne & Cie 1920+
Convert & Co celluloid doll mark windmill symbol 1911+
Mme. Coquerie dolls 1864-1870
Coquillé dolls 1920-1921
Madame Coquillet doll mark La Parisetté 1918
Marinus Cornet doll mark La Poupée Français 1914
Cortot dolls 1913-1914
- doll mark MPHL Bébé Jeannette
Cosman Frères doll mark 1892-1925+
- 1892 Bébé le Favori by Clément Gatusse
1893 Splendide Bébé
Honoré Couillard, Bienvenue dolls 1889-1892
Cloth Doll Menu 1860+
Couin & Camgrand doll mark Kipmi 1924
Courtot-Lavancourt dolls 1875-1877
Maison Alice Couterier fashion lady dolls 1865-1894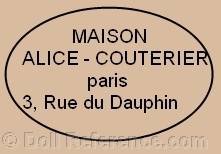 - doll mark 3 Rue du Dauphin, Paris
L. P. A. Bennett Couturier cloth dolls 1920s
- doll mark sun & bird 244 R. Rivioli Paris
Leon Couty dolls 1909+ a porcelain decorator
- successor at A. Coiffe
Aline Crosier doll mark Parfait Bébé 1917
Marie Cruchet fashion lady dolls 1850-1857
Honoré Cuillard dolls 1863-1867