Quim or Quinn dolls 1927-1930
Rabery & Delphieu dolls 1856-1899+ (SFBJ)

- doll mark R.1 D., Bébé de Paris, Bébé Rabery
successor Genty 1899-1930+
Radiana dolls 1927
Radiquet & Cordonnier fashion lady dolls 1880+
- doll mark Déposé RC
Mme. Elisa Rassant dressed dolls 1926
- Arlette, Bathilde, Claire, Joseph,
Marie-Jeanne, Mousmé, Suzel, Trudy, Yvette
Bernard Ravca 1924-1947 FR & USA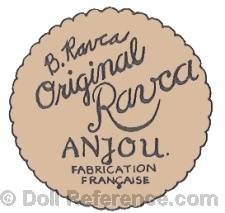 - doll mark B. Ravca Original Ravca Anjou.
Fabrication Française
E. Ravisé doll mark E.R. 1925
Jean Ray felt doll mark RAY 1921 (SFBJ)
Les Poupées Raynal doll mark 1923-1979
Rehbock & Lowenthal doll mark Chéri Bébé 1914
doll trademark registered in France, made Fϋrth, GER
Frédéric Remignard 1884-1899 (SFBJ)
- doll mark F.F.R intertwined, Le Petit Chérubin
Renault & Bon Dufour 1906-1930 doll mold 264
Louis Marie Renou mechanical dolls 1890-1921
- succeeded Dehais
Mme. Léonide (Filliol) Restignot dolls 1868-1872
Reyu doll mark France RY 1930s+
Leger Henri Ribiere 1929
Mlle. E. V. Riera doll mark on base 1906-1912+
- 8" wax head, portrait fashion dolls
Mlle. Marie G. Rigot doll mark L'Ideale 1927-1930s
Fr. & Caroline Rivaillon 1900-1910
- doll mark Bebe Modele FCR, Bébé Caro
J. Roch fashion lady dolls 1860-1864
Antoine Edmond Rochard lady dolls 1867-1871
- doll mark Ed Rochard Déposé
Marinus Rocher doll mark Le Bébé 1914
Mme. Roig doll mark Bébé Gallia 1916
Mme Leontine Rohmer 1857-1880
RoseMarie France Deposé doll mark - maker unk.
Charles Rossignol doll mark CR 1878-1900
Henri Rostal doll mark Mon Trésor 1914-1916
Henri Rostal doll mark H.R.
Charles Rouaud dolls 1913-1921
- trade names Mal` Auto de ma Poupée and
Mal` Oto de ma Poupée
Rouillard dolls 1920-1921
Roullet et Decamps doll mark RD 1865-1939+
Jean B. A. Rousselot 1845-1852
Jules Roy 1835-1857
Rozmann 1915-1916
R.R. doll mark, Bébé Articulé 1896
Rubber Doll Menu 1849+
Rufaut 1880-1890
J. Antoine Rungaldier 1843-1890
S with two arrows doll mark ca. 1885
- French automata doll maker unknown
Arthur Sadin doll mark Favori-Bébé 1916
Samaritaine store 1897-1924+
- 1910-1911 Bébé Baptême
William Webb Sanders 1927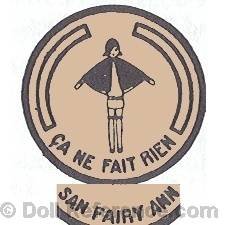 - doll mark Ça Ne Fait Rien or San Fairy Ann
- S continued above
- S continued
Santons - saint doll or figure 1700+
Mme. & Avard Saugnier 1848-1852
Andre Savary doll mark Pygmée
Mme Jeanne Schlisler doll mark Ti-Koun 1924
Schmitt et Fils bébés 1854-1891
- doll mark two crossed hammers on shield SCH
P. H. Schmitz dolls 1893-1899+ (SFBJ)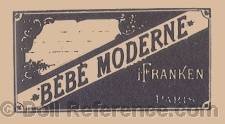 - doll mark Bébé Moderne
Schneider & Fils 1858-1896
- doll mark Paris S.F. Deposé
Max Schudze mechanical dolls 1864-1878
Adolphe Schultz 1893
Eugène Sedard wooden doll mark 1919
- Paris-Jouets, Toujours du Nouveau R-S
Senegalaise dolls, Senegalese 1903-1915
Serre Schneider doll mark S.S. ca. 1864 to1879
Sèvres China dolls 1738-1925+
- doll mark Marquisette, Madame Royal
Maison François Simonne 1836-1893 Paris
- Passage Delorme, No. là 13, Simmone Paris,
Rue de Rivoli 188
Société Anoyme doll mark La Parisienne 1910-1912
Société Anoyme de Comptoir General de la Bimbeloterie 1905
- doll mark Bebe Parisiana, Poupée Parisianna,
Poupon Parisiana
Société Ch. Ramel & Cie papier mache 1916
- doll mark J'Habille Mes Poupees or
J'Habille Mes Soldats
Société de Paris dolls 1925+
- doll mark Poupée Mystére, Yeux Expression
Société Française de Fabrication de Bébé & Jouets, SFBJ 1899-1958
Societe Française de Jouets & de Caoutchouc Bébés rubber 1914+
Societe Française des Bébés 1920-1923 Montreuil
- doll mark Marcoux on a banner, see Charles Marcoux
Société Industrielle de Celluloid 1902-1927
- Société Nobel Française 1927-1939
- doll mark France SIC
doll mark Sicoid, Sicoine
Société Industrielle de Ferblanterie 1918
Société Industrielle de Joets Française 1926+
- prior was H. Delcourt, then Gesland
- doll mark Tanagera Perle-Depose
Société la Parisienne 1911
- doll marks Bébé Eureka, Bébé Français,
Bébé Jumeau, Bébé Le Rêve, Bébé Prodige,
Paradis Bébé, Bebé Lux, Bébé Stella, Magic Bébé
Societe Nobel Française SNF 1927-1939
- celluloid doll mark France SNF
Société Nouvelle des Bébés Reclames 1929-1930s
Société René Schiller & Cie 1918
- doll mark Yerri et Suzel
Société Steiner 1892 - see Jules N. Steiner
Société Sussfeld & Cie celluloid dolls 1863-1930
- doll mark Clio Babe or Thalie Bebe
Jaques Adolphe Sommer doll mark AS 1886
- mark Je Suis Toute Française Deposio A symbol S
Yvonne Spaggiari 1927-1938
- doll mark Les Originaux or De Vovonne
Jules Nicholas Steiner dolls 1855-1908
Isidore Strassburger 1863-1866
Fernand Sustrac mignonettes (pocket dolls) with ball
jointed elbows, knees ca. 1877+
Jane Sylver 1927-1930
E. H. Taillander 1925-1927
Tana doll mark - unknown, possibly French
George Tempier 1843-1850
- doll mark Tempier, 23 Blvd. des Italiens, Paris
J. Terréne doll label 1863-1890
- J. Terrène doll mark label, 10 rue de Marché St. Honoré
bisque head, hands, wood body covered in
kid, painted metal upper arms, fully jointed
Tesmine dolls 1927
Testard dolls 1829-1855
Sylvain Thalheimer & Cie 1900
- doll name Bébé Tentation
- T continued above
- T continued
Alexandre Nicholas Théroude doll mark 1832-1895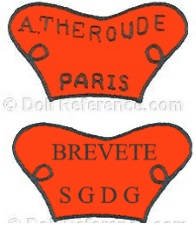 - mechanical walking, talking dolls
Francis Thieck & Jean Born & Cie 1923
- doll mark Seraphin
Ambroise Thomas 1915-1916
Mlle. Valentine Thomson 1915-1918

- doll mark PANDORE, by doll shop Pandora
A. De La Thuilerie doll mark 1873-1882
Grand Magsin de Joet, Rue St. Honoré, 366
Paris English Spoken
Andre Thuillier doll mark AT 1875-1893
Tinet Doll Factory 1815-1873 Montreuil-sous-Bois, Seine
- doll mark two pair crossed swords forming diamond
Tissier et Cie celluloid dolls 1920s-1929
V. Toulouse 1893-1894
Mme. Vve. Triquet 1900s
- 46 Place des Carmes Rouen
Henry Ulhenhuth & Cie 1876-1919 (SFBJ)
- Bébé Merveilleux for bébés incassables,

- doll mark a solid spade symbol
Unidentified French Doll Marks:
- B1S, D11, G.V., H., LPS, M., Paris H.G. 11,
R.R., S with two arrows, Tana
Unidentified French Doll mold number 31
Union National Inter Syndicale UNIS 1916-1960
M. Pablo Valdivielso Mascot doll mark Fétiche Porte
Bonheur Pretty 1929
Hippolyte Vannier 1864-1865
Marie Vassileif 1910-1926
- also located in Russia
A. L'Industrie Verchaly dolls after 1880
- doll mark 19 Rue des Poetiers Angers
Verdier & Gutmacher doll mark V.G. 1897-1902
- also as 1899 Verdier & Cie, doll mark;
Bébé Excelsior V.G. Bébé le Select V.G.,
Bébé Métropole V.G., Bébé Monopole V.G.
Gabrielle Verita cloth doll mark GV 1915-1918
- Poupée's Verite G V Marque Deposee
Jules Verlingue doll mark JV anchor symbol 1915-1920s
Verry Fils dolls 1865-1873
- Aux Galleries DeFer, 59 BD Des Italiens
Lucien Vervelle metal head dolls 1876+
Pierre Vialard doll mark 1900-1930+
- Passage Du Havre 1 et 13,
Pres La Rue Caumartin, Pris Tres Moderes
Gustave Vichy doll mark 1862-1900+
- bébés musical, automata, mechanical dolls,
G. Vichy, doll mold 1
Videlier dolls 1829-1882
- also known as Brasseur & Videlier 1865-1882
Villard & Weill 1834-1923
Ville de St Denis store 1901-1914+
Jeannie Violon doll mark Jeannine 1924
Vittu dolls 1870-1893
Les Jouets Louis Voltz composition dressed tourist dolls
- 211 Boul. St Germain, Paris
Roger Vormus doll mark Kissmy 1920
M. Vulquin doll shop 1877
- A la Grande Duchess 1877
Wannez et Rayer doll mark Bébé Loulou 1891
Charles Auguste Wattilliaux doll mark W X. 1891-1896
Wax Doll Menu 1800s+
Arthur Wertheimer 1898-1899+ (SFBJ)
- Bébé Le Baby
Adophe Léon Willette doll mark - W - 1910-1926 Paris
Wood Doll Menu 1300+
Paul Lucien Zierl 1925
- doll mark Le JouJou Pneu (rubber baby)