Abicht & Co 1897-1914 Illmenau, Thüringia
Abt & Franke 1865-1922 Hanover, Prussia
- Hannoversche Puppenfabrik
Aelteste Volkstedter Porzellanfabrik 1922+
see founder Rudolph Heinz & Co 1858-1922+
J. B. Albert Jr. toys & games 1851-1909 Frankfurt
All Bisque Doll Menu 1880+ various
ABG Alt, Beck Gottschalck 1854-1941
- also called Porzellanfabrik von Alt
Alt & Koch Toy Factory 1882-1920 Ohrdruf, Thuringia
Amberg & Hergershausen rubber 1924-1925
- doll mark AHABE, Elfenhaut
Louis Amberg & Son 1878-1930 Sonneberg, USA
Louis Ammer 1893-1903
Franz Angermüller 1927-1928 Coburg
- Fancora Wunder Baby doll
Hugo Anschutz 1895-1898 Oberlind
Antique Mechanical Dolls 1850-1900s
Anton-Russell Doll Co 1924-1925
Lothar Apfelbaum & Batzner celluloid 1925-1927
Arlington Toy Co 1920-1924 & USA
J. M. Arnold celluloid dolls 1918-1934
Max Oscar Arnold doll mark MOA 1877-1931
H. A. Arnoldi Doll Co 1899-1909
Else Arrenberg Doll Co 1920-1930
- doll trade mark Arrenberg
R. Backhausen 1891-1897
Bagge & Hanck 1920 Bavaria
Bahr & Proschild 1871-1919
Lilli & Roman Baitz composition dolls 1909-1938
Fritz Bartenstein multi face dolls 1880-1905
- doll mark Deutscher Bartenstein U.S.P. No 243752 Heinrich Bätz doll mold 871, 1913, 1914 1913-1930
Bauer & Richter celluloid dolls 1922-1927
- also called Rodaer Puppenfabrik
Oskar Bauer doll mold 300, 400 in 1926
Emil Bauersachs dolls 1882-1920s
doll mark EBVR, EBASO
Bauersachs & Henninger 1882-1884
- acquired by Arthur Schoenau in 1884
Karl Baumann doll mark KB 1922
Bawo & Dotter 1838-1913 Limoges, NY, Karlsbad
- doll mark B & D, B & D Ltd, Pat. Dec.7/80
Barclay Baby Belle Germany
Bayerische celluloid dolls 1897-1926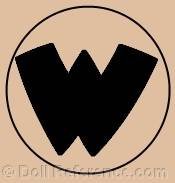 Iris Beaumont art doll mark IB 1922-1926
Bébé Tout en Bois wood dolls 1901-1914
- accepted as French, probably German
Adelbert Beck dolls 1910-1941+
Gebrüder Beck dolls 1881-1913+
Gebrüder Beck & Glaser doll mark TPK 1897-1941
- small doll house dolls
Richard Beck & Company doll mark RBW 1903
Beck & Schulze doll mold 176 1883-1930
Belton Type antique dolls 1870s-1900
- accepted as French, probably German
Albin Berghold dolls 1903-1924
CM Bergmann dolls 1888-1931
doll mark Cinderella Baby
Josef Bergmann papier mache 1883-1891
S. Bergmann Jr. & Co doll mark PN 1920
Carl Bergner doll mark CB 1860-1930s
Rolf Berlich cloth doll mark hand 1920-1924
Emile Berliner gramaphone dolls 1890-1894
- see Kammer & Reinhardt
Berliner celluloid dolls 1895
- also called Kuntz & Co
Berliner Pupperfabrik 1890-1925+
- also called C. M. Schmalfuss
L. Bierer doll mark mold 101 1845-1930
Fritz Bierschenk doll mark FB 1906-1927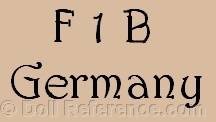 Bild Lilli 1950s
Bing Brothers Co doll mark WW 1882-1932
- 1917 Concentra, a holding company
Bing Kunstlerpuppen und stoff - SpielwarenGesellschaft 1921-1932
Emil Bischoff doll mark EB 1863-1892 Sonneberg

L. M. Bischoff dolls 1894-1903 Sonneberg
Bisque Antique Doll Menu 1860+
Ernst Bohne China dolls 1854-1930
doll mark anchor symbol EB
Bohnke & Zimmermann 1902-1922
George Borgfeldt dolls 1881-1959 USA, exporthaus
Boudoir dolls 1915-1930s
Resi Brandl doll mark RB Bufli 1923-1924 Berlin
Hermann Brandner mechanical dolls 1921-1922
Hugo Brennecke dancing dolls 1922 Halle
Ernst Bruchlos Doll Factory 1894-1922
Georg Bruchlos doll mark GMS 1883-1930+
Valentin M. Bruchlos doll mark VMB 1902-1929
Brückner & Och doll mark BO 1918-1930 Stockheim
Max Buchhold porcelain factory 1910-1930s Lauscha
Oskar Buchner doll mark OB Teddy bear 1923-1925
H. Buhl & Sohn dolls 1780-1920s Grossbreitenbach
H. Buhl & Sohn doll mark HBSG
possible H. Buhl doll mark B-S 2 Germany
Paul Buhl doll mark Tago 1910-1925+
Burggrub Porzellanfabrik 1901-1953
- see Schoenau & Hoffmeister
Theodor Buschbaum doll mark TEBU 1859-1928
- doll mold 700
Wilhelm Buschow celluloid dolls 1869-1929
Buschow & Beck metal head dolls 1888-1930s
Butler Brothers 1877-1935 USA & GER
Cantzler & Hoffmann celluloid dolls 1906-1951
then 1952-1980s Caco Company W. Germany
doll mark Caho before 1952
- doll mark Caco after 1952
Augustin Friedrich Carl doll mark Schieler 1921-27
Max Carl & Co China dolls 1891-1905
Robert Carl doll mark RC 1895-1929
Catterfelder Puppenfabrik 1884-1930s
- bisque heads by Kestner, doll mark CP

C - continued above
C - continued
Celba Celluloid Warenfabrik 1923-1960s
- also called Schoberl & Becker
- doll mark mermaid symbol inside a shield
China Head Doll Menu 1840s-1900s
Closter Veilsdorf Porzellanfabrik China dolls
- or Kloster Veilsdorf Porzellanfabrik 1760-1925
doll mark trefoil, CV, doll name Mabel,
doll mold 500, 503, 532, 900
Cloth Doll Menu 1860+
Grete Cohn doll mark Grecon 1918-1921
Max Cohn dolls 1911-1922
Conta & Bohme China dolls 1804-1937
Crämer & Heron ( Craemer & Heron) 1892-1920s
- doll mold 22, 1893+ doll trade name Baby Ruth
also Mengersgereuth Porzellanfabrik 1908-1930s
Creidlitz or Rose, Schulz Co doll mark 1908-1923
Curnen & Steiner 1890s-1910+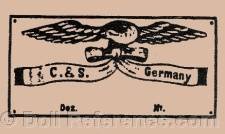 doll mark C & S Germany on a ribbon
Carl Daum 1921-1925
Carl Debes & Sohn dolls 1905-1906
Theodor & Fanny Degenring 1881-1930 Gehren
- Günthersfeld Porzellanfabrik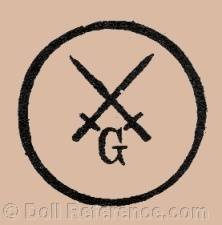 doll mold 1514, 1563, 1566, 1569, 1571
Ad. Dehler 1895-1914
Carl Dehler dolls doll mark D.G. 1883-1884
doll trademark Musikpuppe
E. Dehler doll mark ED, EDH 1866-1921
Karl Dehler Bébé Diamant 1931
Wilhelm Dehler doll mark WD 1872-1894
dist. in Paris, France, England, USA
Delly Puppenfabrik GmbH doll mark 1925 Stuttgart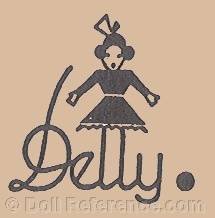 Demalcol GmbH doll mark 1921-1924
Dennis, Malley Co. London & Germany
DEP Dolls 1880s+
Josef Deuerlein before 1907-1925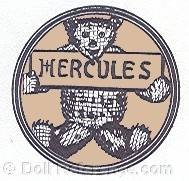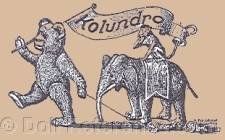 doll mark IDEN, a teddy bear in a circle
with a banner and Hercules or Kolundra
Deutsche Kolonial Kapok Werke 1925
stuffed toys marked DEKAWE Spieltiere & Puppen
Diamont Doll Co. 1950s
M. Dieckmann doll mark STF, dates unknown
Johannes Gotthilf Dietrich 1919-1928
doll mark Igodi, Jgodi
Erich Dittmann celluloid EDI doll 1945-1967
doll mark Edi D.R.M.G, Edi Germany, Edi Puppen
Matz Dittmer rubber dolls 1890s
Dittrich & Schön metal head dolls 1886-1890
Nicol Bernhard Dobrich dolls 1878-1899
- doll mold 304, 305, 2722, 4200, 4480
Doll Glossary and doll terms explained
Gebrüder Döring stuffed dolls 1907-1925+ Thür.
Dornheim, Koch & Fischer 1860-1937 Gräfenroda
doll mark XV over DKF, doll mold 882
bisque figures with Dresden type flowers 1880-1890s
Julius Dorst wooden dolls 1839-1930s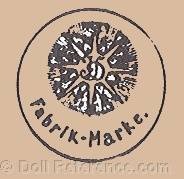 doll mark HD, star HD, D with clown symbol
Cuno & Otto Dressel mark winged helmet 1789-1942
Fritz Dressel doll factory 1901-1927
- doll mold 201, 202, 203, 210, 211, 212, 220, 225,
230, 240
Hugo Dressel Toy Export 1881-1897
- 1897 joined Leven & Sprenger
Dressel, Kister & Co China dolls 1840-1925+
doll mark DKP, symbol of a staff
Dressel & Koch doll mark D & K 1894-1897
- 2nd name Koch & Weithase 1897-1902
- 3rd name Hering & Weithase 1902+
Dressel & Pietschmann Doll & Toy Factory 1923
doll mark D & PC
Wilhelm Dressel 1895-1913
Henrietta Dunker doll factory 1923 Hamburg
doll mark Mein Stern in a six pointed star
Earthenware Dolls 1844+
D. Eberhardt 1909-1920
Johannes Chr. Eberlein 1853-1926
- bathing dolls, dolls heads
O. Eberwein & Co doll trademark Strandfee 1923
Eck. Berthold doll mark a stags head 1876-1882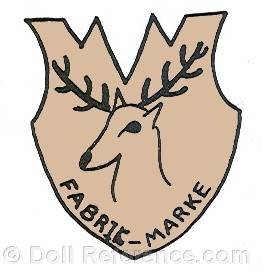 Gebrüder Eckardt (Eckhardt) 1820-1930+, UK, USA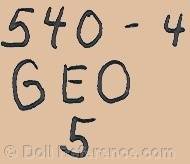 doll mark GEO, doll mold 540, 992 Our Pet doll
- see also Strauss & Eckhardt Co. New York
Rud Eckardt dolls 1895 Prussia
W. & R. Eckardt (Eckart) dolls 1924-1930+
Heinrich Eckert 1901-1905
Rudolf Eckold 1920-1921
Hermann Eckstein doll mark ECCO 1899-1920
Eckstein & Co 1924-1925
Edmund Edelmann doll mark Melitta 1921-1933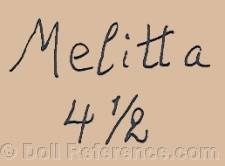 Gustave Ehrlicher or Erlicher 1903-1908
Louis Ehrlicher 1907-1920
Christian Eichhorn & Sohn mark CE & S 1909-1930
Edwin Ferdinand Eichorn 1895-1918
Franz Eichorn 1895-1918
Martin Eichhorn 1889-1930s
Eisenmann & Co 1881-1940 Furth, Bavaria, London
doll mark Einco, doll mold 126, 8723, 8764
- Eisenmann was called King of the Toy Trade
doll mark Einco 87 Heubach 64 Germany
Isidor Eisenstadt & Co 1895-1902
Erzgebirge wood dolls 1920s
E. Escher Jr. doll mark locomotive 1880-1905+
JG Escher & Sohn doll mark IGES 1790-1928
Fashion Lady Dolls 1860-1930s
Fasold & Stauch doll figurines 1903-1972
Carl Feiler & Co doll mark CF & Co 1900-1903
Arno. Fischer doll mark FA PAF, Fischer 1907-1925+
Bernhard Fischer Taufling wax dolls 1864-1911
Louis Fischer dolls 1897-1918
F - continued above
F - continued
Fischer, Naumann & Co 1852-1938
- Fischer, Naumann doll shoe mark FNC
doll mark FNC, FNI, FNJ, Fr. H & Co Patent
Adolf Fleischmann papier mache dolls 1844-1881
- Factory of Dolls & Toys, Sonneberg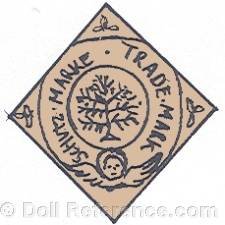 then A. Fleischmann & Cramer 1881-1927+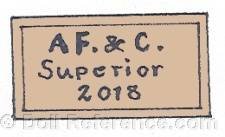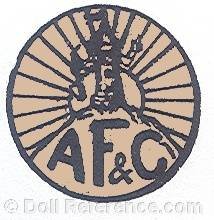 Ernst Fleischmann - see next
Eduard Fleischmann & Sohn dolls 1877-1896
- Johann's children succeeded
Gebrüder Fleischmann doll mark GFN 1879-1928+
Ernst & Johann Paul Fleischmann dolls 1853-1877+
Fleischmann & Bloedel 1873-1926 Fürth
(or Blödel) and offices in Paris, FR 1909-1926
successor J. Berlin 1911-1926
A.M.A. Flinzer-Thierfelder dolls & toys 1840-1873+
Florig & Otto doll mark FO 1920-1922
trademark Florigotto, symbol of a couple
Albert Förster doll mark symbol bear AF 1929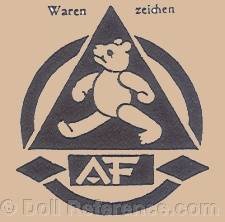 Emil Föster 1895-1920
Gustave Förster doll & toy exporter 1922-1930s
doll mark symbol smoking man with a rifle
Arno Frank & Co doll mold 100 in 1902-1904
Franz & Hachmeister dolls 1872-1875
Johannes Franz doll mold 5332 1871-1913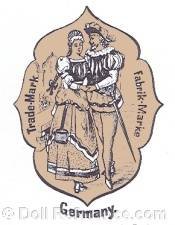 doll trade mark symbol couple holding hands Germany
doll mark Gesetzlicher Schutz Patent Amt No. 5332
Freiberg doll mark Freiberg # 1950s Germany
F. W. Freitag & Co before 1923
- then Thuringer Puppen & Spielwarenfabrik
Frickmann & Robert Lindner 1911-1925
Karl Frickmann 1925-1929
Friedrichrodaer Puppenfabrik 1902-1925+
- owners; Riede, Otto & Fritz Jäger, also known as;
Gebrüder Jäger, Jäger & Co., Otto Jäger
- doll mold 850, 890a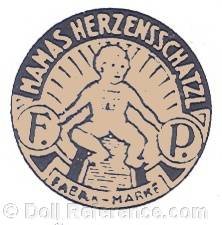 doll mark FP, Mamas Herzensschatzi, Bruderchen
Frozen Charlotte or Frozen Charlie dolls
Galluba & Hofmann 1888-1926
doll mark G & H J, doll mold 475 plus others
Otto Gans doll mark goose symbol, OG 1901-1930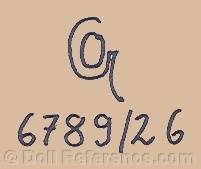 Gans & Seyfarth Puppenfabrik 1908-1922
then Seyfarth & Reinhardt 1922-1930
Georg Gebert doll mark G 1890-1907+
successor Alfred Golshiner 1907
H. Geisler & Co 1898-1900
- see also Bruno Schmidt
German Mystery Puppen Dolls & Marks
Gera Porzellanfabrik doll mark G, C 1779+
Greiner family owned
Carl Geyer & Sohn doll factory 1882-1931
doll mark Bébé Habille, Liliput,
Max Louis Goebel dolls 1895-1911
- M. L. Goebel dolls 1911-1913
now owned by Alfred Fasold
Walter Goebel dolls 1928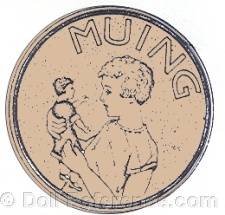 doll mark Muing
William Goebel doll mark 1867-1930s
Goethe Frieda doll taufling +1911
C. Goetz & Co. dolls 1898-1901
Max Göhring doll mark girl on swing 1921-1930+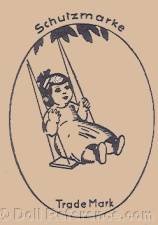 Edgard Goldstein doll mark EG 1919-1921
Alfred Golschiner art dolls 1907-1925 Berlin
Googly Eye Dolls 1912-1938
Gotha Porzellanfabrik 1892-1930
- see Fritz Pfeffer of Gotha, Thuringia
Gotha Puppenindustrie doll mark PIGO 1924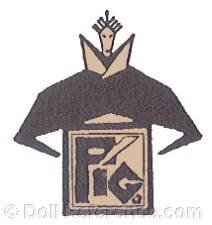 Arthur Gotthelf doll mark Ulla puppe 1922+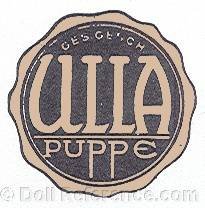 Götz Puppenfabrik 1950-2004
Götz & Heine dolls 1906-1913
August Götzinger dolls 1843-1855
Martin Grabner papier mache dolls 1820
Heinrich Graeser doll mold 206, 1180 in 1889-1892
Gräfenthal Porzellanfabrik China 1861-1880+
- Unger, Carl Schneider, Hutschenreuther 1881+
doll mark a vertical arrow thru a G
doll mold 13944, 14389, 14790 plus others
Greif Puppenkunst doll mark 1926-1928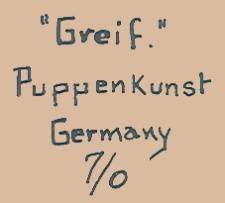 Greiner & Co doll mark G & Co 1860-1909
- called Kuhnert & Egli 1909-1938
Greiner Family 1760-1937
- see Limbach Porzellanfabrik
Friedrich Ch. Greiner & Sohns dolls 1783-1930
- see Rauenstein Porzellanfabrik
Adolf Greuling 1894-1907
- doll molds 207, 208, 209, 500, 501, 502
Carl Greuling 1904 Sonneberg, Thuringia
Grödner Tal wood dolls 1700s+
Ernst Grossman doll body mark EG 1880+ Sonneberg
Grossmann doll body mark Gesetzlich Geschutzt
Oskar Günthel celluloid dolls 1924-1925
doll mark Helgünith
C. Erich Günther doll mark CEGD 1922 Dresden
Emma Günther dressed dolls 1908-1930 Berlin
Günthersfeld Porzellanfabrik 1881-1930 Gehren
- see Theodor & Fanny Degenring
Gura dolls 1950s+
- small tourist paper-mâché or celluloid dolls
Guttmann & Schiffnie 1897-1924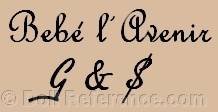 doll mark GS, G & $, Guschi
doll trade names; Bébé l' Avenir, Bébé Coiffure, Mona Lisa, Boy Scouts, Eclaireur