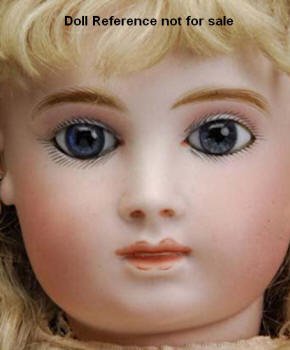 1882-1889 Halopeau Bébé doll, H Mold,
antique bisque head, French doll 23 1/2" tall
Aristride Marcelling Halopeau purchased the Eugene Barrois doll company in 1875, by 1882 he introduced the H mold Bébé doll until January 1889 when the company went out of business. The H mold dolls are rare and highly sought by collectors with deep pockets. For the rest of us, we'll probably be content to find a reproduction doll by an artist.
Shown on left; Bébé doll 23 1/2" tall, beautiful creamy pressed bisque socket head, Jumeau jointed composition French body with straight wrists, human or mohair wig, cork pate, paper weight sleep eyes lined in black with red dots in corner of eyes, painted upper and lower lashes, finely feathered brows, painted nostrils, closed mouth lightly outlined, pierced ears, marked on the neck rim: 4 . H
Halopeau Doll sizing: 0 . H = 16 1/2", 2 . H = 19",
3 . H = 21" and 4 . H = 23 1/2" tall.