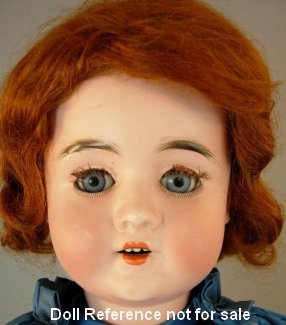 Hamburger Viola doll, 24" tall, bisque socket head, jointed composition body, mohair wig, feathered eyebrows, sleep eyes, real upper lashes, painted lower lashes, open mouth. doll mark shown above left, Made in Germany Viola H & Co. 11.
Hamburger and Company was founded in New York City in 1889 as an importer of dolls and toys, some time later they expanded to offices in Berlin and Nuremburg, Germany as well.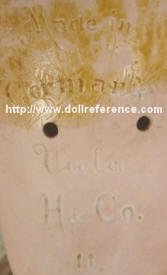 Hamburger registered doll marks are Karlsbad (possibly by the factory of Bawo & Dotter in Karlsbad Germany), D.P. (also distributed through W.A. Cissna Company), H. & C., Imperial H & Co. for a line of kid bodied dolls.
Hamburger & Co. also distributed the antique Santa doll molds 1248 and 1249 made by Simon & Halbig, Dolly Dimple molds 5777 and 9355 made by Gebrüder Heubach.
Portrait dolls; Dolly Varden (Lula Glaser) and Lillian Russell. Registered named dolls; Marguerite (possibly the same named bonnet head dolls), Viola which often includes the company initials (H & Co.) in the marking, Brownie Policeman (wool and plush covered dolls), Old Glory doll made by Adolf Wislizenus.