By Country
By Material
By Type
<! TableEnd -- Ulead SmartSaver Pro 3.0 -- Key=cinderella>

8700 Hasbro Storykins Cinderella doll 3 1/2"

Blonde hair, blue eyes, a pink & white lace gown & orange coach

Make Your Fairy Tales Come True . . . Nine Storykins dolls in the series, they have rooted hair, a vinyl bendable, poseable body, are 3 1/2" tall, dressed and named for fairy tales with themed accessories, an unbreakable 33 1/3 LP record each in a different color, a comb and brush set came with each doll.

Dolls were on the market through 1968 and are Liddle Kiddle doll like or competitors. The three; Cinderella, Goldilocks and Sleeping Beauty dolls were also available as a mail in premium offer, located on the back of Post Cereal boxes.
Vintage Hasbro Storykins Dolls For Sale - use the search ebay box to copy & paste or type a specific doll name etc., this is a category site wide search, so be sure to include your search term plus Doll or anything you may want to purchase.

Good luck we hope you find the doll of your dreams.
Hasbro Storykins Dolls Identified 1968
Items shown below are for reference
8701 Hasbro Storykins
Mother Hubbard doll
Mother is wearing a red & yellow print dress with white apron, she has a pair of black rimmed eyeglasses a white dog & brown stove, blue comb & brush, red record.<! TableStart -- Ulead SmartSaver Pro 3.0 -- Key=cinderella>
8702 Hasbro Storykins Goldilocks doll
Yellow hair, brown eyes, wearing a green, white & pink floral print dress, brown bear, brown table, 2 chairs, 3 bowls (red, yellow, & blue), a red comb & brush, & black record.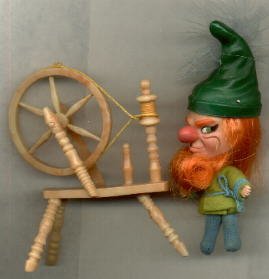 8703 Hasbro Storykins Rumplestiltskin doll
Orange hair & beard, wears a green tunic, blue tights & a green plastic hat & spinning wheel with real strings, blue comb & brush, blue record.
8704 Hasbro Storykins Sleeping Beauty doll
Brown hair, brown eyes, wearing a blue flocked gown with matching hood a Pink Canopy Bed, yellow comb & brush and record.
8705 Hasbro Storykins Prince Charming doll
Blond hair, brown eyes, wearing a purple, blue & white tunic, red tights, purple plumed hat & brown horse on a detachable green base, yellow comb, brush and orange record.
8712 Hasbro Storykins Pinocchio doll
Doll has black hair, has puppet strings and a plastic string frame attached to his arms and legs. Has red pants and a blue shirt. Brown plastic workbench, hammer, red brush and comb. Orange record.
8713 Hasbro Storykins Snow White doll
and Seven Dwarfs
Snow White is 3 1/2" tall, has black hair, brown eyes, wearing a yellow gown with a red cape, yellow comb & brush, red record, included were her Seven Dwarf dolls shown right; about 1 1/2" tall;
Bashful, Doc, Dopey, Grumpy, Happy, Sleepy and Sneezy.
Note: the two dolls in light blue shirts are duplicate's.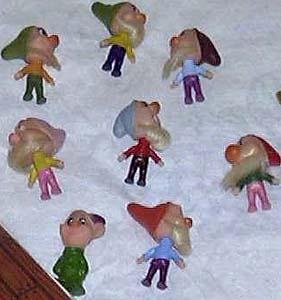 8713 Hasbro Storykins Snow White's Seven Dwarf dolls
Not shown; 8711 Hasbro Storykins The Jungle Book Mowgli and Baloo; molded plastic Mowgli doll with painted hair, no clothing and
Baloo the bear and a drum with two sticks, red Jungle book record.