Uneeda Tiny Teen Bob Doll 1957-1960s
Uneeda's Tiny Teen Bob doll is 11" tall, is Suzette's boyfriend, he's unmarked or marked U, Uneeda and as you can see, has an extensive clothing line, he was as much a clothes horse as his girlfriend Suzette.
See below for lots more photos and descriptions
Photo's courtesy of Whatsnot2like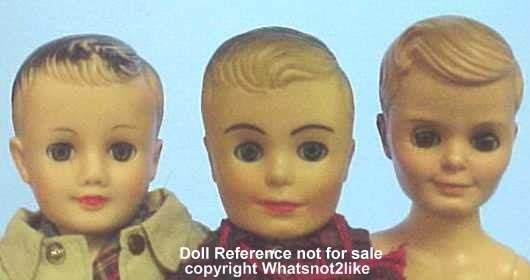 Here is a nice head shot to compare the various 11" tall teen boys left to right;
1. Vogue Jeff doll, Vogue Dolls
2. Woolworth's Jim doll, unmarked
3. Uneeda Bob doll, unmarked, U, Uneeda
Uneeda Bob in a plaid sport coat, white shirt with bowtie, next wearing a baseball uniform & then in Senior Prom, formal white tuxedo suit. What a spiffy guy.