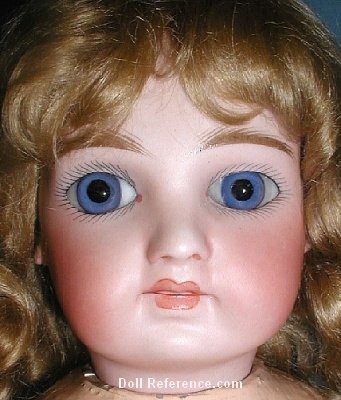 Bahr & Proschild, Dolly face, doll mold 10, 18" tall, feathered eyebrows, blue glass eyes, closed mouth, bisque socket head on composition jointed body.
George Bahr and August Proschild founded the Bähr & Pröschild doll company (also spelled Baehr & Proeschild) which began as a porcelain and doll factory in 1871 in Ohrdruf, Germany. They registered their first doll mold in 1888 and merged with the Bruno Schmidt doll company around 1919.
Bahr & Proschild made China, bisque and celluloid dolls (the 1911 trademark of Buporit was used on celluloid dolls) and supplied doll heads and parts to other companies; Bruno Schmidt, Kley & Hahn, Heinrich Stier and probably others.
Dating a Bahr & Proschild doll is generally as follows;
ca. 1871 - first dolls were marked with only a mold number
ca. 1888 - mold number plus DEP was added
ca. 1895 - the initials B & P were added to the doll mold #
ca. 1900 - crossed swords were added to doll mark
ca. 1911 - registered trademark Buporit
ca. 1919 - B & P was purchased by Bruno Schmidt,
who then used a heart with BP as part of the marking