Eitenne Denamur antique bisque head doll,
bisque socket head doll, 20" tall, wigged, heavy feathered brows that are quite straight and nearly touch at the center, large almond shaped paperweight eyes with delicate painted upper and lower lashes, open mouth with teeth, outlined lips and pierced ears doll marked E 7 D Depose.
Eitenne Denamur began making dolls in 1889 in France. By 1890 Denamur called his firm Le Maison du Bambin "The house of Bambin" as he made Le Bambin and other bébés.
Denamur is best known for his bisque head dolls with open or a closed mouth on composition jointed bodies. Denamur's dolls won a gold medal award in 1890 at the London exhibition.
Denamur was forced to file bankruptcy on January 26, 1898, Mr. Bouchet purchased Denamur's heads and body molds.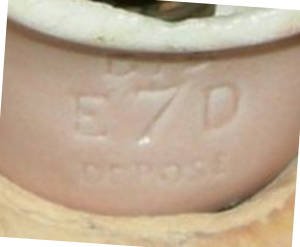 Denamur doll mark E 7 D DEPOSE
Shown at right is Denamur's doll body made of composition, jointed at the neck, shoulders, elbows, wrists, hips and knees.
Etienne Denamur dolls are marked with the initials of ED with a size number between the initials, E 6 D DEPOSE, E 8 D DEPOSE, E 9 D DEPOSE, E10 D DEPOSE
Etienne Denamur doll mark Le Bambin
Other French doll makers who used the ED initials are; Dumont, Jumeau, Jules Nicholas Steiner and Roullet et Decamps if it's a Jumeau head.
Etienne Denamur 20" bisque head doll composition jointed body