Doll Makers Around the World
Ethnic doll, Folk doll, International doll, National Costume doll, Souvenir doll, Tourist dolls
1950s to 1960s+ Almost every country on this planet has made or sells tourist dolls. The exact manufacturers names are usually unknown, obscure or too numerous to list; they could be made by local artists, individuals, small importers who then dress the dolls in the regions costumes and attire etc. but do not sign or label, the dolls they have made.
Generally tourist dolls are small sized, low quality or inexpensive, although from the quantity found today, clearly folks did purchase them to commemorate their holiday.
During the 1950s to 1960s+ a small, inexpensive hard or soft plastic Dress-Me type doll that has a glued on mohair wig, sleep eyes, doll is usually only jointed at the neck and shoulders with stationary legs, often with molded painted on shoes and unmarked. This type of doll was produced by the thousands and shipped around the world to almost every country, it was then dressed by local artists, individuals, small importers based on the regional attire and purchased as a tourist souvenir.
Africa, African - Doll Makers - Dolls made in Africa
Brentsend dolls 1915-1920s, cloth dolls made by Miss Brent and Mrs. Townsend, Grahamstown, SA & Salisbury, Rhodesia

Marguerite Brunot dolls 1918, Algiers, North Africa (see image at right)

Flora dolls 1916-1928, dolls have a wooden head, cloth body, made by Grace & Florence Wheeler

Fertility dolls, Religious dolls made in Africa - made by individuals, not commercial

Miss Anna Laubscher's Puppen Fabrik doll mark 1915-1927, Graaff-Reinet, South Africa

P.M.I. Company small souvenir doll mark P.M.I. J.H.B. 1950s-? Johannesburg, Africa

SAD doll mark - South Africa company 1960s - unknown

Marguerite Brunot doll mark Marque Depose intertwined MB (trademark registered in France)
Argentina - Doll Makers - Dolls made in Argentina
Artycal Industria Argentina dolls ca. 1935+
Marilu Dolls 1932+, doll mark Marilu Marca Registrada in blue or red ink stamp
Australia, Australian - Doll Makers - Dolls made in Australia
Barwood Toys 1950s Melborne, Victoria - Joanne Walker doll, 30" tall 1950s
- (offsite link) see Dollysisters14.com Australian Joanne page for details, many other dolls, too
Berlex Company dolls 1950s
H. Chris Burkitt dolls 1926 Narrogin, Australia
Linda Carroll, Australia Attic Dolls 1995+, ceramic Lady dolls with fantastic vintage fabric & jeweled gowns
Laurie Cohen - L C Cohen Pty Ltd., Hush-A-Bye-Baby doll (s) family 1920s-1940s Sydney, AU
Laurie Cohen doll mark Pat. 6944 - 13- 4-32 L.C. Hush-a-bye-baby doll on a shield
Consolidated Merchandising Company Pty. Ltd., owner Theodore (Theo.) H. Levy 1942+
- Patsy doll, Suzy doll, white or black Cherub doll (if found with a small mark DC by Diecasters, then by
Tamco), Rags Dolly paper patterns, Ace brand toys.
| | |
| --- | --- |
| Theo. H. Levy doll mark Cherub Made in Australia inside a triangle | Theo. H. Levy doll mark PATSY inside a triangle |
(The) Efco (engineering) Manufacturing Company unmarked aluminum metal head dolls 1946-1947 Arncliffe, Sydney - the cast aluminum metal heads were designed from a Pedigree composition doll mold, see below for the stamp on the body mark.
E.M.C.E. Doll Company made cloth torsos for the above metal head Efco dolls 1946-1947 Arncliffe, Sydney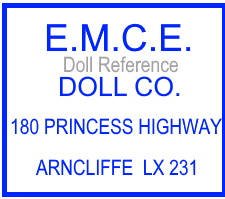 E.M.C.E. Doll Co 180 Princess Highway Arncliffe LX 231 (on dolls body)
Anne Geddes plush dolls 1990s+
Edgar Stocks Heithersay wooden walking doll 28" tall, patent number 10766/19, 15 April 1919
(Madeleine) Hunter Products, Shibajuku Girls (fashion dolls) doll mark Hunter 2016 +
- Funville Sparkle Girlz collector dolls; small dolls in a cupcake or floral fairy doll in a cone 2014 +
Lindee Toy Co. dolls 1944-1976
(The) House of Metti Pty. Limited dolls 1975 +, see Netta Australia
Sarah Ellen Midgley cloth dolls ca. 1930s-1950s
Moldex LTD, Tri-ang Line Brothers doll mark Bonnie Baby in white or black doll 1876-1942+ London, UK
- also known as Pedigree Company 1942-1971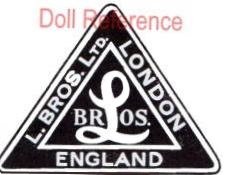 Netta Australia doll mark netta on a map of Australia Made in Australia 1972 to present
Peerless Company dolls, dates unknown, Australia
Lionel (leo) J. Sterne Doll Company 1939-1971 Melbourne; Gerry Gee Junior ventriloquist doll, plus other dolls, TV show characters and toys.
Tamco Pty. Ltd., 1956+ owner Arthur Bourne, also formed Bourne Industries in 1963, made plastic dolls, took over production of the Cherub dolls from Theo. J. Levy until 1966 when production ceased.
P. Thomle doll maker 1880s Queensland, Australia
Verna Toy Company dolls 1941-1980s
Belgium - Doll Makers - Dolls made in Belgium
Louis Herman Bonvoisin doll mark LHB (L.H.B.) 1907 +, Verviers, Pont St. Laurent 14, Belgium
- Bonvoisin was known to purchase heads from Armand Marseille in Germany
Jeanne Cortot of Le Puy dolls 1917-1922
- doll mark M.P.H.L., Bébé Jeannette, Marque Deposče, Fabrication Française
Leo W. Dulmage walking dolls 1920-1923
DeFuisseaux or De Fuisseaux dolls ca. 1909-1913
Eugénie Faugier dolls 2 heads, 2 torso's, 2 skirts 1909
Maison Jean, green & white doll mark label, dates unknown, Brussels, Belgium
Keralouve Mundial Company - reproduction of antique All Bisque German dolls, dates unknown 2018+
Remdeo dolls 1914-1916
Unica dolls 1921-1971
Van Hollebeke dolls 1850s
Ernest Villain, Princesse Universal doll mark EVF 1932-1945 Forchies-la-Marche, Belgium
| | |
| --- | --- |
| Ernest Villain, Princesse Universal doll mark EVF | Ernest Villain doll mark PU Courtrai |
Brazil, Brazilian Bonecas - Doll Makers - Dolls made in Brazil
Estrela Company 1937-present, maker of dolls and toys, doll mark ESTRELA
- licensed by Ideal & Mattel to reproduce their products in Brazil
some bonecas names; Bebe, 1963 Miss Universe Ieda Vargas, Linda, Patti Playpal, Susi and many others
Holzer & Cie dolls 1920s-1940s
Joao Perotti Mfg. Obis dolls 1920s-1930s
Viuva Torres dolls 1898 Rio de Janeiro
Czechoslovakia, Czechoslovakian (Bohemia) Doll Makers
- Dolls made in Czechoslovakia
Appendix Porcelain Factory doll mark AP

Artel Company doll mark Artelpraha 1900s Prague

Fritzsche & Thein Porzellanfabrik 1830-1930+

Miss Marcel Giblet dolls 1921-1922

Adolf Hahn dolls 1897 CK - papier mache and wax dolls

Rudolf Heinz dolls 1911-1925

Hoŕické Hrag two dimensional wood dolls, early 1900s

- doll mark HH Horicke Hrag Druzstve

F. Klemperer dolls 1923-1925

Klosterle dolls 1790-1890+ (Czechoslovakia was in Austria)

Gustav Kmel dolls 1906

Lidová tvorba Uherský Brod costume souvenir dolls 1936+

- dolls are unmarked, came with a hangtag

Moravia, the Toy Center of Czechoslovakia, Moravian dolls

Theodor Pohl, Schatzlar Porzellanfabrik 1878-1941+

doll mark TP 1907

doll mark TP intertwined 2210

Portheim & Sohn doll mark P. & S., mid 1800s, Carlsbad, Bohemia

Adolf Prouza, Klein-Schwadowitz Porzellanfabrik 1908-30+

doll mark AP, doll mold 1903

Wenzel Prouza Porzellanfabrik 1905-1930+

doll mark WEP, doll mold 1899

Mortiz Resek or Mortiz Rezek 1889-1927+, doll mark MR, doll mold 1895, also in Austria

Schlaggenwald Porzellanfabrik, China head dolls, vases 1792+ - owners Lippert & Haas 1792-1867, Haas & Cžjžek 1867-1930+

Louis Schneider, Haindorf Porzellanfabrik 1860-1893

Technoplast Company doll mark 1949-2002

made celluloid, plastic & vinyl dolls

Alois Ullmann dolls 1923 Teplitz- Schonau

Weiskirchlitzer Steingutfabrik GmbH. doll mark WST 1817-1920

Gisella Weyde dolls 1920-1922
Denmark, Danish - Doll Makers - Dolls made in Denmark
Bing & Grondahl porcelain makers 1853+, made some China head dolls marked B & G in blue on inside of the shoulderplate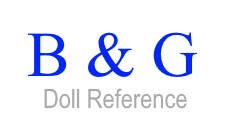 Dandol APS doll company 1980s+, Denmark, made vinyl dolls, Asian dolls and animal Hedgies hedgehog characters plus others.
Dandol doll mark DVP APS Made in Denmark
J.K. Křge Doll Factory founded by Jeris Kofoed in 1947 to the 1950s? in Křge, Denmark to make celluloid dolls.
J.K. Křge doll mark J.K. Křge inside a triangle

J.K. Křge doll mark sea shell symbol

J.K. Křge doll mark sea shell symbol

inside a circle
Kai Reisler Aps Company 1949-2008, Copenhagen, made toy model figures; animals, cowboys, firemen, guards, Indians, sailors, soldiers & trolls in hard plastic or vinyl, doll mark Made in Denmark inside a circle J.N. for designer John Nissen.
Here is a link with more company history and photos of their products Reisler Model Figures
Royal Copenhagen Manufactory China head doll mark three wavy lines, three vertical lines 1772-1925+
Finland, Finnish Nukke - Doll Makers - Dolls made in Finland
Amanda Hertman cloth dolls 1876+
Dollitex plastic dolls 1952-1975 - then became Polarnukke plastic dolls1975-1990s
Suomi dolls and toys 1888+
Turku Martha Doll Company 1908-1974 - also known as Turun Martta-Nukketeollisuus and Nukkela,
- early dolls have German heads and hands, probably made of bisque
Greece, Greek, κούκλ - Doll Makers - Dolls made in Greece
Bella doll hard plastic and vinyl, rooted hair, sleep eyes, closed mouth, doll is unmarked, unknown Greek doll maker
Evelt Themis dolls 1980s? hand made porcelain dolls dressed in traditional Greek costumes
Evelt Themis doll mark tag
Evelt Themis, top of Iconic column symbol,
Dolls in Greek traditional costumes,
Hand made in Greece
John Kehagias dolls 1960s-1970s, dolls also made and marked Regal of Canada
John Kehagias doll mark Ty.I 40/14 J.K.
Lea Dolls 1960s Greek, Maid of Athens doll with leather, cloth body, blue velvet short jacket, blue full skirt 1960s tourist, souvenir doll
Near East Industries cloth dolls in regional clothes 1920-1930s
Hungary, Hungarian - Doll Makers - Dolls made in Hungary
Magyar Asszonyok Nemzeti Szovetseg - (National League of Hungarian Women) dolls 1909-1926
Zsigmond Liebner dolls, toys 1920s +, Uncle Liebner famous toy dealer in Budapest
Magyar Babavilag - (Hungarian Dolldom) dolls 1920s
Magyar Mϋvészeti Mϋhely (Hungarian Art Workshop) dolls 1920s
Pápa Pottery doll mark PAPA 1811+
Magyar Ruggyantaŕrugyŕr Rt. (Hungarian Rubber Articles Factory), celluloid & rubber dolls 1922-1926
- doll mark Made in Hungary
Orszagos Magyar Haziipari Szovetseg - (National Hungarian House Industry) dolls 1926
Mrs. Marga Szerelemhegyi doll mark Marga in heart symbol 1920s-1930s
Ungarische Gummiwaren-fabrik dolls 1894-1930
India, Indian Doll Makers - Dolls made in India
Plywin Industries, Ltd. featherlite unbreakable dolls 1946-1970
Ireland, Irish - Doll Makers - Dolls made in Ireland
Isobel Dodd dolls 1919
Emily Florence Eaton dolls 1895-1925
Hibernian Novelty Co dolls 1916-1917
Irish Toy Company, Itco dolls by J. Peskin 1918 Dublin
Orwell Art Industries, unbreakable composition head dolls, prior to 1908 Dublin
Israel, Israeli - Doll Makers - Dolls made in Isreal
Mayer Rubber Company 1921 + dolls & toys made of rubber mark Mayer Pat. Pend. (1950s-1960s)
Mexico, Mexican Muńeca - Doll Makers - Dolls made in Mexico
Religious dolls or figures in wax or carved wooden Santos figures 1700s+
Isabel Belaunsaran dolls 1913 - 1" or less silk thread wound around a wireframe dolls with hair, features & clothes
Cornhusk dolls, Folk Art dolls, Traditional dressed dolls
Muńequitas Illusion - Mexican tourist dolls, composition, hard plastic
Plastimarx Company - a division of Louis Marx, made Schaper Li'l Me dolls (also a USA company),
- now called Schaper Chi Kiss dolls 4" tall 1970s-1980s,
Tipica Muneca Mexicana - irrompible (unbreakable) composition Mexican boy dolls, Mexican girl dolls, NASB Nancy Ann Storybook like dolls
Netherlands, Holland, Dutch, Pop - Doll Makers - Dolls made in The Netherlands
18th to 20th century - Grödner Tal wood dolls, Nürnberg Fille, Peg Wooden, Penny Wooden dolls
Gebruder Douwes bisque doll heads by Simon & Halbig, cloth body doll
- doll mark Nationale Costuums Damrak 69 Amsterdam
R. Eekhoff bisque shoulder head Simon & Halbig doll mark 1894 Groningen
Gerzon dolls 1925-1930 importer and distributor, advertised composition head,
cloth body dolls similar to Käthe Kruse, celluloid dolls, Kämmer & Reinhardt
Dovina Dolls of Rotterdam-Holland doll mark VH intertwined, Dovina 1960s-1970s?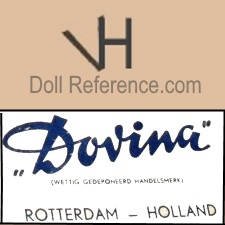 - 8-19" tall, regional dressed celluloid dolls marked VH with label "Dovina" Rotterdam - Holland
Liebling baby doll, mignonnettes, celluloid Kewpie like dolls, Boudoir dolls, black dolls, Chinese dolls, Oriental dolls.
Het Poppen Rijk (The Doll Palace) doll mark girl standing with arms stretched above head Wildebras 1946-1973 Steenwijk, Netherlands
A. Többen (Tobben) dolls, 1939 worlds fair, hangtag made in Holland, wearing a Dutch costume
Harry VanTussenbroek 1929 art dolls
North Americas Doll Makers - Dolls made in the North Americas
North America Arctic regions - wooden Labrador dolls 1940s+, Labrador Tea dolls 1960s+
Northern, North, Central, Caribbean, South America - dolls were made by various artists, craftsperson's
Trinidad dolls 1914+ - cloth stuffed and dressed as a East India coolie woman, betrothal or marriage dolls
Norway, Norwegian, Dukke - Doll Makers - Dolls made in Norway
Mimi Berg, Norgesdukker hand carved artist wood dolls 1940s Norway
Husflidsforening Norsk, Christiana, Oslo, exhibited dolls in 1893 at the Chicago Exposition
Kristian Olson, Telemarken, Oslo, exhibited dolls in 1893 at the Chicago Exposition
Ronnaug Petterssen dolls 1930s-1970s
Peru, Peruvian - Doll Makers - Dolls made in Peru
Corporation de Industry Plastics SA - CIPSA 1959+ Lima, Peru
Poland, Silesia Lalka - Doll Makers - Dolls made in Poland
Thabee Lazarski dolls 1913 - also located in France 1914-1930s
Mask Face Dolls 1920s+ dolls made in Poland
Theodor Reinke doll mark TR inside a triangle 1930s-1940s+ Kalisz, Poland
Hogo Roithner & Co wood dolls 1871-1925 +
Schlesische Spielwaren Fabrik dolls 1926-1930
Heinrich Schmuckler doll mark Hesli rabbit symbol 1891-1928
H. Weignerova dolls 1929-1930
Friederike Welsch dolls 1925 Breslau, Silesia
Zast dolls 1920s doll mark ASK inside a triangle Poland
Romania, Romanian, Papusi - Doll Makers - Dolls Made in Romania
Aradenca Factory 1948-2013 rubber squeak dolls & toys
Russia, Russian, Soviet union, куклы Doll Makers - Dolls made in Russia, CCCP
1960s Russian dolls & doll makers Identified by Nastasya80
Antoshka doll mark V symbol, dates unknown possibly 1950s?
A.L. Dymasb Komeko Go doll mark six pointed star symbol, ceramic head, ca. 1916-1920s
Doll mold 455 46, ceramic head, unknown maker, ca. 1916-1920s
Doll Planet Russian Dolls Forum Board (in Russian)
Lenigrushka Factory dolls 1928+ of Leningrad
| | |
| --- | --- |
| Lenigrushka doll mark Teddy bear symbol | Lenigrushka doll mark couple embracing symbol |
Matryoshka Dolls - wooden Russian nesting dolls 1890+
New Year's Tree decoration miniature Russian nationality dressed dolls 1950s+
- miniature one piece head & body doll dressed in non removable
Russian provincial costumes, dolls are jointed only at the shoulders
Okhtinsky Chemical Plant celluloid & plastic doll mark OHK, OXK, OKX (the K is backward) 1907+ St. Petersburg
Okhtinsky Chemical Plant doll mark oval shape with OXK inside CAENAHO B CCP
E. F. Safonoff hand made papier mache dolls ca. 1840s
Swiecka cloth or leather dolls 1915-1918
Russian Trihedral dolls, three sided wood dolls 1940-1991
Marie Vassilief or Vasilyeff dolls 1910-1926
Vesna Toy Factory, small & large plastic dolls, talkers, doll mark BECHA 1960s-present
Vierecke & Leutke dolls 1902 Riga
Zhuravlev & Kockeshkov terracotta or pottery unmarked doll heads on composition bodies 1900s-1918

Scotland, Scottish - Doll Makers - Dolls made in Scotland
John Henry Johnson India rubber, gutta percha dolls 1855
W. Tapp wooden dolls ca. 1860, a Scottish cabinet maker, Montrose, Scotland
Tomac of Scotland cloth doll house dolls 1950s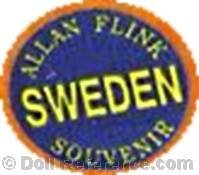 Sweden, Swedish Docka Doll Makers - Dolls made in Sweden
Lilly Jacobssen Dockatelje dolls 1960s+ - small plastic regional dressed souvenir tourist dolls
Alan Flink dolls, dates unknown - made wooden regional painted dressed souvenir tourist dolls,
doll mark Alan Flink Sweden Souvenir --------->
Rörstrand China Head dolls 1726-1925+ SWE - doll mark red R
Switzerland, Swiss - Doll Makers - Dolls made in Switzerland
Anderegg dolls early 1900s, doll mark Th. Anderegg, wood carved dolls, Montreux, Switzerland
S.G.F. Bern doll mark red shield with white cross, Servante Bernoise 17 Siécle
Bucherer & Cie doll mark Made in Switzerland 1921-1935
Mme. Louise Bureau dolls Geneva, Switzerland
- doll mark Au Chaperon Rouge, Madame Louise Bureau, Gene-VA, Rue du Rhone 58, Fabrique de Poupees
Cunique Des Poupees ca. 1910 doll mark Lausanne, Place Palud No. 1, K star R 101x 39
Henkel & Co 1950s soap advertising doll
Henri Maillardet automata doll 1805
Heidi Ott dolls 1970s+
Swiss Linden wood dolls 1900s+ Brienz area, various craftsman
Thorens 1883+ doll mechanical music boxes, Edison phonographs + more
Franz Carl Webber dressed dolls including Jumeau's in the 40s to1950s & accessories1897-1950s
Westo marked small celluloid tourist dolls
Wood dolls, Wooden dolls 1900s+
Syria, Syrian - Doll Makers - Dolls Made in Syria
Barronne Sandra Belling small Syrian dressed cloth dolls 1930s-1950s
- dolls are marked with a label stamped on clothing Made in Lebanon & Baronne Belling
Taiwan - Doll Makers - Dolls made in Taiwan
Victoria Impex Corporation Venetian porcelain doll mark lotus flower symbol 1976+ & in Concord, CA
ATU Taiwan doll mark atu intertwined inside a circle, unknown
UAE Dubai - Doll Makers - Dolls made in The United Arab Emirates
New Boy FZOC, Dubai 1999+ - Fulla dolls
Playwell International LLC., Dubai 1991-present
- 1992 Stephanie doll plus many others