Mexico, Mexican Muñeca Doll Makers - Dolls made in Mexico
Religious dolls or figures in wax or carved wooden Santos figures 1700s+
Isabel Belaunsaran dolls 1913 - 1" or less silk thread wound around a wireframe dolls with hair, - features & clothes
Cornhusk dolls, Folk Art dolls, Traditional dressed dolls
Muñequitas Illusion - Mexican tourist dolls, composition or plastic
Plastimarx Company - a division of Louis Marx, made Schaper Li'l Me dolls (also a USA co.),
- now called Schaper Chi Kiss dolls 4" tall 1970s-1980s,
Tipica Muneca Mexicana - irrompible (unbreakable) composition Mexican boy dolls, Mexican girl - dolls, NASB Nancy Ann Storybook like dolls
Toluca dolls made from gourds
Netherlands, Holland, Dutch, Pop Doll Makers
- Dolls made in The Netherlands
18th to 20th century - Grödner Tal wood dolls, Nürnberg Fille, Peg Wooden, Penny Wooden dolls
Gebrüder Douwes bisque doll heads by Simon & Halbig, cloth body doll
- doll mark Gebr. Douwes Nationale Costuums Damrak 69 Amsterdam
R. Eekhoff bisque shoulder head Simon & Halbig doll mark 1894 Groningen
Gerzon dolls 1925-1930 importer and distributor, advertised composition head,
cloth body dolls similar to Käthe Kruse, celluloid dolls, Kämmer & Reinhardt
Dovina Dolls of Rotterdam-Holland doll mark VH intertwined, Dovina 1960s-1970s?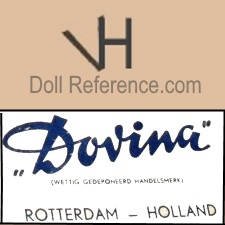 - 8-19" tall, regional dressed celluloid
dolls marked VH with label "Dovina" Rotterdam - Holland
Liebling baby doll, mignonnettes, celluloid Kewpie like dolls, Boudoir dolls, black dolls, Chinese dolls, Oriental dolls.
Het Poppen Rijk (The Doll Palace) doll mark girl standing with arms stretched above head Wildebras 1946-1973 Steenwijk, Netherlands
A. Többen (Tobben) dolls, 1939 worlds fair, hangtag made in Holland, wearing a Dutch costume
Harry VanTussenbroek 1929 art dolls
Norway, Norwegian, Dukke Doll Makers
- Dolls made in Norway
Mimi Berg, norgesdukker hand carved artist wood dolls 1940s Norway
Husflidsforening Norsk, Christiana, Oslo, exhibited dolls in 1893 at the Chicago Exposition
Kristian Olson, in 1893 exhibited dolls at the Chicago Exposition, Telemarken, Oslo
Ronnaug Petterssen cloth dolls 1930s-1970s
Peru, Peruvian Doll Makers - Dolls made in Peru
Corporation de Industry Plastics SA - CIPSA 1959+ Lima, Peru
Poland, Silesia Lalka Doll Makers - Dolls made in Poland
Celluloid Toy Factory 1884 - ca. 1939 Kalisz (POL), founded by Adam Szrajer and father-in-law Jakub Fingerhut, made wooden toys and celluloid dolls marked ASK inside a triangle Poland.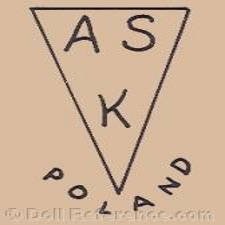 Celluloid Toy Factory (during WW II ca. 1939-1945) Kalisz (POL), successor was German Theodor Reinke, doll mark TR inside a triangle.
Celluloid Toy Factory, sometime after world war II ended in 1945, was renamed Kaliskie Zaklady Przemyslu Terenowgo at Ul Przbrzezma and used the celluloid doll mark PPMK inside a triangle Poland or a four leaf clover symbol Poland.
Thabee Lazarski dolls 1913+ - also located in France 1914-1930s
Mask Face Dolls 1920s+ dolls made in Poland
Hogo Roithner & Company wood dolls 1871-1925+
Schlesische Spielwaren Fabrik dolls 1926-1930
Heinrich Schmuckler doll mark Hesli rabbit symbol 1891-1928
H. Weignerova dolls 1929-1930
Friederike Welsch dolls 1925 Breslau, Silesia
P. R. Zast celluloid mask face doll mark ASK inside a triangle (Adam Szrajer of Kaliz, Poland), P.R. Zast inside a triangle Poland