A
A & A Merchandising Products Company LTD. 1941+
A. Hyman Abrahams & Sons Company 1915-1921 London
L.D. Abrahams Toy Company 1917+
Rudolph Ackerman Print Shop paper dolls 1764-1834
Ackermann's Repository of Arts ca. 1820+
- Ackermann's Repository Of Arts, 101 Strand, London
The Acorn Toy Company LTD. 1944+
- doll & toys trade mark; acorn on oak leaf 31st October 1944
Airfix Products Industries, LTD. 1939-1977+
- acquired doll manufacturer Semco LTD. in 1962
Agrespoly Dolls 1950s-1970s Made in Hong Kong
Albany Toy Company soft toys & dolls 1919
Frederic Aldis Pierotti wax dolls mark label 1878-1901
doll mark 11 & 13 Belgrave Mansions SW
Thomas Aldred Pierotti wax dolls 1881-1903
Alresford Crafts bears & dolls 1976-1980 Alresford, Hampshire
All British Doll Manufacturing Company 1915-1919
- composition, kid, papier mache dolls & doll wigs
doll mark Allbrit
Alliance Toy Company cloth dolls 1917-1920
Richard & Sons Allwin Doll Company doll mark ALLWIN 1935+
- Shirley Temple look a like dolls
Amanda Jane LTD. 1952-2007
- plastic or vinyl Amanda Jane & Amanda Jane Baby dolls
Gabriel Mentech Assael United Agencies 1919-1945+
- wholesaler of English & French dolls & toys
Art Fabric Mfg. Co. cloth doll mark 3 girls 1913-1916 London
Art Toy Manufacturing cloth dolls 1919-1923 & NYC
doll mark Misska, trade name Bathing Jeff doll
Art Statue Company dolls 1917-1918
- composition heads & parts supplier
Atlantic Rubber Company doll mark Toggy 1923
Atlas Manufacturing Company 1914-1918
- cloth dolls, British ceramic heads & hands
Mabel Lucie Attwell artist, doll designer 1914-1962
- designed Bambinas for Chad Valley
and others including Roddy Doll Company .
Diddums dolls, Pooksie doll, Caresse dolls
Austen & Haben Company 1916 Peckham, England
- British ceramic & cloth dolls
B
E. W. Bagley doll heads & parts maker 1924-1925
Charles W. Baker distributed cloth dolls 1916-1923
Bailey & Baxter wax dolls 1916
- unglazed porcelain dolls dipped in wax
William Bailey Company doll mark KLIPTIKO 1916+
Bainbridge & White Company store sold dolls 1922
John Banister English & Dutch dolls & toys 1800s
A. Barker doll maker 1926
Henry Barnett doll manufacture agent 1921-1926
Henry Barnett doll agent 1921-1926
Barnett, Isaacs & Company doll maker 1922-1926
Batger & Company composition & wax dolls 1915-1922
John Batt & Company doll mark bat symbol 1883
Anthony Bazzoni composition & wax dolls 1828-1878
Victor Baumann doll maker 1897-1929 London & Nürnberg
Beaver Doll & Toy wood dolls 1916-1917 NY/CAN/ENG
doll mark Beaverbilt, Beaverbeasts, Beaverability
Bedington, Liddiat & Company import / export dolls 1875-1930+
Bell & Francis character dolls 1906-1923
Henry S. Benjamin Company doll mark Victory Doll 1917+
Mabel Bland-Hawkes cloth dolls 1918-1930
Bluebird Toys Plc 1980-1998
- now owned by Mattel USA
Boudoir dolls 1915-1930s
Borough British dolls 1915-1920
Braxted Doll Village Industries 1918-1928
Britannia Toy Company dolls 1919-1926
British Made black bisque doll mark ca. 1918, unknown, Unk
British Made M inside a star symbol composition doll mark, Unk
British National Doll mark BND 1930-1960
British Novelty Works (presumed) doll mark BNW 1915
British Products Manufacturing Company dolls 1917
British Toys dolls 1915-1920
- Nottingham Toy Industry, Shanklin Toy Industries
Brown & Richie, Ltd. 1940s +
- doll trademark a crown, lion on a shield & BR in a square
- Daddy's Queen doll head mark APEX
Brown, Westhead & Moore Co. doll mark B.W.M. & Co 1859
- in 1891 took over S. Hancock & Sons
C
Cascelloid LTD 1919-1968
- also known as Palitoy Company
Cassidy Bro's; Casdon Toys 1946+ Blackpool, UK
Cauldon Potteries 1774-1925+
Chad Valley Doll Company 1897-1978
Charm Toys 1940s
Childs & Sons papier mache head doll mark mid-1800's
Chiltern Toy Works dolls 1908-1920+
- 1920-1967+ H.G. Stone & Company LTD.,
1967+ sold to Chad Valley
Classic dolls, see Speights LTD 1900-1924
Cobo cloth dolls 1870s+ Bailiwick Guernsey
W. Cohen & Son dolls 1924-1930s
Marguerite (Grete) Cohn doll mark Grecon 1920-1950s?
- 1920 Berlin, Germany & 1940 London, England
felt dollhouse dolls with metal feet

S. Coleman wax dolls prior to 1867

Nos. 6, 7, 11, 12, & 26, Ground Floor
Pantheon, Oxford Street Entrance
Frederick Cooper & Son 1915-1920
Corinthian Bazaar wax dolls after 1867
W.H. Cornelius dolls 1924
Mrs. Clara Coxeter dolls 1865-1870
Crabet Shape Company mask faced dolls 1916-1918
William Henry Cremer Junior & Son doll mark 1862-1900
Cremer Dolls Toys Games 210 Regent St.
Crown Staffordshire Porcelain Company 1889-1940s
doll mark Crown Staffordshire H.J.H.
Curry & Company wood block jointed dolls 1912-1913
D
Cowan De Groot, Importers dolls 1922-1950s London

doll mark Codeg
Dean's Rag Book Company doll mark DRBC 1903 + London
Dell & Company dolls 1918-1922
Dennis, Malley & Company doll mark demalcol 1921-1924
Dent & Company of Windsor, England 1897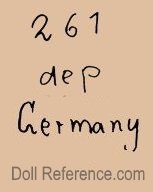 doll Queen Victoria bought for a God-daughter,
marked 261 dep Germany (Bahr & Proschild head)
Deptford Toy Making Industries 1917-1919
Diamond Pottery Company dolls 1908-1925+ Hanley
doll mark DPCo English Make, doll mold 68, 159, 161, 164, 654305
Diamond Tile Co. doll mark England with diamond symbol 1940s
T.A. Dixon noxid composition dolls 1918-1920
D.G. Todd, founder, see Roddy Doll Company 1938-1950s
Doll Industries Ltd. doll mark DIL Made in England 1948+ London
- trademark Doll-In-Doll, dolls can be unmarked as well
Doll Manufacturers 1917-1920 Tunbridge Wells
- British ceramic heads, mask face, black & Hindu
Doll Pottery Company 1916-1920 Fenton
Doll's Accessory Company, Flesho bisque head dolls 1920s
(The) Dolls Shop, 16 Dawes Road, Fulham London 1937-1987
Doll's Supplies 1915-1921 Liverpool & London
Dolphitch Mfg. Company wax dolls 1909-1918
Dorothy doll mark Dorothy 9082 made in England, unknown
Dura Porcelain Company doll mark Benco Dura 1915-1918
- also known as Empress Pottery
B. Dutch doll maker 1922-1926
E
East London Toy Factory 1915-1928
- Babies in the Wood, Dolly Dimple rattle doll 1917
East London Federation Suffragettes Factory doll mark E.L.S.F.
Eccles rubber dolls 1921-1926
- also called New Eccles Rubber Works
Georg P. Eckardt (Eckart) doll mark GEO 1820-1930+ & GER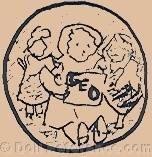 Hans E. Eckardt (Eckart) doll mark horse drawn cart 1895+
Walter & Ronald Eckardt (Eckart) 1920-1925
Charles Edwards doll maker 1852-1865
John Edwards wax dolls 1868+
Edwards & Pamflett doll mark Cecily Doll tag 1918-1923
Eisenmann doll mark Einco 1881-1940 London, Furth, Bavaria
- known as King of the Toy Trade
Elite Doll Company 1915-1918
British ceramic head doll mark Dep. Elite U.S.1
Ellison, Rees & Company doll mark Ellarco 1915-1920
- then (Leon) L. Rees & Company 1920-1963
Empire Porcelain Company founded 1896-1967
doll mark 70. Empire Stoke-on-Trent 1916+
Empress Pottery - see Dura Porcelain Company
English Doll Mfg. Company 1916-1917
English Rag Dolls 1892
English Toy Mfg. Company 1914-1915
Stephen Erhard celluloid doll mark S.E.S, S E & S 1887-1930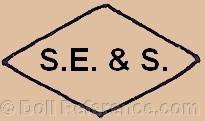 Joseph H. Evans & Sons wax dolls 1868-1881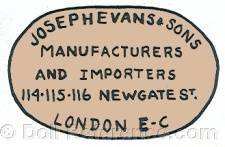 doll mark Manufacturers and Importers
114 - 115 - 116 Newgate St. London E-C
F
Falcon Pottery Works - see William Henry Goss
J. K. Farnell & Company dolls 1871-1968
- renamed Twyford Works 1968-1970
Farnell's Alpha Toys label Made in England

Samuel Finburgh cloth WW 1 soldier doll 5th June 1915

G

G & S ENGLAND, doll mark, pot or earthenware head, unknown
G. B Made in England doll mark, unknown
Gamages dolls 1878-1972 Holborn, London
- department store, Gamages catalogue
Godfrey Sisters doll mark sheaf of wheat SG initials 1880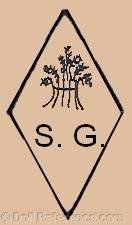 C. Gooch wax dolls made by Charles Marsh 1865+
doll mark C. Gooch Soho Bazaar Chas. Marsh
William Henry Goss & Company dolls 1858-1934
Gourdel, Vales & Company doll mark Thumbs Up 1921
G.D. Green, china Parian & earthenware dolls 1920s
H
Fr. Haas & Company doll mark Fr. H & Co Patent
Hamley Brothers doll mark Fums Up Thumbs Up 1760+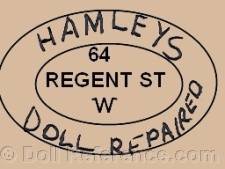 doll mark Hamleys Doll Repaired, 64 Regent St. W
distributed Admiral John Jellicoe dolls
Hammond Manufacturing Company dolls 1916-1919
Sampson Hancock & Sons dolls 1857-1937
- also called; Gordon Works, Corona Pottery.
doll mark S. H. & S. English Make
doll mark NTI BOY English Make
doll mark NTI GIRL English Make
Hancock's designer; Hilda Cowham designer doll mark

Laurie Hansen & Company doll mark tag 1915-1921
- 9-15 Whitecross Street, London EC
Harwin & Company doll mark The Educational Doll 1911-1921
Hewitt & Leadbeater 1914-1920
- also know as Willow Pottery or Hewitt Brothers
doll mark H & L Willow England
William Higgs wood dolls 1733
(John Lord) Hinde Brothers doll mark Dollie Dimple 1888
Elizabeth Horne dolls 1890 South Hampstead, Middlesex
doll mark The Real Dolls House Female Toy Making Depot
R. Hovenden & Sons doll mark Lon RH don & Sons 1820-1929
I
IDL Made in England doll mark, (composition) unknown UK
Leonard Ibbetston doll maker 1917-1920
Imperial Toy Company 1915-1919
International Toy Company 1926-1929 & USA
Abraham & Henry Isaacs doll makers 1881-1884, succeeded by
- A. & J. Isaacs 1884-1887, then Isaacs & Henry in 1891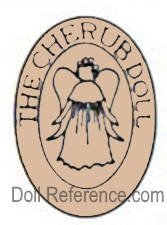 A. & J. Isaacs doll mark The Cherub Doll 1886
Anne Alice Ivimey doll mark Dollit 1906 East Surrey
Izzard Importer doll mark label 136 Regent Street 1860-1878+
K
Keats & Company dolls 1916
Keen & Company 1913-1933, see Julius Kohnstam
Kleeware P:lastics Company miniature dolls 1938-1959
- 1959 acquired by Rosedale Plastics
- doll mark Kleeware England
Julius Kohnstam, Keen Company dolls 1913-1933
L
L 5 C inside diamond RD (or BD) England doll mark, unknown
Henry Lamplough dolls 1916-1925+
Lang & Company rubber dolls 1865-1869
Lawton Doll Manufacturing Company 1920-1930+
- composition Cupid Kewpie dolls 1920-1922
Thomas Lee doll maker 1857
Liberty & Company of London 1906+
- distributed Mdvanii dolls by Billy Boy 1989+
Linda Dolls 1950s+ souvenir, costume dressed small dolls
- hangtag; A Linda durable plastic doll, Made in Hong Kong
Line Brothers LTD, Tri-ang Bros. doll label 1876-1942+ London
- also known as Pedigree Company 1942-1971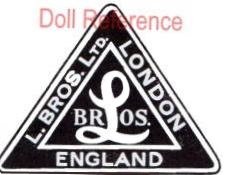 London Rag Dolls 1865-1905
Auguste Loriot, toy maker; wax dolls, toy soldiers, 1784-1807
A. Loriot, New Bond Street, London label