M
Joseph Robert Mally & Company 1891-1899
Marcol Product doll unmarked 1950s
l. Marcus & Company dolls 1922
Day Marcuse & Company doll maker 1916-1922
Marion & Company doll maker 1916-1917
Marlborough Manufacturing Company doll mark M.M.C. 1918
Charles Marsh wax doll mark label 1865-1914
31 & 32 Corinthian Bazaar Argyll St. London W
Mary Ann Marsh Dolly's Hospital 1905-1914
- Fulham Road S.W. London
Martin & Runyon Doll Company 1862-1865
- distributor Autoperipatetikos - walking dolls
Winifred Mathewman 1915-1918 Ingleton, Yorkshire
Mayer & Sherratt ceramic head dolls 1915-1920
doll mark Melba, Classic Doll, M & S
Francis Mayers dolls 1924
Ethel Elizabeth M. McCubbin doll mark lion's claw 1914
Meakin & Ridgeway imported stockinet dolls 1919-1921
Mechanical Rubber Company 1925
Herbert J. Meech wax dolls 1865-1917
doll mark H.J. Meech Doll Maker, Dolls Cleaned & Repaired,
6, 8, 50 Kennington Road, London S.E.
C. Melin & Company, wholesale distributor 1916-1925
John William Merrill doll import & distributor before 1909
Merrythought, Ltd. dolls 1930s+ Telford, Shropshire & London
Metropolitan India Rubber Company rubber dolls 1870s
Metropolitan Toy & Doll Company 1914-1915 London
Mettoy (Metal Toy) Company Ltd. 1932-1984
- subsidiary Playcraft Toys, Ltd. 1953-1966
Mettoy Playcraft 1966-1984, in 1971 acquired Rosedale
L. Meyer dolls 1922-1929 London
Peter M'Ginn dolls 1926-1930 London
Miller Brothers dolls 1916
J. P. Miller & Company dolls 1916-1919 Liverpool
- trademark compolene, compolite non-break
Millikin & Lawley dristributor 1881-1882 London
Milliner's Model, mannikin dolls 1840-1860s
Mitchell & Company 1917-1919 Bradford
W. H. Mogridge & Company cloth dolls 1918 Bristol
Miss Muriel Moller doll distribute & exporter 1917-1919
Madame Augusta Montanari Manufacturer wax dolls 1851-1884
251 Regent St. & 180 Soho Bazaar
or 13 Charley St., Soho Sqr. London
H.A. Moore & Company. doll distributor 1925-1927 London
Horace W. & Charles Morrell wax dolls 1870-1930
Morrell 164 Oxford Street London
Charles Morrell 368 Oxford Street London W.
Charles Morrell, 50 Burlington Arcade London
James Leicester Mortyn dolls 1860-1879
Alan Ross Munhard doll patent 1924-1926 London
- or Munyard
N
Nellfoy & Company wax dolls 1916-1921
Peggy Nesbit doll mark label Happy Days 1950s+
Nottingham Toy Industry 1915-1920
- British Toys, Shanklin Toy Industry
Nunn & Smeed British ceramic head dolls 1915-1927
doll mark Nunsuch N & S Liverpool No 7.
Nunn & Smeed doll mark Dolly Dimple No. 4 Liverpool
O
Old Cottage Toys & Dolls black diamond label 1940s+
Overseas Industrial Agency doll mark PEP 1917 London
P
Palitoy Cascelloid 1919-1968, Dolly Darlings dolls
- Palitoy Company Bradgate division
Papier Mache dolls 1760+
John Edward Payne rubber dolls 1849+
W. Payne & Son celluloid dolls 1772-1927
Peacock dolls wax dolls 1862-1889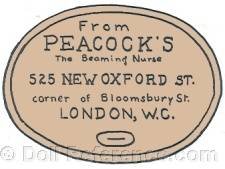 doll mark 525 New Oxford St. London, W.C
Lucy Peck wax dolls 1893-1922
doll mark label 131 Regent Street London W
Peddler dolls 1700s+
Pedigree Company doll label 1942-1970s, Sindy doll
- also known as Tri-ang Line Brothers
Charles Perls celluloid dolls 1916-1922
Charles Pierotti doll mark CP
Dominic Pierotti wax dolls 1770-1942
Pierotti doll mark Pieriotti
William Pitfield wax dolls 1875-1894
Polmar Perfumery Company Pinka-Boo dolls 1921
Plastex Doll Company of England ca. 1938 +
- doll mark PLASTEX, NONFLAM, ENGLAND
Edward Poole dolls wax dolls 1854-1865
John R. Poole wooden dolls 1843-1860
William Poole wax dolls 1852-1855
Frank Popper doll mark FP 1940s+
S. Porter Doll's Hospital, 132 & 134 Finchley Road, London
- founded by Samuel Porter in the late 1800s to early 1900s
Potteries Toy Company 1914-1918
Chloë Preston Peek-A-Boos dolls 1911-1939+
- author, illustrator, doll designer for Dean & Farnell
Frederick William Punfield 1822-1925+
Q
Mary Quant Daisy doll 1973-1983
Queen Anne wooden dolls 1700-1750
R
H. S. Ralph doll maker 1924
E. Randall, Grödner Tal wood dolls 1904-1958
Rayburn Townsend & Company 1924-1925
Leon L. Rees & Company 1920-1967+
- prior name Ellison, Rees & Company 1915-1920
Job Ridgeway, Cauldron Potteries 1800-1930+
doll mark J. Ridgeway, J.R.
Roberts Brothers doll maker 1888
- became part of Chad Valley Company
Joseph Robins dolls 1826-1901
Lynne & Michael Roche doll mark tag 1980+
Rock China Doll Company 1915-1919
Roddy Doll Company doll mark Rodnoid, Roddy 1938-1950s
- founded by D.G. Todd
Rogark Company character dolls 1960s Wales & England
R continued above
R continued
Roncorone beeswax dolls 1800s
W. A. Rose & Company doll mark W.A.R. inside diamond 1921
Rosebud Company doll mark 1947-1968, now Mattel
- in 1934 Eric T. Smith took over business from his father
Rosedale Plastics Company 1948-1978 Wales
- ca. early 1950s became Tudor Rose Doll Company
- then Rosedale Rose Doll Company until 1978
H. Ross doll mark label 1800s
Roxy Factory 1915-1920
S
S & L Manfacturing Company 1926
Saint. Michael Satin Collection porcelain dolls ca. 1980s+
- porcelain collector dolls Walda & others
Thomas Charles Salisbury doll mark Leda 1917
Thomas Salter rubber dolls 1915-1930
Samsact LTD. 1963+, see Seltaeb NEMS Enterprises in USA
- Beatles rubber dolls, plus other memorabilia
Santy Inventor wax dolls 1860
doll mark 340 Long Room Soho Bazaar London
Sarold Manufacturing Company Ltd. 1950+
doll mark Sarold Made in England
Sasha dolls by Morgenthaler 1965-2001 Stockport
- also made by Gotz Puppenfabrik Germany
H. Schelhorn doll mark HS 220 1940s
Schlieff & Company 1922-1924
J. Fred Scott & Company 1915-1917
Shanklin Toy Industry cloth dolls 1915-1920
- Nottingham Toy Industry - British Toys
Shropshire Toy Industries 1917
Mr. Simmonds doll maker 1917
Fawcett Simpson & Company 1915-1919
Frederick Sindall doll maker 1895-1923
Sloan & Company dolls 1915-1918
Edward Smith wax dolls 1880s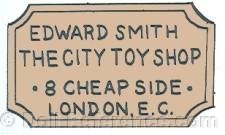 doll mark label Edward Smith, The City Toy Shop,
8 Cheap Side London, E. C.
Samson Smith China dolls 1846-1900s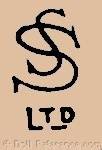 doll mark intertwined SS, after 1900s SS Ltd
W. H. Smith & Sons 1916-1918 Stoke-on-Trent
- Toyland brand: dolls, Teddy Bears & mechanical Circus Bears
Smith & Hoyle 1916-1917
Specialty Toy & Doll Company 1919-1920
Speights Doll Factory or Classic Works 1900-1924
doll mark 6 Classic England, Classic Cecily, Kidette
Spencer & Company dolls 1916-1919 Wales & England
Gilbert Spicer & Company dolls 1916-1917
E. C. Spurin Toy Warehouse dolls 1851-1867
New Bond Street, London
Stallard & Company doll mark Kismi 1905
Star Manufacturing Co. doll mark six pointed star 1887-1929
Steevan's Manufacturing Company 1917
- spring activated walking dolls
Steiner & Company 1915
Strome & Company 1892-1930s
Harry H.G. Stone & Company doll tag Chiltern Toys 1920-1967
- subsidiary L. Rees & Company, sold to Chad Valley 1967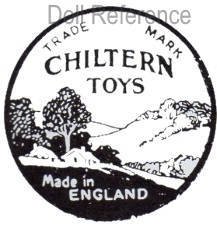 Sieve Sunlight & Company 1915-1920
Sutherland Doll Company 1918 Arcadian Babs doll
T
Tah Toys doll mark Kiddlums 1917-1918
Talfourd Toys Company 1920s+ painted articulated wood figures
Jessie Toler Kingsley Tarpey doll mark Sea Baby 1915
Telma Manufacturing Company 1917-1918
William J. Terry 1890-1915
Thomas Industries LTD. trade name Adora Toys Ltd. 1945 +
Thorne Brothers 1915-1918
Three Arts Toy Industries 1920-1927
Three Arts Women's Emp. Fund 1915-1920
John Tinkler wax doll mark E. Tinkler 1880s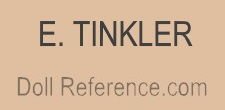 Edith & Rebecca (sisters) Todhunter dolls 1926+
Tri-ang, Line Brothers LTD doll mark L Bros London label 1876 +
- also known as Pedigree Company 1942-1971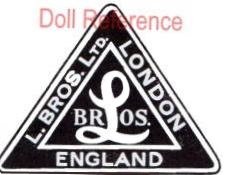 Victor Tuchmann & Company dolls & toys mark 1891
Raphael Tuck & Sons paper dolls, postcards + mark RTS 1866 +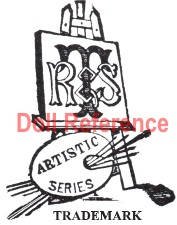 Charles Edward CE Turnbull Dolls & Toys 1872-1963
- also known as C.E. Turnbull, Turnbull's, The Toy People
used trade name Charterhouse babies & toys 1917+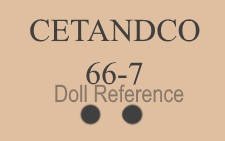 doll mark CETANDCO
H. Francis Turner & Company 1894-1924
W. S. Turton 1915-1918
Tyneside Toys 1918-1919
V
Vale of Clwyd Toymakers dolls 1917 Wales, England
Vickers, LTD 1920
Vulcanite Company rubber dolls 1870s
W
Watford Toy Mfg 1915
Norah Wellings 1926-1960
- also called Victoria Toy Works
Welmaid Toys 1920
Welsh Toy Makers dolls 1919 Wales, England
John Wheeler doll mark crown symbol 1864-1879 London
James Wheelhouse dolls 1908-1923
C & H White dolls 1800s
Wholesale Toy Company 1915-1921
Whyte, Ridsdale & Company dolls 1867-1927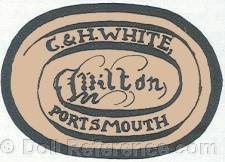 - doll mark C & H, White, Wilton, Portsmouth
William & Mary wood dolls 1680-1720
Williams & Steer Mfg Company 1940s-1950s
- doll mark W & ST, Made In England
Wiltshaw & Robinson 1915-1923
Wolstan Doll Company 1918-1928
Womens Emergency Corp Workshop 1914-1917
Wonderland Toymaking Company 1921-1923
Wood dolls, Wooden dolls 1300+
R. Woode Toy Company 1917
Worthitt & Company 1916-1917
William Richard Wynne 1895-1897
Z
Walter Zimmer 1909-1913
Zoo Soft Toy Company plush dolls 1928