Fritz Bierschenk Kaiser Baby Doll, 11" tall, solid dome bisque socket head, lightly painted hair, painted blue eyes, open mouth, composition jointed bent limb baby body, doll mark FB/0 shown below.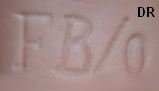 Fritz Bierschenk doll mark FB/0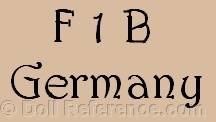 Fritz Bierschenk doll mark F1B Germany
E. Escher Jr. of Sonneberg, Thüringia, Germany was established in 1880. They made dolls and doll heads, dressed or undressed.
E. Escher Jr's. doll mark is a symbol of a locomotive train steam engine.
In 1906 Fritz Bierschenk purchased the E. Escher Jr. doll factory, which then became the factories new name. Bierschenk is best known for his antique bisque head Baby or Child dolls, Bierschenk also made cloth dolls with mask like faces. The only known Bierschenk doll mold is 616 from 1910.
Fritz Bierschenk doll mark F.B. 616 mold