Barbie Dolls 11 1/2"
Barbie Clothes
1975-1976 | 1977+
Doll & History Bild Lilli
Dolls 12"
Ken Clothes
Dolls 9 1/4"
Skipper Clothes
Dolls 11 1/4"
Francie Clothes
Dolls 6 1/4"
Dolls 11 1/2"
Clone Dolls
Francie had 12 new outfits this year, four Pak item's and one Sears Exclusive.
1207 Floating In 1968-1969
Diagonally striped sheer dress with white taffeta under dress, short hot pink gloves & pink closed toe pumps.
1208 The Silver cage 1968-1969
Hot pink dress with silver braid over dress, pink & silver metallic thigh high stockings, hot pink bow heels & a silver clutch purse.
1209 Mini Chex 1968-1969
Sleeveless orange & yellow check mini dress with wide vinyl waistband, knit striped knee high socks, orange vinyl shoulder purse & orange bow shoes.
1210 Hill Riders 1968-1969
Green bulky knot sweater, multi striped capri pants, green short boots.
1211 Tenterrific 1968-1969
Sleeveless pleated dress with matching head scarf, green textured host, white vinyl tote with green handles & green bow low heels.
1212 Night Blooms 1968-1969
Sleeveless pale pink gown with large hot pink & blue flower print, lace trimmed, hot pink sheer tricot gown with empire waist & lace trim, hot pink felt scuffs with white lace & felt straps
1213 Pazam 1968-1969
Sleeveless sun suit with large polka dots in yellow & pink, 2 piece bikini swimsuit in green vinyl, see thru rain coat with geometric matching color shapes, hot pink hair braid with gold barrette & green vinyl bow, & closed toe low heel shoes. (missing the pink braid hair piece with gold barrette in photo).
1214 Culotte-Wot 1968-1969
Hot pink mini culottes with white satin trim, matching white satin floppy hat, white fishnet hose, hot pink knee high boots & green sunglasses with polka dot trim.
1215 The Combo 1968
Navy & pink knit sleeveless dress with striped bodice solid pink skirt, matching striped narrow skirt, navy & pink checker board 3/4 coat with pink lining, hot pink thigh high stockings, solid pink scarf with pink fringe, hot pink low bow heel shoes.
1216 The Lace Pace 1968
Sleeveless white lace over gold lame` dress with hot pink ribbon accent, matching coat lined in hot pink, white fishnet thigh high stockings & hot pink low bow heel shoes.
1217 Dreamy Wedding 1968
Francie's first wedding gown; white shift style under dress, white organza daisy embroidered over dress with sheer sleeves, braid trim, (not shown) white tulle veil with bow, bouquet of white velvet flowers with green leaves, lace & ribbon & white low heeled shoes.
1218 Wild n' Wolly 1968
Orange sun suit with hot pink lace trim, multi color mini skirt with orange vinyl trim & matching coat, orange vinyl shoulder bag & orange low heeled with cut outs shoes.
Orange Zip 1968 Sears Exclusive
Outfit consisted of a orange vinyl coat with four pocket tabs, and white zipper, dress with striped knit top and vinyl orange skirt, orange short boots or orange low heel shoes. This is a HTF ensemble.
Pak Cool It! 1968
Yellow sun dress with black & white check trim at bottom & patch pockets, two black buttons on straps, cork sandals with yellow ties.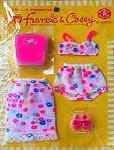 Pak Get Readies 1968
Tricot floral print half slip, briefs & bra, pink fuzzy bath room scale & hot pink open toe heeled shoes.
Pak Slightly Summery 1968
Sleeveless dress with white background & print fabric bodice (several different fabrics were used) with drop waisted green pleated skirt, hot pink vinyl belt with buckle & white low heel shoes.
Francie Pak Footnotes 1968
same as 1967 with a few pieces different.
Clear and red boots, orange and red low heels with cutouts, red, turquoise, pink and royal blue low heels, silver flats with buckles, low gray short boots.
Francie Clothes 1966-1969 | 1970-1975 | Japanese Dolls Francie | Casey & Twiggy
Buy, Collect, Sell or get pricing values worth for vintage Francie doll & clothes, use ebay sold listings
11 1/2" Dolls Barbie | Bild Lilli | Midge | Stacey | Christie | Truly | Julia | PJ | Jamie | Steffie & Babs | Miss America | Kelley & Cara
Clone Dolls Barbie | Bild Lilli | Skipper 12" Dolls Ken | Allan | Brad & Curtis 11 1/4" Dolls Francie | Casey & Twiggy
9 1/4" Dolls Skipper & Ginger | Skooter, Ricky, Fluff, Tiff 6 1/4" Dolls Tutti, Chris, Todd, Buffy, Pretty Pairs, Carla
Clothing Barbie | Ken | Francie | Skipper | Tutti | Barbie Gift sets | 1966 Doll Marking | Clothing Tags | Rare | Miscellaneous
--------------------------------------------------------------------------------------------------------------------------------------------------------------------------------
Buying Selling Cleaning Photographing Repairing
For Sale | Forum | Glossary | Marks | Values
Dolls By Country American | English | French | German | Rest of World
By Material Bisque | Celluloid | China | Cloth | Composition | Hard Plastic | Metal | Papier Mache | Rubber | Wax | Wood
By Type Advertising | Antique Fashion | Automata | Black | Boudoir | Carnival | Dress Me
Googly Eye | Kewpie | Mama | Mask Face | | Oriental | Patsy Type | Porcelain Collector
All trademarks are respective of their owners with no affiliation to this site

Doll Reference © Copyright 2004 - 2022 all rights reserved including photos & content