B
B. J. et Cie kid bodied dolls 1800s+
Baculard rubber dolls 1860-1876
- then Favier & Baculard 1876+
Badín & Guibert doll mark symbol, dates unknown
Maison Charles Bail doll & toy store 1881-1929
- after 1889 Société Veuve Bail et Fils
doll label Aux Tuileries Jouets 210 Rue De Rivoli, 210
E. Balland & Fils doll mark E.B. 1882 Paris
Jullien Balleroy & Cie doll mark Limoges France J◊B 1914+
Balloon (montgolfiere) symbol doll shoe mark
possibly by Louis Beaudelot
Ernst Ballu doll mark Bébé Olga 1889-1911
- 76 Rue St. Dennis, Paris - see also Gerbaulet Frères
Madame Bard Doll Shop, 9 Rue Boinod, before 1892
Eugene Barrois doll mark E.B. 1842-1874+
- purchased by Halopeau in 1878
Henri Baudouin doll shoes maker 1894-1896 1902
Maison Baumester Doll Shop, 46 Rue du Temple <1894
Bawo & Dotter China dolls 1838-1913 Karlsbad, Limoges, NYC
doll mark B & D, B & D Ltd, Pat. Dec. 7/80
or Barclay Baby Belle Germany
B.E. bisque head doll mark French or German
Louis Gustave Beaudelot doll shoes / boots 1876-1906
- in 1876 address; 18 Rue Montgolfier
successor Eugene Alart 1906
doll shoe mark found on Aux Réves de l`Enfance,
Bru, Jules Steiner, Jumeau dolls
Bébé Baptême infant dolls 1885-1913
Bébé Bon Marché 1894-1925
Bébé Breveté doll mark label 1870s+ Paris
Bébé de Français 1891-1941
doll mark standing person BF initials
Bebe Tout en Bois wood dolls 1901-1914
Mon. Bellanger Grand Bazar doll store 1890s+
Henri Bellet papier mache dolls 1919-1920s

doll mark POUPARD ART
Bella Poupées of France doll mark 1946-1983
Belleville & Cie doll mark Mystére 1925 + Paris
- probably owner of Société des Paris, Français
mark on doll heads & movable eyes
Belton Type dolls 1870s-1900
- accepted as French, probably German
Benoît Fils et Romain 1901-1902, then Société Romain et Luc - owner Fernand Lévy, doll mark 3 pointed star BR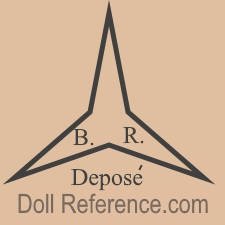 Benon et Cie doll & toy store Aux Enfants Sages 1850-1871
SA Berchet 1995+ also called Superjouet
Louise Bereux doll costumer 21 Rue de Hanôvre 1855-1880
Jacques Berner doll mark JB, Bébé Moujik 1888+

Bernheim & Kahn doll maker 20 Rue des Quartre Fils 1904-1906
doll mark BK, Bébé Mondain, Etoile Bébé
B continued above
B continued
Julius Bernhold doll mark Nini Kaspa 1910+
Bertoli Fréres doll mark IDÉAL BÉBÉ 1895
Charles Bertrand doll mark Ondine tied cord symbol 1878
Rene Bertrand doll mark Gaby 1923
Georges Bezodis doll & toy maker 16 Rue Michel le Comte 1900s
doll mark M.G.B.
Gregoire Biberian cloth doll mark BDG 1929-1931
Comptoir Générale de la Bimbeloterie doll mark C.G.B.
Binder & Cie cloth doll mark BK 1918+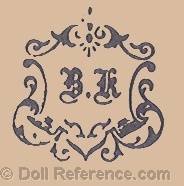 Claude J. Blampoix Ainé Senior 1840+
C. Blampoix doll mark B1S to B6S have been found
Claude J. Blampoix Jne Junior 1856-1881
Mme. Blampoix (Senior's widow) 1876-1878
Bonin, Lefort & Cie, Société Bonin & Lefort 1923-1928
doll mark two children playing with swords
trademarks Joli Bébé, Mon Baby, Bébé Ninon, Bébé Select
Claude Valéry Bonnal doll maker 1898-1904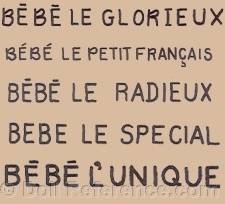 doll mark Bébé Le Glorieux, Bébé Le Petit Français,
Bébé Le Radieux, Bébé Le Special, Bébé L' Unique
Jules Bonnet doll shop A La Providence 1880-1885
Etienne Bossuat 1883-1924, doll mold 316
doll mark eight pointed star symbol 1924
Adolphe-Henri Bouchet doll mark AB, AD 1889-1899+ (SFBJ)
Bébé Dormeur, Bébé Géant, Bébé Hamac, Bébé Parlant, Bébé Tête Mobile, Gentil Bébé, Le Séduisant, L'Indestructible
Boudoir dolls 1915-1930s
Mon. Bourcieu doll shop mark 145 Rue St. Denis < 1882
J. Bourgoin doll mark 1880-1892, successor of Jules N. Steiner
Brasseur & Videlier doll shoe mark B.V. 1865-1882
Brevete Gege France 1950s
Briens fashion lady dolls 1860-1862
Amilcare Brogi cloth doll mark Clélia 1927-1929
Bru Jne et Cie bébés 1866-1899+ (SFBJ till 1958)
Anne Bruent doll mark Les Poupees de Mitou 1926
Victor Brunet doll mark L`Hirondelle, dates unknown

Marguerite Brunot dolls 1918 Algiers, N. Africa
doll mark MB intertwined, registered in France
Brunswick & Cie dolls 1912-1919
doll mark R.F. la Parisienne à la Mode
Mlle. Bucquet founder of L` Adelphie dolls 1916