B. J. et Cie kid bodied dolls 1800s+
Baculard rubber dolls 1860-1876, Favier & Baculard 1876+
Badín & Guibert doll mark symbol, dates unknown
A. Baffert wax & rag dolls 1925-1927
G. Bagnaro cloth dolls 1928-1929
Maison Charles Bail doll & toy store 1881-1929
- after 1889 Société Veuve Bail et Fils
doll label Aux Tuileries Jouets 210 Rue De Rivoli, 210
Baillehache & Leduc toy shop 1856-1897
E. Balland & Fils doll mark E.B. 1882 Paris
Jullien Balleroy & Cie doll mark Limoges France J◊B 1914+
Balloon (montgolfiere) symbol doll shoe mark
possibly by Louis Beaudelot
Ernst Ballu doll mark Bébé Olga 1889-1911
- 76 Rue St. Dennis, Paris - see also Gerbaulet Frères
Frédéric Bangerter automaton 1904
Bapts & Hamet rubber dolls & toys 1885-1905
George Barbier dolls 1923
Madame Bard Doll Shop, 9 Rue Boinod, before 1892
Eugene Barrois doll mark E.B. 1842-1874+
- purchased by Halopeau in 1878
Barth et Cie molded dolls 1872-1888
Barthélemy marquisette art dolls 1929-1930+
Francois Felix Bataille dolls 1800-1881
Madame Bataille dolls 1855-1857
- undressed & dressed (clouee) and stitched to body
Mme. Baube dolls 1870-1872
Henri Baudouin doll shoes maker 1894-1896 1902
Charles Louis Baudry dolls 1917-1921
Maison Baumester Doll Shop <1894, 46 Rue du Temple
Bawo & Dotter China dolls 1838-1913 Karlsbad, Limoges, NYC
doll mark B & D, B & D Ltd, Pat. Dec. 7/80
or Barclay Baby Belle Germany
J. Bayer cloth head dolls 1925
Mme. Paule Bayle cloth art dolls 1918
Mme. Bazet doll maker 1879
B.E. bisque head doll mark French or German
Louis Gustave Beaudelot doll shoes / boots 1876-1906
- in 1876 address; 18 Rue Montgolfier
successor Eugene Alart 1906
doll shoe mark found on Aux Réves de l`Enfance,
Bru, Jules Steiner, Jumeau dolls
P. Beaufrere dolls 1929-1930+
Bébé Articulé doll mark R.R. Jumeau 1899
Bébé Baptême infant dolls 1885-1913
Bébé Bon Marché 1894-1925
Bébé Breveté 1870s+ unknown
Bébé de Français 1891-1941
doll mark standing person BF initials
Bebe Tout en Bois wood dolls 1901-1914
Mon. Bellanger Grand Bazar doll store 1890s+
Henri Bellet papier mache dolls 1919-1920s

doll mark POUPARD ART
Bella Poupées of France doll mark 1946-1983
Belleville & Cie doll mark Mystére 1925 + Paris
- probably owner of Société des Paris, Français
mark on doll heads & movable eyes
Belton Type dolls 1870s-1900
- accepted as French, probably German
Jean Louis Alfred Benoist & Cie dolls 1850-1870
Benoît et Fils doll maker 19 Rue des Archives <1879+
Benoît Fils et Romain 1901-1902, then Société Romain et Luc
- owner Fernand Lévy, doll mark three pointed star BR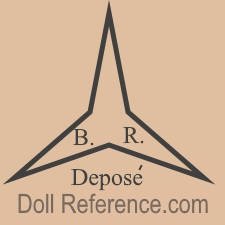 Benon et Cie doll & toy store Aux Enfants Sages 1850-1871
SA Berchet 1995+ also called Superjouet
Louise Bereux doll costumer 21 Rue de Hanôvre 1855-1880
Jacques Berner doll mark JB, Bébé Moujik 1888+

Bernheim & Kahn doll maker 20 Rue des Quartre Fils 1904-1906
doll mark BK, Bébé Mondain, Etoile Bébé
Julius Bernhold doll mark Nini Kaspa 1910+
Bertoli Fréres doll mark IDÉAL BÉBÉ 1895
Charles Bertrand doll mark Ondine tied cord symbol 1878
Rene Bertrand doll mark Gaby 1923
Georges Bezodis doll & toy maker 16 Rue Michel le Comte 1900s
doll mark M.G.B.
Gregoire Biberian cloth doll mark BDG 1929-1931
Comptoir Générale de la Bimbeloterie doll mark C.G.B.
Binder & Cie cloth doll mark BK 1918+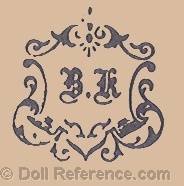 Antique Bisque Doll Menu 1860+
Monsieur Blaise doll maker ca. 1860s-1870s
- Rue de Grenelle St. Germain, Paris, successor Mme. Costel
Claude J. Blampoix Ainé Senior 1840+
C. Blampoix doll mark B 1 to 6 S have been found
Claude J. Blampoix Jne Junior 1856-1881
Mme. Blampoix (Senior's widow) 1876-1878
Bonin, Lefort & Cie, Société Bonin & Lefort 1923-1928
doll mark two children playing with swords
trademarks Joli Bébé, Mon Baby, Bébé Ninon, Bébé Select
Claude Valéry Bonnal doll maker 1898-1904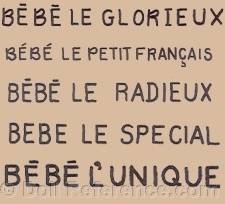 doll mark Bébé Le Glorieux, Bébé Le Petit Français,
Bébé Le Radieux, Bébé Le Special, Bébé L' Unique
Jules Bonnet doll shop A La Providence 1880-1885
Etienne Bossuat 1883-1924, doll mold 316
doll mark eight pointed star symbol 1924
Adolphe-Henri Bouchet doll mark AB, AD 1889-1899+ (SFBJ)
Bébé Dormeur, Bébé Géant, Bébé Hamac, Bébé Parlant,
Bébé Tête Mobile, Gentil Bébé, Le Séduisant, L'Indestructible
Boudoir dolls 1915-1930s
Mon. Bourcieu doll shop mark 145 Rue St. Denis < 1882
J. Bourgoin doll mark 1880-1892, successor of Jules N. Steiner
Brasseur & Videlier doll shoe mark B.V. 1865-1882
Brevete Gege France 1950s
M. & Mme. Et. Bricon cloth art dolls 1916-1918
- L'Atelier des Petites Mains Parisiennes
Briens fashion lady dolls 1860-1862
Amilcare Brogi cloth doll mark Clélia 1927-1929
Simon August Brouillet dolls 1825-1854
Bru Jne et Cie bébés 1866-1899+ (SFBJ till 1958)
Anne Bruent doll mark Les Poupees de Mitou 1926
Victor Brunet doll mark L`Hirondelle, dates unknown

Brunet & Pajean dolls 1910-1921
- then Mme. A. Jomin 1921+
Marguerite Brunot dolls 1918 Algiers, N. Africa
doll mark MB intertwined, registered in France
Brunswick & Cie dolls 1912-1919
doll mark R.F. la Parisienne à la Mode
Mlle. Bucquet founder of L` Adelphie dolls 1916