Justin H. Caffin doll shop A La Ville de Lyon 1833-1843
Calots fashion lady dolls 1855
Calvare cloth art doll mark ladies head Made in France 1920s
Charles Emile Carlégle & Andre Helle 1918+
- wooden toy characters; cowboys, sailors etc.
Carlier, Fournell & Gibon dolls 1925-1930
Jean Carles doll mark Mousmé 1926
Jean Caron doll mark JC SOL 1855-1890
Adrien Carvaillo cloth doll mark Venus, La Venus 1915-1939

A. Cassanet et Cie 1881-1890s
Madame E. Cayette (Marie Mommessin) dolls 1909
Cayette doll mark four leaf clover, five pointed star
- doll trademarks Bébé Oracle, Bébé Prophete, La Fée au Gui, La Fée au Trefle, La Fée aux Trèfles, La Fée Bonheur
Celluloid Doll Menu 1869+
César doll maker 1842 to end of the 20th century
- founded Pavy Brothers, F. Gandouin, then Jules César
Vve. Chalory doll mark Bébé Leger 1893-1896
Chambon Et Baye multi three face cloth doll 1899
- doll mark a C beetle symbol B in a circle
Chambre Syndicale des Fabricants de Jouets Français 1886-1928 - group of toy makers, a trade organization
doll mark Marque Déposé Article Française No
Chantilly & Cie doll mark symbol 1924-1928
Charlier dolls 1925-1930
Charles G. Charpentier doll shoe mark C.C. 1799-1900
Chassoux dolls 1900-1902
Maison Chaufour Poupee Merveilleuse doll marks 1871-1875
Jaques Chauvière dolls 1848-1890+
- possibly connected with doll & toy store Au Nain Bleu
Chéret & Moreau dolls 1879-1885
China Head Doll Menu 1840-1940
Chiquet & Le Montréer doll mark FC 1860-1886
- doll mark FC with a walking Punch puppet
Chiquet & Prevosteau doll makers 1887-1889
Clauderies waddling doll 1914-1930s Limoges, Unis
Pierre Victor Clément fashion lady doll mark 1866-1875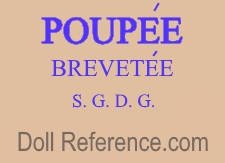 Vve. Pierre Victor Clément fashion lady doll mark label 1870s
Celia cloth dolls 1930s
Marguerite Clemm & Schambre doll mark Tanagra 1960+
Les Fils de N. Clerc 1908-1927
Clodrey doll mark Polyflex Made in France 1952-1974
C. M. bebe slipper doll shoe mark French
A. Coiffe doll mark seven point star Limoges 1873+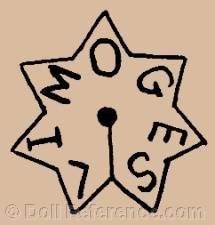 - Coiffe Jne 1898, H. Coiffe & L. Couty & Cie 1915
then L. Couty, Magne & Cie 1920+
Jeanne Condat doll milliner hats & bonnets 1885
Constant doll & toy shop mark T.C. ca. ate 1800s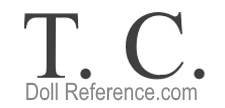 Convert & Co celluloid doll mark windmill symbol 1911+
Mme. Coquerie dolls 1864-1870
Coquillé dolls 1920-1921
Madame Coquillet doll mark La Parisetté 1918
Marinus Cornet doll mark La Poupée Français 1914
Gustave Cornu doll mark G.D. 1879-1908+
- musical marottes
Cortot doll mark MPHL Bébé Jeannette 1913-1914
Cosman Frères doll mark 1892-1925+
1892 Bébé le Favori by Clément Gatusse
1893 Splendide Bébé
Mme. Costel doll maker ca. 1870s-1880s
- Rue de Grenelle St. Germain, succeeded Mon. Blaise
Honoré Couillard, Bienvenue dolls 1889-1892
Cloth Doll Menu 1860+
Couin & Camgrand doll mark Kipmi 1924
Courtot-Lavancourt dolls 1875-1877
Maison Alice Couterier fashion lady dolls 1865-1894
doll mark 3 Rue du Dauphin, Paris
L. P. A. Bennett Couturier cloth dolls 1920s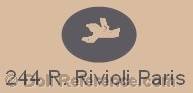 doll mark sun & bird 244 R. Rivioli Paris
Leon Couty doll maker 1909+ a porcelain decorator
- successor at A. Coiffe
Aline Crosier doll mark Parfait Bébé 1917
Mme. Crouilbois dressed dolls mark label 1918
Marie Cruchet fashion lady dolls 1850-1857
Honoré Cuillard dolls 1863-1867
Cuperly, Blondel, Gerbeau mark C.B.G. 1832-1900
dinner service & toys mark Déposé C.B.G.
H. Cuvillier-Ferry Le Ravissant bébé dolls 1904-1909