E
Eden Bébé Paris, see Fleischmann & Bloedel 1890-1899
Elpikbien doll mark CO around spoke wheel 1921
F
Falck et Roussel dolls 1885-1899+ SFBJ No. 31
M. Fauche doll mark Manos 1916
Fétu Ainé doll beds & toys mark label 1869-1875
Eugéne Fillaux doll shop Au Poupard 1901-1904
doll mark label Au Poupard, 15 Rue de Sérves
Fleischmann & Bloedel dolls 1873-1899+ (SFBJ)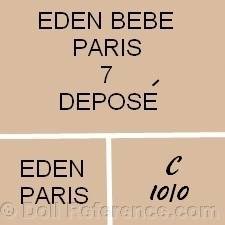 Madame Follet doll shop A La Petite Gabrielle 1863-66
René Foucher doll mark tower & windmill, date unk.
Vve. Foucher-Boyer doll shop 1890
doll mark label A la Renommée des Poupées Sablaises
Blanche Fouillot doll name L'Idéal 1906-1925+
Fouquet & Douville dolls with moving eyes 1891-1893
doll mark FD 11, F is backward
Consuélo Fould poupées 1919+ Paris
doll mark Les Victorieuses
G
Arnould Gaillard doll mark 17 Rue De Rome Paris
P. J. Gallais & Cie of Paris, France 1917-1925
- Gallais doll mark PJG, distributed La Prialytine dolls
Mlle. Gaudinot & M. Popineau doll mark G.P. 1866+
J. Roger Gault La plastolite dolls 1916-1918 Verleger
- also bisque doll heads from Limoges, FR
Francois Gauthier dolls 1860-1899+ (SFBJ)
- then Francois Gaultier dolls 1875-1899+
Gauthier dolls 1863-1872 unrelated to above
Blanche Gautier Les Poupées celluloid dolls, date ?
Louis Gavot doll dinner & tea services 1882-1885+
Ernst Gayraud doll services mark EG 1871-1885
GéGé Dolls mark GeGe dolls of France 1933-1979
- owner Marius Germain Giroud
G. Geoffroy doll mold 226
Genty Bébé de Paris dolls 1899-1930+ (SFBJ)
- successor of Rabery & Delphieu
Gerbaulet Frères dolls 1910-1925+ see also Ernst Ballu
doll mark Le Coquet Bébé G.F.
doll mark Bébé Olga 1911+
Gerber & Teusch doll mark GT, dates unknown
G continued above
G continued
Gerbs Poupée boudoir dolls 1927-1930s
- doll mark Poupees Gerbs, 29 Rue Gauthey, Paris
Eugene Gesland doll mark FG 1860-1928
- successor Joseph Ortyz (Ortiz) 1916-1921, then H. Delcourt 1921-1925, then Société Industrielle de Jouets 1926-1928
label Bébé E. Gesland 5 Rue Beranger 5 Paris
doll mark Excelsior Bébé
Jean Gille figurine & doll mark JG 1845+
- succeeded ca. 1870 by Vion & Baury figurine mark VB
D. Giotti Etablissements 1925+ Nice, FR
- art felt doll mark Magali
Alphonse Giroux & Cie doll mark B # S 1860-1880
A. Benoit Gobert 1898-1899+ (SFBJ)
- Bébé Colosse, Bébé Le Préféré, Bébé Sublime
Gobillot & Samson doll mark Polichinelle 1891
Googly Eye Dolls 1911+
M. Gorguet doll shoes marked M.G. 1876-1890
- bébé, poupée accessories
Grandjean doll trade name Bébé Bijou 1887-1890
- doll mark - M - Paris GD 4
M. Ferdinand Gratieux doll mark F ~ G Tout Va Bien
Gre-Poir cloth doll mark label 1927-1935, Paris, NYC
Gregori-Olivier doll mark Poupeè Nana bébé 1879+
Alfred Grombach doll mark mercury GV 1858-1904+
Jean Marie Guépratte dolls (Danel et Cie) 1881-1898
doll mark Bébé Soleil
Mlle. Marthe Guerin doll mark intertwined ACN 1915
G. Guigue doll shop A La Mignonette 1892
Pierre François Guillard doll shop 1835-1850
- successor Vve. Agathe Francheteux 1850-1866
doll label A la Galerie Vivienne Mons. Guillard & Le Maire
4 Rue des Petit Champs 4 Paris
- successors doll label Remond & Perreau 1867-1896
Louis Guillet doll mark Amour Bébé 1896
Silas Guillon Camelia art dolls 1925
- doll mark CAMELIA
Maison Guyot doll maker 1889-1900
doll mark store label A la Tentation
Poupées & Bébés 22 Passage Vendome Paris
Guyot Bebes & Jouets 5. Place de la République