Hubert Palmen & Company doll mark H2P 1920s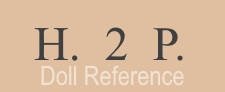 Papier Mache Doll Menu 1760+
Moritz Pappe doll mark seven point star 1869-1930s
Sammler & Paris, E. Paris, Gebrüder Paris 1881+
doll mark two children sitting at a table 1907+
Patent Washable Dolls 1880-1910 Germany
Emil Paufler & Co papier mache 1876-1905
Alfred Pensky celluloid dolls 1919-1930s Bavaria
Hermann Pensky doll maker 1911-1930s
doll mark Pehaco Hannelore doll mold 85
doll mark Hannalore four leaf clover symbol
doll mold 1924 PHI
Albert Peterhänsel 1921-1925+ doll mold 421
Heinrich Peters 1878-1925+ Prussia
Petz Spielwarenfabrik 1859-1930+ Neustadt
- owned by the Kiesewetter family Thuringia
Dr. Dora Petzold doll mark DP 1919-1930s Berlin
- doll mold 254636
Fritz Pfeffer China doll mark 1892-1930 Gotha
doll mark FP (F is backward), GP
Emil Pfeiffer doll maker 1873-1930s Vienna, Austria
dolls with Marseille heads 390, 560a, 1894,
Bébé EP, Tipple Topper EP, Huberta, Fritz,
Hanka, EP Hubsy, Hubsy Clown, Puppen-Pfeiffer
doll mark EP intertwined inbside a circle
Gebruder Pfeiffer 1873-1930s Köppelsdorf & Vienna
- Gebrüder Pfeiffer's are Emil, Fritz & Max Pfeiffer
L. Pfeuffer wooden dolls 1909-1908 Nurnberg, Bavaria
Phoenix Quick rubber doll mark 1925
- Harburg rubber factory
Karl Pietsch doll mark KPN 1897-1930 Neustadt, Öslau
Erna Pinner 1913-1923
Plasty Doll Co, Barbie clone dolls 1960s+
S. Plaut GmbH. art dolls mark Bubikopf 1925
Julius Plessner 1907-1920
August Poppe 1844-1855
J. B. Purger wood peg dolls 1851-1896
Portham & Sohn doll mark P & S 1840-1860
P - continued above
P - continued
Porzellanfabrik - are listed by owner or town name
Preh Werke GmbH doll maker 1949-1960
doll mark plasticbaby inside an angel symbol Germany
Preusser & Co dolls 1909-1930
Preussing & Wilson 1914-1920
Lotte Pritzel wax head art dolls 1908-1920s
A. H. Proschöld China dolls 1897-1930s
Pulvermacher & Westram 1864-1930
Carl Quehl Doll Company 1851-1922
Max Räder doll mark R. DEP 1910-1913 Sonneberg
Hermann Räppold toy figures 1924-1930 Sonneberg
Rauch & Schelhorn doll mark RSS, R & SS 1923+ Sonneberg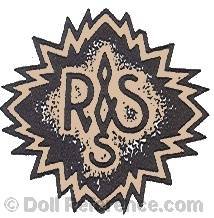 Rauenstein Porzellanfabrik 1783-1930
- also known as Friedrich Christian Greiner & Sohns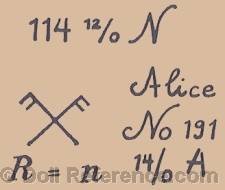 doll mark 114 12/0 N two crossed flags R = n
Alice No. 191 14/0 A
doll mark Made in Germany No. crossed flags C.
• D •, Made in Germany Dora 16/0
Paul Rauschert bisque head Doll Factory 1898-1941
- brother-in-law of Ernst Metzler
doll mark PR, doll mold 2144, 6600
Louis Reber doll facxtory 1910-1939 Sonneberg
doll mark D.R.G.M. 897388 1046
Phil Recknagel & Co 1881-1891
Theodor Recknagel doll mark crossed nails 1886-1930
doll mark R crossed nails A RIX - 11/0,
doll mark Germany NK4 A.1.R.
doll mark A or A backward K like symbol 13/0
Goldmann Reich & Co celluloid dolls 1890-1927
Otto Reinecke doll factory 1879-1925+ Bavaria
- Hof-Moschendorf Porzellanfabrik
Curt F. Reinhardt exporter toys & doll mark 1919-1921
Ernst Reinhardt doll mark ER 1904+ & USA
Max Reinhardt 1895-1909
R - continued above
R - continued
W. Reinick celluloid dolls 1926
Adolf Reisenweber 1914-1924 Sonneberg
Christoph Reisenweber papier m dolls 1861-1930s
Albert Reissmans 1881-1930s
Georg Rempel toy factory 1904-1927 Sonneberg
Julius Rempel doll mark 1921+ Neustadt
Rempel & Breitung dolls 1920-1930+
doll mark 265 117 RB, doll mold 117, 118
Rheinische Gummi celluloid doll mark turtle 1873+
- Rhenania Rubber and Celluloid Factory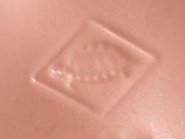 C. G. Richter wooden dolls 1816-1914 Saxony
Friedrich Adolph Richter mechanical dolls 1900-1922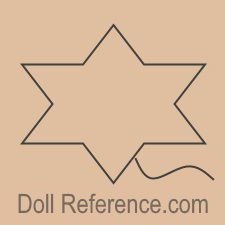 F. Richter doll mark five pointed star with a tail
Otto Riede, Otto Jäger & Co., Jäger & Co. 1922-1923
- Thϋringer Puppenfabrik, Friedrichsroda
doll mark Otto Jäger, doll mold 850
August Riedeler China dolls 1864+
- renamed 1925-1972 Riedeler & Bernhardt
then 1973+ Puppen-Riedeler
doll mark ARI in a triangle inside a heart
Riedeler doll mark AR
Riedeler doll mark symbol
H. Ring & Co 1886-1925+ Silesia
Ringl needle sculptured cloth doll mark on metal tag
A. Rischel & Co 1893-1900
Rock & Berthold 1895-1918
Rock & Graner papier mache dolls 1813-1911
doll mark R & GN
Hermann Rogner 1924-1930s
Rolfes & Company plush animals, cloth dolls 1923
mark also by Lyro & Franz Volpert in 1925
Hermann Rosel doll mark PR 1921
Louis Roth 1895-1909
Rotkappchen GmbH. rubber head doll mark 1925 Berlin
Max Rudolph celluloid doll mark MR 1908-1930
Rubber Doll Menu 1849+