Attached Bells upside down symbol Made in Japan, unknown
T. Akiyama dolls 1880
All Bisque Dolls sassy dolls 1960s-1970s
Celluloid doll mark a circle with plus sign Japan, unknown
Celluloid doll mark, diamond symbol, symbol inside Made in Occupied Japan, unknown
Celluloid doll mark round circle fish symbol Made in Japan, unknown
Celluloid doll mark S inside a circle Made in Japan, unknown
Celluloid doll mark star inside a circle Japan, unknown
Criterion Toy Company possibly 1960s

Dakkachan dolls or embrdolls 1960s
Daruma dolls ca. 500 a.d.
Doll mark Love-Loid Reg. U.S. Pat. Off. Patent 41045 Japan
Japanese celluloid doll maker unknown
Doll mark RE inside a diamond Nippon, unknown Japan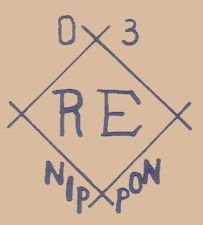 Foreign doll mark - possibly Japan, makers unknown, numerous
Froebel-Kan Company Ltd. of Tokyo doll mark 1907+
Gofun dolls, made with white oyster shell paste 1600s+
Gosho-Ningyo - Japanese palace or court doll
Hina-Ningyo - Japanese Festival doll
Holiday Fair cloth dolls 1960s+
Ichimatsu dolls or play dolls 1931+
Iwaisan dolls 1960s+ made in Japan
Japan Import & Export Commission Company dolls 1914-1923
- Nagoya, Japan and NYC USA
Kabuto - Japanese warrior or warrior's helmet
Kanga Doll - mid-1900s Edo Genroku Odori (dance)
Kato Kiyomasa - Japanese warrior doll
Kokeshi dolls 1860+
Kyoto - a Fashion Lady Doll ca. 1900+
LJN Toys Ltd. doll mark jester hat upside down N 1970-1995
Maruei-Oki Doll Company 1925-1930
Masazo Matsubashi dolls 1900
Meiji Era Geisha dolls 1931-1912
Seijiro Misaki dolls, 1900 Paris Exposition, Silver Metal winner
Toyo Gangu Goshi Kaishi Mina dolls 1923 Nagoya
Miyako Boeki Goshi Kaisha dolls 1921-1925
Monotaro - Japanese warrior
M. Nishinotoin Uonotana Mochidzuki dolls 1920-1921 Kyoto
Momijiya Ning Yo-Ten Ltd. doll exporter 1923-1925 Fukuoka
Shozaburo Nakayama dolls 1929-1940
Totaro Nakazawa dolls 1929-1940s
Nanikawa, Chujiro dolls 1930s-1940s
Sakura Ningyo - traditional Japanese cherry doll
Nippon Doll Mark 1920s - many, various doll makers
Keitaro Okada dolls, 1900 Paris Exposition, won Bronze Metal
Okiagari-koboshi Company roly poly toys 1300+
Omoya Company small all bisque dolls 1920s+ ?
Richard Toy Company 1970s+ Hong Kong, NYC
Rosko Tested Toys dolls 1950s-1960s Tokyo
Maruyama Toki Yamashiro Ryuhei doll mark 1920s-1930s
double circle with upside down peace sign, Made in Japan
Torakiyo Sato dolls 1893 Tokyo
Nagai & Company, Importers, New York City
Nakajima Seisakusho dolls 1919+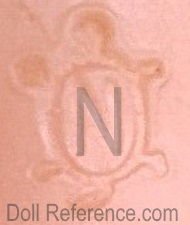 doll mark turtle symbol N, sometimes with Made in Japan
Sekiguchi of Japan 1918-present, celluloid, vinyl dolls, plush toys
doll mark a three leaf clover Made in Japan
- Bebichhichi, Coco, Momoko, Monchhichi dolls 1974+
Shiba Company doll mark boy inside circle 1945-present
- 1963 made plastic, vinyl, plush dolls & toys
Shikishima Skokai dolls 1929-1930s
Shimizu Katsuko dolls 1900-1930s
Suzuki Company crawling wind up doll mark Japan
Tajimi Trading Company 1895, Takito, Ogawa & Co. 1905+
- exporters of porcelain including bisque doll heads
merged into Taiyo Trading Company 1919-1920s US, CAN
Taiyo Trading. Tajimi & Takito doll mark T flower symbol
Takada Kinosukee dolls 1930s+
Takara-Tomy Co. Ltd. 1924 or 1955+ Licca-Chan doll
Yamato Importing Company 1917+
YN doll mark Made in Japan, unknown, 1921+
YN inside a diamond Made in Japan
Yamato Importing Company 1917+
doll mark FY, FY intertwined
Yamato Ningyo - Child dolls