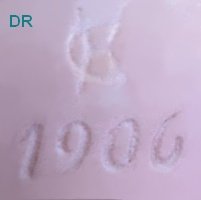 Carl Knoll Porzellanfabrik
doll mark CK, doll mold 1906
Carl Knoll built his first porcelain factory in 1842 at Fischern, Germany near Karlsbad, Bohemia and the border of Austria, this porcelain factory is also called Karlsbad Porzellanfabrik.

In 1886 Knoll claimed he had the finest porcelain slip and clay, which he sold to other German companies.

Knoll is probably best known for their many porcelain dinnerware products found today and in 1909 Knoll registered three porcelain doll heads.

Carl Knoll used the doll mark of intertwined CK initials and doll mold 293, 701, 1906.