The trade name Minerva over a helmet symbol (shown below), was used by the German doll maker Buschow & Beck from 1888 to the 1930s, their American partner was Alfred Vischer (with the Minerva doll mark) with George Borgfeldt and Louis Wolf as distributors, metal head dolls are found in old Sears catalogs under the Sears brand name of Wearwell Dolls, also on dolls made of celluloid.
1898 to the 1930s Karl Standfuss used the trade name and
doll mark JUNO, as shown on left.
1901 to 1910 Alfred Heller used the trade name and doll mark DIANA, as shown on right.
Both are German doll makers of metallpuppenköpfe - metal doll head.
Unknown German metal head doll mark 4 GERMANY PATENT, shown on left.
Aluminum Doll Head Works 1919-1920 USA, made aluminum doll heads and hands on composition ball jointed or cloth stuffed bodies, doll mark unknown or unmarked.
Atlas Doll & Toy Company 1917-1930 USA, made all metal dolls, also dolls with metal shoulder heads, sleep eyes, wigged and metal arms on cork stuffed bodies, Atlas doll mark or trade names are A.D.T. Co and in 1919 Hug Me Kid with sleep or stationary eyes, molded hair or wigged, also a 1928 Dolly Jump Rope doll who came in a metal push cart.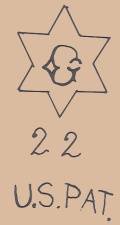 Giebeler Falk Doll Corporation 1918-1921 of the USA, used the trade name Gie-Fa, they made an aluminum head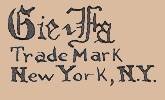 with a wooden body phonograph doll named Primadonna, who has a clockwork mechanical mechanism in the dolls torso, a crank handle in the neck works the turntable located in the top of the head, dolls with a metal head, hands and feet with wooden or composition bodies and entire dolls made of all aluminum. Doll marks Gie Fa Trademark New York, NY., Aluminum Heads ~ Hands Guaranteed Unbreakable or the initial G inside a six pointed star symbol U.S. Pat.
Metal Doll Company 1902-1903 USA, made entire dolls of thin steel sheet metal, fully jointed steel body, some have jointed wrists and ankles, strung with steel springs in 12 and 18" tall, called All Steel Doll, distributed by Borgfeldt.
Horsman made a metal head doll marked Horsman as shown above on a composition jointed body, but we have been unable to find any reference documentation as to his name.
Armor Metal Toy Stamping Company, 1922 of Bayonne, NJ USA, made metal Armor heads on composition jointed or
cloth stuffed jointed sanitary bodies and walking dolls, doll sizes 14-22" tall, doll marking unknown.
E.F. Company, 1930s Sydney, Australia, made metal head dolls marked L.C.
Antique Metal Head Dolls Identified
1901-1910 Diana metal head doll, 16" tall, shoulder head on cloth body by Alfred Heller.

1900s-1930s Buschow & Beck, Minerva metal head doll, 21" tall with a cloth body.

on left; 1900s-1930s Minerva metal shoulder head doll,

22" tall with a kid body, by Buschow & Beck.

doll mark Minerva with a helmet symbol