Jeanne I. Orsini biscoloid head infant or baby doll, 17"
Jeanne I. Orsini doll maker was located in New York City, she first designed small all bisque child character dolls sized 4 1/2 to 7" tall.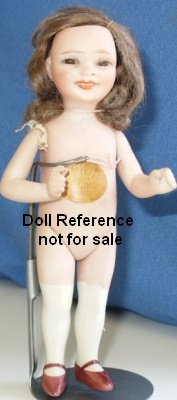 Some doll trade names are; 1916 Tummyache & Dodo, 1918 Fifi & Nellie Sunshine, 1919 Uncle Sam, 1920 Didi (shown on right), Mimi, Vivi and Zizi.
These small dolls should have a doll mark on the back of the neck similar to the J.I.O. © 1920 plus a doll mold number and a paper label identifying the dolls name on the chest, as shown below.
Some of these Orsini dolls were made by Alt, Beck & Gottschalck and distributed by Borgfeldt.
Later Orsini designed larger infant or baby dolls that had biscoloid flange heads, molded painted hair or wigged, sleep eyes, some with flirty sleep eyes, real eyelashes with a cloth, kid or composition body and the Kiddiejoy baby doll mold 993 was made by Marseille.