Otto Gans bisque head baby doll mold 6789, 15" tall

Otto Gans of Waltershausen, Germany made and exported bisque head child dolls and baby dolls, claimed they invented dolls roguish (googlie) flirting eyes, in 1901 Kämmer & Reinhardt used Gans patented flirting doll eyes, by 1923 Gans registered a patent for walking dolls, some with voices. In 1924 Gans registered a trademark of a bird on a shield. Some Otto Gans heads are made by Armand Marseille such as doll mold 975. Later dolls are possibly made of celluloid.

Otto Gans doll mark

120 OG

Otto Gans Germany 975 A. 5. M.
Otto Gans doll marks OG, OGA.
Otto Gans doll molds 120, 124, 975, 6789
Gans & Seyfarth Puppenfabrik Dolls 1908-1922
Otto Gans, Hugo Seyfarth and Mr. Heller formed this doll company in 1908.
In 1922 the partnership dissolved and Hugo Seyfarth formed a new company with Mr. Reinhardt.
Gans & Seyfarth doll marks G, G & S, G & SG, OG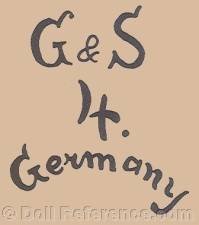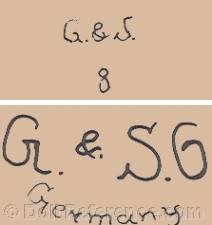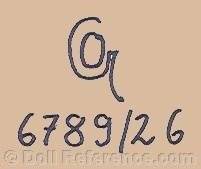 Gans & Seyfarth doll mold 120, 6789, doll trade names Dolly Mine, Kindertraum , Rack, Schalk

Seyfarth & Reinhardt Dolls 1922-1930

Hugo Seyfarth and Hugo Reinhardt were the founders of this company, some of the bisque heads were

made by Ernst Heubach. Seyfarth & Reinhardt dolls were distributed by Louis Wolf & Company.

Seyfarth & Reinhardt doll mark SuR. Seyfarth & Reinhardt doll molds 77, 312

, doll trade names Elfie, My Fairy.
| | | |
| --- | --- | --- |
| Seyfarth & Reinhardt doll mark SUR | Seyfarth & Reinhardt doll mark 312 SUR sunrise symbol 6/2 Germany | Seyfarth & Reinhardt doll mark Heubach-Koppelsdorf 312 SUR Germany |
Buying Selling Cleaning Photographing Repairing
Auctions | Barbie 1959+ | Books | For Sale | Forum | Glossary | Marks | Values
All trademarks are respective of their owners and have no affiliation to this website
Doll Reference © Copyright 2000-2018 all rights reserved including photos & content