Antique Schmitt et Fils bébé is 19 1/2" tall, pressed bisque socket head, jointed wood and composition body with flat bottom, jointed at shoulders, elbows, hips and knees, non-jointed straight wrists, mohair wig, pale bisque coloring with lightly blushed cheeks, oval paperweight eyes lined in black with a hint of eye shadow, short painted lashes, feathered brows, closed painted lined mouth, pierced ears lightly blushed.
Henri Maurice Schmitt began his company in 1853 in Paris, France making fancy goods & childrens toys. It's believed Henri Schmitt began making bisque or composition papier mache head dolls about 1867. Henri and son (Frederic) Charles Schmitt formed Schmitt et Fils (son) in 1877 to manufacture toys and bébés (dolls) until 1891.
In 1877 they were also granted a patent for improved coloring, tinting of porcelain shoulder heads for bébés and dolls and registered their trade mark of two crossed hammers on a schield with SCH. In 1878 Schmitt et Fils won a silver medal at the Paris Exposition for their dolls and bébés.
From 1879-1891 Schmitt's specialty was a doll called Bébé Schmitt supposedly an indestructible jointed Bébé who they also exported. In 1883 they obtained a patent for a layer of wax to be applied to the pressed bisque heads, which they believed enhanced the appearance and durability of the dolls. Schmitt's French bébés dolls are of superior quality, high value and very desirable by collectors today.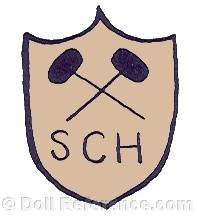 Schmitt et Fils doll mark two crossed hammers on a shield, initials SCH on both head and body registered in 1878