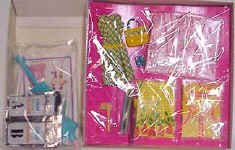 4040 Barbie & Francie Color Magic set 1966-1967
Turquoise closed toe pumps.
4041 Color Magic Fashion Fun 1966
Yellow multi-print blouse, skirt with ruffled hem, hot pink pants with print pockets & ruffled hem, pink flat shoes, color changer packets A & B, spoon, bowl, 2 applicator sponges.
Same as #1779 Color Magic Fashion Fun in 1967. Also same as #1043 Sears Exclusive1966, which included a Color Magic doll as well.