A La Récompense Jouets 1905+ Paris store
- doll mark 34 Rue du 4 September
ADT Societe Nouvelle des Etablissements 1925+
Mlle. Adrienne dolls 1927-1930+
Aladin & Lam art dolls 1925
Ernst Alart doll shoes 1929 successor
- doll shoe mark Modelé Deposeé boot symbol
Eugene Alart doll shoes 1913-1929+
- doll shoe mark standing girl in chemise Deposé
Mme. Nina Alexandrowicz dolls 1916-1918
Henri Alexandre doll mark H * A 1889-1895
All Bisque Dolls 1890+
Léo Amaury sculptor of doll heads 1911-1930
Anel & Fraisse, Anel et Fils celluloid dolls 1913-29+
Antique Mechanical Dolls 1850-1900s
- Automata dolls, self propelled dolls
Félix Arena dolls 1918-1920 Paris, France
- doll mark Germany a geometric symbol Mignon
Jean Louis Hubert Arnaud dolls 1852-1879
- Arnaud doll mark Brevet d' Invention LA,
doll with kid or wood body covered in rubber
Arnoult Doll Co, heads by F. Gaultier 1881-1882
Au Bébé Rose Societe 1910
- doll mark Au BB Rose on a face symbol
Au Nain Bleu department store 1890-1940s
- early doll mark Au Nain Bleu, E. Chauvière
- Au Nain Bleu 406, 408, 410 rue St. Honoré, Paris
Au Nain Jaune store 1900s+
- doll mark Au Nain Jaune (The Yellow Dwarf),
Jouets & Jeux, 64 Avenue de Neuilly 64
Au Paradis des Enfants 1864-1925
- 156 Rué de Rivoli, Paris, Rue du Louvre, No. 1
large famous Paris, France Department store
Au Perroquet Cie 1924
- doll mark La Negresse Blonde
Aux Amis de L`Enfance 1870-1875
- owned by E. Cousins
Aux Bébés Sages 1863-1879
Aux Enfants de France 1869+
- owner Alice Couterier
Aux Enfants Sages 1870-1890s
- owners Benon et Cie, then Guiton
doll mark Passage Jouffroy, Nos. 13 & 17 Paris
see also Maison Munnier
Aux Rêves de L`Enfance 1870s
- Spécialité de Poupees, 40 Rue de Richelieu Paris
Aux Trois Quartiers department store 1905-1924
- 1906 Bébé Baptême, Bébé Madeleine,
Bebe Chiffon, Bebe Culotte, Bebe Maillot,
Bebe Merveilleux, Bebe Mignon, Bebe Neva,
Bebe Parisette, Bebe Promenette,
Bebe Trois Quartiers
B. J. et Cie dolls 1800s+
B1S - fashion doll mark - unknown French maker
Baculard 1860-1876, Favier & Baculard 1876+
Badín & Guibert doll mark symbol, dates unknown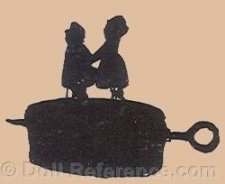 A. Baffert wax & rag dolls 1925-1927
G. Bagnaro cloth dolls 1928-1929
E. Balland & Fils doll mark E.B. 1882 Paris

Jullien Balleroy & Cie ca. 1915+
- doll mark Limoges France JB, JB
Balloon symbol doll shoe mark, Paris Marque Déposé
- Unknown doll shoe maker, registered mark
Ernst Ballu dolls 1890-1914
- doll mark Bébé Olga
Bapts & Hamet dolls 1898
George Barbier dolls 1923
Eugene Barrois 1844-1875
- purchased by Halopeau in 1875
Pierre Joseph Barth molded dolls 1857
Barthélemy Marquisette art dolls 1929-1930+
Francois Felix Bataille dolls 1800-1881
Madame Bataille dolls 1855-1856
Mme. Baube dolls 1870-1872
Charles Louis Baudry dolls 1917-1921
Bawo & Dotter 1838-1913 Karlsbad, Limoges, NYC
- doll mark B & D, B & D Ltd, Pat. Dec. 7/80,
Barclay Baby Belle Germany
Beaudelot doll shoes or boots 1870s-1880s Paris
- doll shoe mark found on Aux Réves de l`Enfance,
Bru, Jules Steiner, Jumeau dolls
P. Beaufrere dolls 1929-1930+
J. Bayer cloth head dolls 1925
Mme. Paule Bayle cloth art dolls 1918
Mme. Bazet doll maker 1879
Bebe Baptême infant dolls 1885-1913
Bébé Bon Marché 1894-1925
Bébés de Français 1891-1941
- doll mark standing person BF initials or BGF
Bébé de Paris see Genty 1890-1898
Bebe Tout en Bois wood dolls 1901-1914
Henri Bellet papier mache dolls 1919-1920s
- doll mark POUPARD ART
Belleville & Cie dolls 1920s+
- doll mark Mystére
Belton Type dolls 1870s-1900
- accepted as French, probably German
Jean-Louis Benois dolls 1850-1870
SA Berchet 1995+ also called Superjouet
Jacques Berner, Bébé Moujik 1888+
- doll mark JB
Bernheim & Kahn dolls 1900+
- doll mark Bébé Mondain, Etoile Bébé
Julius Bernhold doll mark Nini Kaspa 1910+
Bertoli Fréres doll mark IDÉAL BÉBÉ 1895
Rene Bertrand doll mark Gaby 1923
Gregoire Biberian cloth doll mark BG 1929-1931
Binder & Cie dolls 1918+
Antique Bisque Doll Menu 1860+
Claude J. Blampoix Ainé Sr. 1847-1885
- attributed doll mark B # S
successor Duval-Denis 1863
successor Dallox 1871-1885
Claude J. Blampoix Jne Jr. 1856-1881
Mme. Blampoix (Sr, Ainé's widow) 1876-1878
Bon Marché department store 1894+
Bonin, Lefort & Cie, Societe Bonin & Lefort 1923-28
- doll mark symbol two children play fighting
doll mark Joli Bébé, Mon Baby, Bébé Ninon,
Bébé Select
Claude Valéry Bonnal 1898-1904
- doll mark Bébé Le Glorieux, Bébé Le Petit
Français, Bébé Le Radieux, Bébé Le Special,
Bébé L' Unique
Etienne Bossuat 1883-1924, doll mold 316
- 1924 doll mark symbol eight pointed star
Adolphe H. Bouchet doll mark AB 1889-99+ (SFBJ)
- Bébé Dormeur, Bébé Géant, Bébé Hamac,
Bébé Parlant, Bébé Tête Mobile, Gentil Bébé,
Le Séduisant, L'Indestructible
Boudoir dolls 1915-1930s
J. Bourgoin 1880-1892
- successor of Jules N. Steiner
Brasseur & Videlier dolls 1865-1882
Brevete Gege France 1950s
Briens fashion lady dolls 1860-1862
Amilcare Brogi cloth doll mark Clélia 1927-1929
Simon August Brouillet dolls 1825-1854
Bru Jne et Cie bébés 1866-1899+ (SFBJ)
- successor Paul Eugene Girard 1899-1925+
Anne Bruent doll mark Les Poupees de Mitou 1926
Victor Brunet doll mark L`Hirondelle, dates unknown
Brunet & Pajean dolls ca. 1910-1921
- doll mark RF
Margurerite Brunot dolls 1918 Algiers, N. Africa
- doll mark M.B. intertwined, registered in France
Brunswick & Cie dolls 1912-1919
- doll mark R.F., doll name; Parisienne à la Mode
Mlle. Bucquet founder of L` Adelphie dolls 1916
C.D. 60 Rue Mazarine Paris doll mark - unknown
Calots fashion lady dolls 1855
Calvare cloth art dolls 1920s
Charles Emile Carlégle & Andre Helle 1918+
- wooden toy characters; cowboys, sailors etc.
Carlier, Fournell & Gibon dolls 1925
Jean Carles doll mark Mousmé 1926
Jean Caron doll mark JC SL 1855-1890
Adrien Carvaillo doll mark La Venus 1923
A. Cassanet et Cie 1881-1890s
Cayette dolls 1909
Cayette doll mark five pointed star
Cayette doll mark four leaf clover
- doll trademarks Bébé Oracle, Bébé Prophete,
La Fée au Gui, La Fée au Trefle,
La Fée aux Trèfles, La Fée Bonheur
Celluloid Doll Menu 1869+
Vve. Chalory doll mark Bébé Leger 1893-1896
Chambon Et Baye multi face doll mark CB 1899
Chambre Syndicale des Fabricants de Jouets Français 1886-1928
- group of toy makers, a trade organization
doll mark Marque Déposé Article Française No
Chantilly & Cie doll mark 1924-1928
Charles G. Charpentier dolls 1880s-1895
Chassoux dolls 1900-1902
Chaufour La Poupee Merveilleuse dolls 1871-1875
Jaques Chauvière dolls 1848-1890+
Chéret & Moreau dolls 1879-1885
China Head Doll Menu 1840-1940
F. Chiquet & Le Montréer 1865-1885
Clauderies, waddling doll 1914-30s Limoges, Unis
Vve. Clément leather body lady dolls 1870s
Clelia cloth dolls 1930s
Les Fils de N. Clerc 1908-1927
Clodrey 1952-1974
A. Coiffe doll mark 7 point star Limoges 1873+
- 1898 Coiffe, Jne, 1915 H. Coiffe, L. Couty & Cie
1920+ L. Couty, Magne & Cie
Mme. Coquerie dolls 1864-1870
Coquillé dolls 1920-1921
Madame Coquillet doll mark La Parisetté 1918
Marius Cornet doll mark La Poupée Française 1914
Cosman Frères doll mark 1892-1925+
- 1892 Bébé le Favori by Clément Gatusse
1893 Splendide Bébé
Honoré Couillard, Bienvenue dolls 1889-1892
Cloth Doll Menu 1860+
Couin & Camgrand doll mark Kipmi 1924
Courtot-Lavancourt dolls 1875-1877
Maison Alice Couterier dolls 1865-1894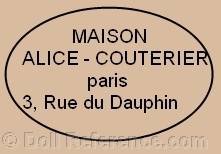 - doll mark 3 Rue du Dauphin, Paris
Leon Couty dolls 1909+ a porcelain decorator
- successor at A. Coiffe
G. Covert Co celluloid dolls 1913+
Aline Crosier Parfait Bébé 1917
Marie Cruchet dolls 1850-1857
Honoré Cuillard dolls 1863-1867
D11 French doll mark - unknown
Damerval Frères & Laffranchy dolls 1910-1917
- doll mark Montreuil Bois France DL, DL
registered dolls; Joli Bébé, Bébé Mignon
Danel et Cie 1889-1895+ (1896 Jumeau, then SFBJ)
Edmond Daspres dolls 1902-1908
- successor Jules N. Steiner 1904-1908
Robert Darcy turtle leather Mon Fétiche doll 1928
D'Autremont China dolls 1858
- doll mark Paris 6 Rue De Dauphin 6
Mlle. Aline De Brzeska art doll mark Lutetia 1922
Mme. Jeanne De Kasparek art dolls 1922-1925+
- registered doll trademark Sans Rival
doll mark coat of arms with a crown crest
Max-Henri & Marie De la Ramée 1917
- doll mark Ma Joli
A. De La Thuilerie doll mark 1873-1882
- Grand Magsin de Joet, Rue St. Honoré, 366
Paris English Spoken
De Raphelis-Sossian doll mark Jeanne d'Arc 1920
Georges De Rousey de Sales 1917-1920
- Liberty, Expression, Modestes, Espiegels
De Stoecklin & Gaston 1920
- Poupées De Paris, Les Poupées Parisiennes,
Les Poupettes
Renée De Wouilt doll mark sunburst star W 1916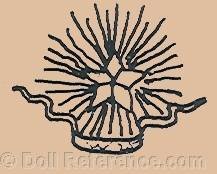 Debailly dolls 1846-1852
M. Decré dolls 1885-1890
J. Decoster bebes 1890 Paris
- doll mark J. DeCoster
Louis Dedieu, Mascot doll mark De Liauty 1927
Defosse dolls 1833-1852
Dehais mechanical dolls 1836-1921
- doll mold 106, mechanical dolls,
poupards (doll without legs), Marottes,
Folies, Polichinelles (clown doll)
- 1890-1921 Louis Marie Renou successor
Mme. A. Dehors doll mark AD 1860-1890
- AD marked heads probably by Alexandre Delhaye
Louis Delachal doll mark LD 1890-1904
B. Delacoste & Cie doll mark D 1914-1928+
- successor of B. Derolland, rubber bebes
Henri Delacroix dolls 1865-1887
- doll mark Paris HD, GD Paris, XS Paris, Pan Paris
Madame Delaunays dolls 1839-1866
Mlle. Léontine Delbosque 1876-1889
Mlle. Delcros dolls 1866-1873
Delero dolls 1871-1874
A. Delestaing or Delestang dolls 1864-1870
Delfour dolls 1870-1880
Alexandre Delhaye Fères doll mark AD 1900
Marie Demarest doll Poupée Sanver's 1908
Etienne Denamur 1857-1898
DEP Dolls ca. 1880s+ - depose, déposé
Grange Depiesse 1890-1921
Basile Derolland 1860-1928+ Ansiére-sur-Oise
- rubber bebe doll mark D inside a circle
Alexandrine D'Erophine doll mark Ad'E 1886
M. Hubert DesLoges doll mark H.C.L. 1916
Denis DeSaint 1842-1865
Mlle. Desaubliaux cloth doll mark Gallia 1915
Maison F. Deschamps 1847-1895
- Maison DESCHAMPS 5 rue de l' Echelle
Desiré & Lamane dolls 1893
Desmee dolls 1844-1846
V. Desportes bisque head dolls 1876-1885
Th. Desrosiers wax dolls 1867-1881
- then Assuérus & Desrosiers 1881
Léon Desty dolls 1869
Deuilly dolls 1881-1885
L. Devanaux dolls 1878
D'Hostique dolls 1885-1889
Digoit dolls 1869-1889
L. Doléac & Cie doll mark LD 1881-1908
- Polichinelles, Marottes dolls
Doll Glossary, doll terms explained
Maison Dorée department store 1900-1901 Paris
- Bebe Maison Dorée
Mme Germaine Douche dolls 1928-1930+
- doll marks Colette, Puppel's Mary
Isidore Dreifuss dolls 1921
- doll mark La Poupée Ideale Fi-Fi
Paul Dubois dolls 1919
- doll mark Entrée des Alliés a Strasbourg
Dubois dolls 1889-1890
André Duclos dolls 1855-1921
Madame Ducrey dolls 1880
Dumas-Bohan dolls 1836-1852
E. Dumont doll mark ED 1843-1889
Dumontois dolls 1865-1879
Dupont dolls 1840-1868
Mme. Marie Louise Durans 1915
- doll mark MD inside circle, Duran, Marx
Octave Durand doll trade name Tanagrette 1921
Duval & Dizengromel dolls 1930+
Duval-Denis 1861-1862
- 1863 purchased Claude Blampoix Sr.
Fannie E. Duvall cloth dolls 1916-1918
- doll mark CREE par FANNIE DUVALL,
OUVROIR, 180 Rue de G
Eden Bébé Paris 1890-1899
- see Fleischmann & Bloedel
Mme. Egret nanking dolls 1874-1884
E. Fillaux dolls 1901-1904
- doll mark Au Poupard Masion Principale 15 Raece
Serves
Elpikbien doll mark CO around spoked wheel 1921
Falck et Roussel dolls 1880-1902
Maison Farcy dept. store 1927-1930 Paris
M. Fauche doll mark Manos 1916
Fleischmann & Bloedel dolls 1873-1899+ (SFBJ)
René Foucher doll mark tower + windmill, date unk.
Blanche Fouillot doll name L'Idéal 1906-1925+
Mme. Fouquet dolls 1925-1930+ Paris
Consuélo Fould poupées mark AP Paris 1919+
- doll trademark Les Victorieuses
French Fashion Importing Ninon dolls 1930s
P. J. Gallais & Cie of Paris, France 1917-1923
J. Roger Gault plastolite dolls 1916-1918 Verleger
- also bisque doll heads from Limoges, FR
Francois Gaultier dolls 1860-1899+ (SFBJ)
- Francois Gauthier dolls 1860-1875 see above
Gauthier dolls 1863-1872 unrelated to above
GéGé Dolls, GeGe dolls of France 1933-1979
- see owner Marius Germain Giroud
G. Geoffroy doll mold 226
Genty successor of Rabery & Delphieu 1898-1899
Gerbaulet Frères dolls 1910-1925+
- doll mark Le Coquet Bébé, G.F., Bébé Olga
35, 37 Rue de Turenne, Paris 3 arrondissement
Gerber & Teusch doll mark GT
Gerbs Poupée boudoir dolls 1927-1930s
- doll mark Poupees Gerbs, 29 Rue Gauthey, Paris
Eugene Gesland doll mark FG 1860-1928
- Bébé Gesland, Excelsior Bébé,
5 Rue Beranger 5 Paris
D. Giotti Etablissements 1925+ Nice, FR
- Magali art felt dolls
Marius Germain Giroud 1968-1979
- doll mark Gege on hard plastic dolls
Alphonse Giroux & Cie doll mark B # S 1860-1880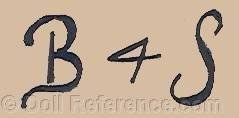 A. Benoit Gobert 1898-1899+ (SFBJ)
- Bébé Colosse, Bébé Le Préféré, Bébé Sublime
Gorguet dolls 1876-1890
- bébé, poupée acc., doll shoes marked M.G.
Grandjean 1887-1890
- doll mark M- Paris GD, Bébé Bijou
M. Ferdinand Gratieux doll mark Tout Va Bien
Gre-Poir cloth dolls 1927-1935
Jean Marie Guépratte dolls 1881-1898
- doll mark Bébé Soleil
Rémy Guerchoux dolls 1843-1852
Mlle Marthe Guerin doll mark entwined ACN 1915
François Guillard 1835-1850
- successor Vve. Agathe Francheteux 1850-1865
- doll mark A la Galerie Vivienne doll shop
4 Rue des Petit Champs 4 Paris
successors 1867-1890 Redmond & Perreau
Louis Guillet doll mark Amour Bébé 1896
Silas Guillon Camelia art dolls 1925
- doll mark CAMELIA
Henry Guimmoneau & Cie 1879-1884
Maison Guyot 1889-1900
- doll mark label A la Tentation
Poupées & Bébés 22 Passage Vendome Paris
Guyot Bebes & Jouets 5. Place de la République
Aristide Halopeau H mold dolls 1875-1889
- mfg. of H mold Bébé dolls 1882-1889
J. Hameau fashion lady dolls 1909+ Paris
- Rue De Tournon, Par Hannebelle, Depose AH
Herbillion dolls 1858-1863
Edmond Hieulle doll artist sculptor 1917 Paris
- doll mark MSB intertwined on coat of arms shield
registered; Parfait Bébé and Montreuil Bébé
Fernand & Paul Hirschler doll mark FPH 1919
Hugonnard doll mark A l'Ancre 1925-1929
Maison Adelaide Huret China dolls 1850s-1930s
- Huret doll mark No. 22 Boulevard Montmartre Paris
or Huret doll mark label 68 Rue de la Boetie
Mme. Vve Iriquet
- 46 Place des Cormes Rouen
L. Israël dolls 1921-1924+
- successor L. Solomon 1925+
J symbol M doll mark - see Mothereau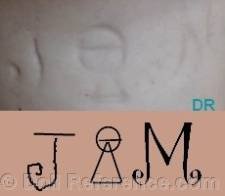 Pierre Jaquet-Droz automata dolls 1768-1774
Elie M. Jean doll mark anchor CAEN
Jules Joseph Jeanson dolls 1891 Paris
- doll mark 3, F, JJ with dots above, J.J in a square
Joseph Louis Joanny 1884-1921
- doll mark J.G.J or J.J.
A. Jobard dolls 1853--1855
Mme. Jomin doll mark A.J. pre 1927
Leon Jugele 1843-1844
Jullien doll mark Jullien 1863-1899+ (SFBJ 1904)
- Bébé incassable, doll name L' Universal
Jumeau bebes 1842-1899+ (SFBJ)
Lucien Kahn doll mark MOGLETTE 1926-1929+
Mme. de Jeanne Kasparek 1922-1930
- doll mark crown + three feathers
Marie Koenig dolls 1890-1914
J. César Koch dolls 1915
- doll trademarks Bébé Gloria, Lutecia Baby
Henri Orthon Kratz-Bossac 1892-1910
- doll trademark La Parisienne
Alexandre Krohn dolls 1882-1890
- doll mark lion with doll between paws
L.P.A. Bennett Couturier cloth dolls 1920s
- doll mark sun & bird 244 R. Rivioli Paris
La Bon Marché department store, Arlette doll
Amédée La Fosse 1892-1893
- successor Jules N. Steiner
Marie La Fosse 1893-1899
- widow of Amédée, successor J. N. Steiner
La Nicette 1924-1946
- cloth felt dolls by Gaston Casimir
La Place Clichy store 1896-1923+
- 1923 Bébé à la Mode
D. Lacouchy 1863-1882
Lacourtille Porcelain Factory 1771-1840
J. Margaine Lacroix 1873-1918
- 18 Boulevard Haussmann, Paris
Lady Fashion Dolls ca. 1860s-1930
Galeries Lafayette department store 1895+
André Lafitte doll mark Vita 1917
Lafitte & Désirat wax dolls 1900-1920
Théophile Lamagnére 1882-1900
Andre Lambert doll mark Zina 1924
Cecile Lambert doll mark Babet 1921
Leopold Lambert doll mark LB 1888-1923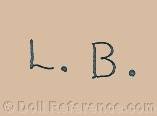 Lamorlette 1839-1846
Lamousse 1870-1882
Emile Lang cloth dolls 1915-1924
- doll mark E.L. Manufacture Français Jouettes
Tissus Systém Breveté
Lanternier et Cie 1855-1924 Limoges, France
Laquionie & Cie 1919
- doll trademarks Joli, Rosette, Muguette
Lardot-Praquin 1867-1882
Charles Laumaunier doll mark CL 1882
Baroness Laumont 1914-1921
Jeune Laurens & Dugourjal 1856-1858
Lavallée-Peronne Doll Shop 1865-1870 Paris
- A la Poupée de Nuremberg, 21 Rue de Choiseul,
a wood & kid body doll sold w/address of doll shop
T. Stefania K. Lazarski 1914+
- Mascotte, Bébé Marcheurs, kid, cloth, wax
Le Jouet Artistique doll mark FPH 1919
Le Minor celluloid dolls 1936-1940s+
Le Montréer Féres 1867-1921
- doll mark LM, le Trottin, Le Victorieux
Ange Le Prince doll mark Scaramouche 1924
Mme Stapfer Rachel Lebel doll mark Patria 1916
JD Leblond India rubber manikin dolls 1853
Lecomte & Alliot 1866-1900
- E. Leconte & Co, doll mark LC + an anchor
Alexandre Lefebvre & Cie 1863-1921 (SFBJ)
- doll mark Bebe A.L., Bébé Lefebvre, B.L. Paris
E. A. Lejeune 1878-1880
Louis Aimé Lejeune 1915
- doll mark of a pair of wings 1915
Yvonne Lelièvre doll mark Lisette 1922
M. V. Lepinary doll mark Le JouJou Français
Les Arts du Papier dolls 1919
- doll mark La Migonne, A.P. Paris in circle
Les Bébés de France Cie plastic dolls 1919
A. Leverd et Cie 1852-1867
- 1867 + renamed La Gutta Percha
Mme Leverrier doll mark Pandore
Edmond Levi 1919-1921
- doll mark Les Poupées De France
- L continued above
- L continued
Albert Levy doll mark Tanagra 1917-1921
Pierre Levy & Cie doll mark Bébé Bijou 1919
Mme. Leydel 1828-1850s
Louis L'Heureux doll mark L'Heureux 1905
L`Hotel de Ville store 1900-1929+
- 1909+ Bébé Réserve, 1918 Bébé Arc-en-Ciel,
1918 Bébé Drapeau dressed in WW I allies flag,
1921 Bébé B.H.V, Bébé Rivoli, Bebe Géant,
Bebe a la Mode, Bebe Fruits
Ligue du Jouet Francais 1914-1916
Michel Lilienthal, Miss Dancing dolls 1922
L'Oncle Hansi dolls 1917-1920s
- doll mark La Prialytine Paris
- 8 1/2" Yerri & Gretel doll mark La Prialytine Paris
Genevieve Loudouze doll mark Ninon 1925
Mme. Jeanne Louit dolls 1916
- doll mark Poupées Gauloises
Louvre Department Store 1855-1930+
- 1885 Bébé Baptême
Mme. Julienne Lubecka doll mark Bicot
Ludet dolls 1864-1890
Louise Adrienne Mabit 1925
- doll trade name Janus, Les Deux Gosses
Johannes Maelzel 1808-1827
- automata dolls, also located in Vienna
Peter Mancel dolls 1871-1874 Paris
- pressed bisque doll mark 30 Jt Peter Mancel
Grand Bazar Magenta store 1896-1908+ Paris
- 1896-1898 Bébé Magenta
Mail dolls 1927-1930s
Maison du Petit Saint Thomas 1886-1891
- Bébé Caprice dolls, Bebe Directiore
Béatrice Mallet dolls 1925 (SFBJ)
Charles Maltête 1892-1895
Gaston Manuel & E. de Stoecklin 1920
- Poupées de Paris, Les Poupettes
Les Poupées Parisiennes
Manufacture des Bébés et Poupées 1920-1921
- doll mark La Madelon
Marais dolls 1843-1881
Ed Marchel 1863+
- Mechanical dolls, Aux Bébé Sages shop
Marcel dolls 1871-1874
Charles Marcoux dolls 1920-1923
- doll mark Serie 0 MC intertwined France 3
Société Française des Bébé Marcoux
23 Rue Buffon 23, Montreuil-sous-Bois
Maurice Mariage doll La Poupée Lina 1923
Marie dolls 1862-1870
Marie & Boquerel 1863-1865 dist & importer
P. J. & F. Margot 1862-1878
Marotte a doll on a stick - Musical 1860+
Albert Marque doll mark a. Marque 1910-16
- see Eugene Alart for shoe mark
François Marseille 1888 Le Petit François bébé
- doll mark M on a shield over an anchor symbol
A. Martin dolls 1874-1876
Benoit Martin fashion lady doll 1863
Ferdinand Martin mechanical dolls 1880-1909
Mascotte Bébé 1890-1901
- May Féres & Cie, then Jules N. Steiner,
Jerôme Mathieu 1871-1875
Mauger & Montera 1860s-1870s
- doll mark Manota Montera Company
Maujean 1866-1874
Maurisse 1849-1851
May Frères, May Fils 1890-1899
- May Frères & Cie, May & Bertin
doll trade name Bébé Mascotte
acquired by Jules N. Steiner bet. 1897-1899
Emil Merz doll mark EMB 1918
Metal Head Doll Menu 1861-1930s
A. Métayer dolls 1860s+
- A. Métayer doll mark 22 Rue S. Martin Tours
Jules Mettais 1899-1903
- successor at Jules Nicholas Steiner
J. F. O. Michaelis 1892-1895 exporter
- dist. of G. Schmey & Wilhelm Dehler dolls
M. Severin Michel
- doll mark Bouquet De La Victoire
Modistes doll 1840s-1860s - Milliners Model
- mannikin doll to display clothing fashions
Mignonette or pocket size doll 1880s+
L. Morin dolls 1921-1928
Montastiers & Perier doll mark M.R. 1882+
Montreuil-sous-Bois - pottery area near Paris
Mothereau bebes 1880-1895
Pierre Muller doll mark Olympia 1924
Mundia Collection by Idyllis 1949+
Maison Munnier 1834-1870s
- 1863 Benon & Cie, then Guiton
Passagon Tanffson, Nos. 15 & 17 Paris
wax over composition, Barrois bisque heads
A. Nadaud 1878-1890s
- Jouets Cotillion 32 Rue du 4 Septembre
Hippolyte Naneau doll mark Gentil Bébé
Fenand Nathan et Cie 1925-1929
Neumann & Marx 1906-1911
- doll mark N & M with a lion, wings & tail
Charles Noël doll mark Marquisette BSGDG 1923
Fernand Paulin Olivier 1920
- doll mark A la Clinique des Poupées
Ollier doll mark OF 1919-1920
Ondine swimming dolls 1890+ also Germany
Lefor Openo dolls 1960s
M. Joseph Ortyx (Ortiz) dolls 1916-1921
- Excelsior Bébé, a successor to Gesland
G. Ourine Poupée Royale dolls 1925-1930s
Mme. Vera Ouvre cloth dolls 1915-1918
Helena Paderewski 1915-1918
Pandora Dolls 1915-1918
Pandores, Grandes Pandores dolls 1300-1800
- fashion manikin dolls made of wood or wax
Charles & Blanche Pannier 1872-1892
- doll mark C9P, Mme. Pannier on foot
Papier Mache Doll Menu 1760+
Paques Noel 1928-1929
Parisienne de Celluloisine Cie 1921
Charles Louis Parent 1871-1872
J. Paturel et Cie 1925-1928
Laurent Marie Rene Péan 1862-1890
- doll mark P.F.
F. Pegard dolls 1833-1847
E. L. Pelletier dolls 1890-1900
- doll mark La France bébés
Henry Perier 1916
- doll mark La Vraie Parisienne, M.P.
Marie Perrault 1916
Gaston Perrimond 1924-1930s
- doll mark La Poupée Nicette
Frank W. Perrin & Co 1907-1930s
Mme. Perrin 1916
- doll mark L.P.A., La Poupée des Alliés
Jacob Petit China dolls 1790-1865
- also Petit & Mardochee 1830-1865
and Jacob & Petit 1865
all used doll mark JP Par Brevet
Petit Saint Thomas dept. store 1886-1914+
Petit & Dumontier 1878-1890
- believed doll mark P.D. on doll with metal hands
Petitcollin 1860-1930s+
Petites Mains Parisiennes 1916
Jean-Marie Phalibois automata dolls 1863-1892
- doll mark J. Phalibois Paris
Edouard Henri Phalibois 1893-1925 (son of Jean)
- doll mark HP Paris, automata, mechanical dolls
Pierrette 1920s-1930s
Alexandre Silvain Pilorge dolls 1865
Pintel & Godchaux 1887-1899+ (SFBJ)
M. Pintel & Fils doll mold 131 1913-1928
M. Pintel & Fils doll mark symbol
Vincent Plément dolls 1885-1890
A. Plichon nankeen dolls 1875-1876
A. Point doll mark A.P. 1927-1928
Paul Poiret dolls 1910-1926
Polichinelle clown doll 1800-1925+
Popineau dolls 1855-1870
Possin dolls 1839-1843
George Potiers dolls 1867-1882
M. & Mme. Francisque Poulbot dolls 1908-1928
René Poulin metal head dolls 1861+
Poupee de Mode 1860-1930s
- also called Fashion Lady Dolls
Poupee's Nicette cloth dolls 1920s-1930s
Presles Fréres bébé Charmant doll 1928
Claude Bastide Prieur 1890-1898
Louis Léon Prieur doll mark LP 1840-1928+
- doll trade names Mon Trésor, Mon Cheri,
Mon Petit Rimailho, Mon Petit Trésor
Grand Magasins du Printemps 1887-1925+
- Bébé Baptême, Bébé Criant, Bébé Printemp
Quim or Quinn dolls 1927-1930
Rabery & Delphieu dolls 1856-1899+ (SFBJ)

- doll mark RD, Bébé de Paris, Bébé Rabery,
successor Genty 1899-1930+
Radiana dolls 1927
Radiquet & Cordonnier 1880+
- fashion lady dolls marked Déposé RC
Mme. Elisa Rassant dressed dolls 1926
- Arlette, Bathilde, Claire, Joseph,
Marie-Jeanne, Mousmé, Suzel, Trudy, Yvette
Bernard Ravca 1924-1947 FR & USA
- doll mark B. Ravca Original Ravca Anjou.
Fabrication Française
Jean Ray dolls 1925 (SFBJ)
Les Poupées Raynal 1922-1979
Frédéric Remignard 1884-1899 (SFBJ)
- Mignonettes, Le Petit Chérubin Bébé
incassables Fabrication Parisienne,
doll mark F.F.R intertwined
Renault & Bon Dufour 1906-1930 doll mold 264
Louis Marie Renou 1890-1921
- succeeded Dehais, mechanical dolls
Reyu doll mark RY France 1930s+
Leger Henri Ribiere 1929
Mlle. E. V. Riera 1906-1912+
- 8" wax head, portrait fashion dolls
Mlle. Marie G. Rigot 1927-1930s
- doll mark L'Ideale
Fr. & Caroline Rivaillon 1900-1910
- doll mark FCR, Bébé Caro
J. Roch fashion lady dolls 1860-1864
Antoine Edmond Rochard 1867-1871
- doll mark Ed Rochard Déposé
Marinus Rocher doll mark Le bébé 1914
Mme. Roig doll name Bébé Gallia 1916
Mme Leontine Rohmer 1857-1880
RoseMarie France Deposé - maker unknown
Charles Rossignol doll mark CR 1878-1900
Henri Rostal 1914-1916
Charles Rouaud 1913-1921
- trade names Mal` Auto de ma Poupée and
Mal` Oto de ma Poupée
Rouillard dolls 1920-1921
Roullet et Decamps 1865-1939+
Jean B. A. Rousselot 1845-1852
Jules Roy 1835-1857
Rozmann 1915-1916
Rubber Doll Menu 1849+
Rufaut 1880-1890
J. Antoine Rungaldier 1843-1890
Arthur Sadin doll mark Favori-Bébé 1916
L. Salomon dolls 1928+
- successor of L. Israél & Louis Prieur
Samaritaine store 1897-1924+
- 1910-1911 Bébé Baptême
William Webb Sanders 1927
- doll mark Ça Ne Fait Rien, San Fairy Ann
Santons - saint doll or figure 1700+
Mme. & Avard Saugnier 1848-1852
Andre Savary doll mark Pygmée
Mme Jeanne Schlisler doll mark Ti-Koun 1924
Schmitt et Fils bébés 1854-1891
P. H. Schmitz Bébé Moderne 1893-1899+ (SFBJ)
Schneider & Fils 1858-1896
- doll mark Paris S.F. Deposé
Max Schudze mechanical dolls 1864-1878
Adolphe Schultz 1893
Eugène Sedard wooden dolls 1919
- Paris-Jouets, Toujours du Nouveau R-S
Senegalaise dolls, Senegalese 1903-1915
Sèvres dolls 1738-1925+
Maison Francois Simonne 1842-1881
- Simonne, Passage Delorme,
No. là 13 Rue de Rivoli 188
Société Ch. Ramel & Cie papier mache 1916
Societe des Yeux Expression et Poupée Mystére dolls 1926
Société Française de Fabrication de Bébé & Jouets - SFBJ 1899-1958
Societe Française de Jouets & de Caoutchouc Bébés rubber dolls 1914+
Société Industrielle de Celluloid 1902-1927
- Société Nobel Française 1927-1939
Société Industrielle de Ferblanterie 1918
Société La Parisienne 1911
- doll trade names Bébé Eureka,
Bébé Jumeau, Bébé le Reve, Bébé Lux,
Bébé Stella, Paradis Bébé, Magic Bébé.
Societe Nobel Française SNF 1927-1939
Société Nouvelle des Bébés Reclames
1929-1930s
Société René Schiller & Cie 1918
- doll mark Yerri et Suzel
Société Steiner 1892
- see Jules Nicholas Steiner
Société Sussfeld & Cie celluloid 1863-1930
Yvonne Spaggiari 1927-1938
- 1927 doll mark Les Originaux De Vovonne
Jules Nicholas Steiner 1855-1908
Isidore Strassburger 1863-1866
Jane Sylver 1927-1930
E. H. Taillander 1925-1927
George Tempier 1843-1850
- doll mark Tempier, 23 Blvd. des Italiens, Paris
Tana doll mark - unknown, possibly French
La Maison Terréne dolls 1863-1890
- J. Terrène doll mark, 10 rue de Marché St. Honoré Paris
bisque head, hands, wood body covered in
kid, painted metal upper arms, fully jointed
Tesmine dolls 1927
Testard dolls 1829-1855
Sylvain Thalheimer & Cie 1900
- doll name Bébé Tentation
Alexandre N. Therode doll mark 1842-1895
- mechanical walking, talking dolls
Francis Thieck & Jean Born & Cie 1923
- wooden doll trademark Seraphin
Ambroise Thomas 1915-1916
Mlle. Valentine Thomson 1915-1918
Andre Thuillier 1875-1893
Tissier et Cie celluloid dolls 1920s-1929
V. Toulouse 1893-1894
Mme. Vve. Triquet 1900s
- 46 Place des Carmes Rouen
Henry Ulhenhuth & Cie 1876-1919
- Bébé Merveilleux for bébés incassables,

doll mark a solid spade symbol
Unidentified French Doll Marks:
- B1S, D11, G.V., H., LPS, M., Paris H.G. 11, R.R.
Unidentified French Doll mold number 31
Union National Inter Syndicale UNIS 1922-60
Hippolyte Vannier 1864-1865
Marie Vassileif 1910-1926
- also located in Russia
Venus cloth dolls 1915-1939 by Carvaillo
- also called Le Venus dolls
Verdier & Gutmache 1897-1902
- doll mark V.G., 1899 Verdier & Cie, dolls;
Bébé le Select V.G., Bébé Métropole V.G.,
Bébé Monopole V.G., Bébé Excelsior V.G.
Gabrielle Verita doll mark GV 1915-1918
- Poupée's G Marque Deposee V Verite
Jules Verlingue 1915-1920s
Verry Fils dolls 1865-1873
- Aux Galleries DeFer, 59 BD Des Italiens
Lucien Vervelle metal head dolls 1876+
Pierre Vialard dolls 1900-1930+
- Passage Du Havre 1 et 13,
Pres La Rue Caumartin, Pris Tres Moderes
Gustave Vichy 1862-1900+
- bébés musical, automaton, mechanical,
doll mark G. Vichy, doll mold 1
Videlier 1829-1882
- also known as Brasseur-Videlier 1865-1882
Villard & Weill 1834-1923
Ville de St Denis store 1901-1914+
Jeannie Violon doll mark Jeannie 1924
Vittu dolls 1870-1893
Roger Vormus doll mark Kissmy 1920
M. Vulquin doll shop 1877
- A la Grande Duchess 1877
Wannez et Rayer doll mark Bébé Loulou 1891
Charles Auguste Wattilliaux 1891-1896
- doll mark WX
Arthur Wertheimer 1898-1899+ (SFBJ)
- Bébé Le Baby
Wax Doll Menu 1800s+
Wood Doll Menu 1300+
Paul Lucien Zierl 1925
- doll name Le JouJou Pneu (rubber baby)